Most fires in the home can be prevented with a few simple precautions. How do you reduce the risk of fire in your home – and do you know which fire hazards to check for?
Here are some useful fire safety tips for preventing a fire at home. We've also got fire insurance advice in case it does happen.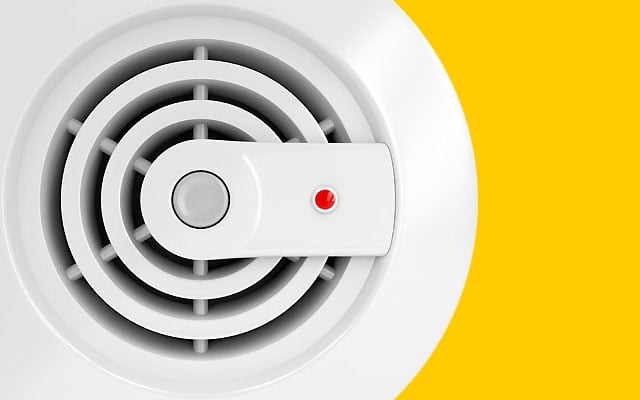 Fire precautions in the kitchen
Over half of fires in the home are caused by cooking accidents. Stay safe in the kitchen with these simple safety measures:
Check that your cooker is switched off after you've finished using it.
Don't leave children alone in the kitchen when the hob or cooker is being used.
Don't put metal items in a microwave.
Keep cloths, tea towels and loose clothing away from the hob and cooker.
Be careful when cooking with hot oil as it can easily catch fire – don't leave it unattended, and make sure you turn off the heat if the oil starts to smoke.
Clean your oven regularly – grease and food splatter can build up and ignite at high temperatures and cause smoke damage.
Have a fire blanket readily available in your kitchen in the case of a cooking fire.
Check your electrics
Fires can be caused by faulty electrics or electrical equipment not being used safely, so:
Remember to unplug your appliances when you're not using them, especially hair straighteners and phone chargers.
Check your cabling for faults, and replace any damaged cables. You should fully unwind coiled leads before using, otherwise they may overheat.
Don't overload plug sockets and make sure extension leads are suitable for the load you put on them.
Make sure your plugs have the right fuse for the appliance being used. If in doubt, check the manufacturer's instructions.
Keep tumble dryers clear of fluff, and don't leave them running overnight or when you're out.
Safe use of candles and cigarettes
Someone dies every three days from a fire caused by a cigarette, while candles start three fires every day. Here's how to reduce your risk:
Use secure holders for candles and keep them away from anything that can catch fire.
Make sure you put candles out before you leave the room.
Don't leave a lit cigarette unattended, and it stub out properly.
Don't smoke in bed or when you're tired and likely to fall asleep.
Fit smoke alarms
You're more than twice as likely to die in a fire if your home doesn't have any working smoke alarms. Protect your home and family with smoke alarms that comply with British Standard BS EN 14604:2005 'Smoke alarm devices', and carry the British Standard Institution (BSI) Kitemark. Also, make sure that you:
Fit smoke alarms on every floor of your home.
Test your smoke alarms every week to make sure they are working.
Change the battery every year (unless it's a mains-powered or 10-year smoke alarm).
Make a fire escape plan
A smoke alarm can give you a vital early warning of a fire, but would you know what to do if you were woken by one in the middle of the night?
Plan an escape route and make sure everyone knows what to do in the event of a fire.
Make sure you keep exits unblocked at all times.
Leave your window and door keys where they can easily be found (but keep them out of sight of potential burglars).
Along with our other fire safety tips, close all doors when your home is unoccupied and when you go to bed at night. This will help to stop flames spreading if there is a fire in your home.
---
Fire can be a real home insurance risk, so whether you're a homeowner, tenant or landlord, it's important that you have the right cover.
For more information about fire safety, contact your local fire and rescue service.