Idle weekends. Cherish the memories. Now that you have a baby on the way, your weekends – and weekdays – will be, well, no longer idle. Suddenly, you'll be sharing the home with a tiny tot, and you may need to anticipate the creative destruction your bundle of joy can bring.
Thankfully, there's a wealth of advice available on baby-proofing your home, including tips on covering sharp corners on furniture and installing baby gates. But is your home insurance baby proof for any damage the new arrival might do?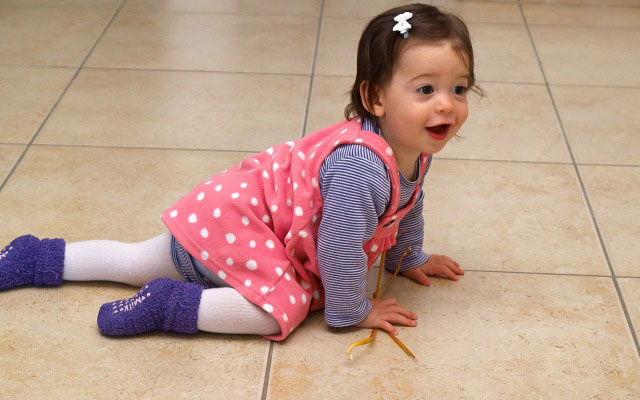 Accidental damage can happen
Before he or she even arrives, you'll need to prepare a space for your little bundle of joy. This might involve turning a spare room into a nursery, or adding extra shelves to keep certain things out of reach.
You'll be glad to know then that our optional accidental damage cover extends your buildings insurance beyond events such as fire or storm damage. For example, it covers accidents like putting your foot through a ceiling while you're in the loft, or hammering a nail into a pipe. Accidental damage cover protects permanent fixtures and fittings such as:
Built-in furniture
Built-in domestic appliances
Fixed glass and sanitary ware
Fixed pipes, ducts, tanks, wires, cables, switches, fires, central heating equipment, boilers and storage heaters
Fixed wall, floor and ceiling coverings (other than carpets)
Should things go seriously awry during a DIY campaign, and the accidental damage is such that you can't actually stay in your home – maybe a damaged water pipe – you'll be covered. Our buildings insurance provides up to £45,000 for alternative accommodation if your home can't be lived in due to an insured event.
What does this button do?
Once the tiny hurricane is out of the cot and free to roam beyond the lovely new nursery, a whole new world of potential destruction beckons. So you'll be glad to know that optional accidental damage cover is also available for your household contents – such as furnishings dyed with blackcurrant juice, or ornaments wiped off a shelf during a particularly vigorous bout of toddler dancing.
This extension to your home contents insurance provides cover for:
TV, satellite or home entertainment systems
Cookers and washing machines
Furniture
Ornaments
Do I need baby insurance?
Maybe not. Standard buildings insurance and contents insurance usually cover you for most non-medical, baby-related mishaps. If they take a liking to your keys and lose them, for example, don't panic. Your contents insurance should cover the cost of replacing and fitting new locks or lock mechanisms to doors and windows.
Keys won't hold their attention forever, though. Don't worry. Accidental damage cover will protect your expensive hand-held electronic games, not to mention portable electronic items including mobiles and laptops.
---
If you're wondering if your existing home insurance includes accidental damage cover, check with your provider and they'll be happy to help. Or if you're interested in a new policy, check out our home contents insurance or buildings insurance.
If your new arrival isn't the first, you may soon find you need more space and have to move. If you do, you'll want to ensure that all your worldly possessions are safe in transit.
Under our home insurance the contents of your home are insured while they're being moved by a professional removal contractor to your new abode anywhere in Great Britain, Isle of Man, Channel Islands or Northern Ireland.