The rising smoke, the smells of sizzling food, the calls of hungry guests – there's nothing that says summer quite like a BBQ. What was once a simple pastime has become something much bigger, while the rise of outdoor pizza ovens has added another dimension to al-fresco dining.
Although cooking with charcoal is still the most common method, many modern BBQs and pizza ovens use gas to cook and can be very expensive. Before investing in a BBQ or pizza oven, be aware that they're not always covered by your home insurance.
There's also the risk of causing fire damage to your home if you don't pay attention. So before getting the fire going, make sure that your policy covers every incident.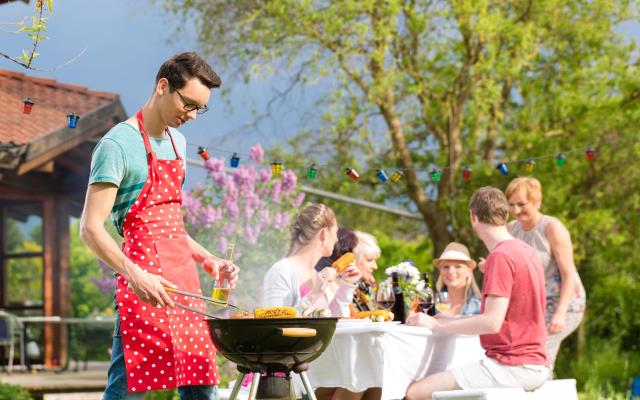 Insurance for your BBQ
The cover for the type you have depends on your policy. Brick built or ground secured BBQs and pizza ovens are considered part of the home and will be covered by your buildings insurance.
A portable BBQ is usually covered under the 'contents in the open' clause of your contents insurance, which are items outdoors within your property. If you store your portable BBQ indoors, it will usually be considered as an item in your home and the cover limit for this depends on where you keep it. Check your policy document for cover limits.
It's also important to check the excess you're liable for in a claim, otherwise even new-for-old cover won't pay the full cost of replacing an expensive BBQ.
Most home insurance policies, including the AA's, do cover fire damage to your building and contents from a BBQ. You'll also be covered for any legal liability in case your BBQ causes harm to someone or damages property that isn't yours. But if there is evidence you were drunk at the time of the accident, your claim could be refused.
BBQ safety tips
Keep the BBQ away from things that could catch fire. This includes bushes and trees, as well as gazebos, tents, fences and sheds.
Place it at least 10m away from any buildings.
Never barbecue indoors – even if it's raining.
Don't drink too much if you're in charge of grilling – alcohol related BBQ accidents can cause serious damage.
Have a water source near a charcoal BBQ, whether a hose, bucket or bottle, just in case. Do not use water to extinguish a gas appliance.
Use tongs to cook with, as this keeps arms, clothing and aprons away from the fire.
Don't use flammable liquids such as lighter fluid or petrol to get your BBQ fire going.
Let charcoal cool completely after use, and put it in a non-flammable place. Charcoal disposed in a wheelie bin can lead to serious fires.
When using a disposable BBQ, make sure it's on a non-flammable surface.
Storage – looking after your BBQ
When not in use, keep your BBQ out of sight and stored securely, especially if it's an expensive model.
Before storing inside, make sure it's completely cool to avoid any risk of fire.
If you do have to leave your BBQ outside, AA contents insurance can provide up to £1,000 for a claim, excluding storm or flood damage.
If you have a gas BBQ, store gas cylinders upright and outside, away from sources of ignition.
When you next use it, check if any parts need fixing or replacing to avoid any risks.
If your BBQ doesn't work properly, check the warranty for repairs or return.
---
Author: The AA
Published 12 February 2018. Updated 14 June 2023.