While there's no precise definition of a storm, we usually experience them as a combination of strong winds and heavy rain. Since 2015 storms in the UK have been given a personal name, which makes them easier to recognise in the weather forecast.
A storm can inflict considerable damage on your home. Here's how can you reduce the risk.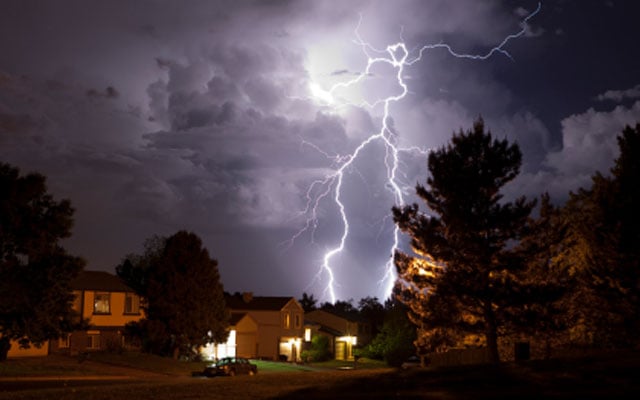 Prepare your home if a storm is forecast
Check for severe weather warnings in your area, and be prepared if there's a risk of a power cut.

Visually inspect your roof for loose tiles or damaged chimney pots, and get any problems repaired. Make sure your TV aerial is secure too.

Clear gutters and drain pipes to avoid blockages. Consider fitting gutter leaf guards – especially if there are tall trees near your home.

Trim back any bushes or small trees that could damage your windows in a high wind.

Put a storm kit together: clothes, food and bottled water, a first aid kit; any necessary medication and emergency phone numbers; blankets and bin bags; a torch, batteries, a wind-up radio; and a charged camera or phone to take photos of any damage for your insurance company.

Make sure you know where to turn off your electricity, gas and water supplies.
Before a storm arrives

Secure any loose garden items, such as tools and chairs, to prevent them from being blown away.

Unplug all non-essential electrical devices to avoid damage from power surges caused by lightning strikes.

Park your car in a garage if possible, or move it away from buildings and trees.

If you have any vulnerable neighbours, check whether they need any help before and after a storm.
During a storm

Keep your doors, windows (and storm shutters, if you have them) closed.

Close your curtains to protect against breaking glass.

Only open internal doors when needed and close them behind you.

Don't try and repair any damage outside until the storm has passed.

If you need to evacuate, turn off your gas, water and electricity before you leave (if safe to do so).
After a storm has passed
If your home has been damaged by the storm, contact your insurance company immediately.

Keep away from trees and outside walls, as they may have been damaged in the storm.

If you've lost power at night, use torches rather than candles for light to avoid a fire hazard.
---
AA home insurance policies use a standard insurance definition for a storm, where wind speeds can have gusts of at least 55mph, which is equal to Storm Force 10 on the Beaufort Scale. There may be torrential rain too.
If you have AA home insurance and your home has suffered storm damage, see our advice on how to make a claim.
Unfortunately, we can't cover everything, including loss or damage due to deterioration and corrosion, or storm or flood damage to gates, hedges or fences.
---
Author: The AA
Published 1 November 2016. Updated 28 July 2022.