A decade into the smartphone era, there's no denying that the device is an integral part of our daily lives. And this relationship looks set to intensify with the advent of smart home technology, which promises the control of domestic devices via your mobile, including home security.
But will you be safer in a connected home? Learn about smart home systems and the insurance benefits for you.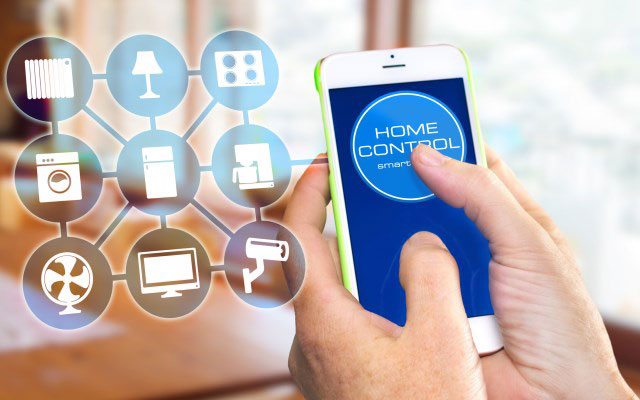 What is smart home security?
A smart home security system is usually made up of a range of devices – such as cameras, motion sensors and smoke alarms – connected to each other and the Internet by software. Any activities detected by the devices are sent to your phone or tablet, varying from notifications to live video feeds. Because the system is online, you can view your home security activity anywhere in the world.
Increasingly, security devices are being linked to smart home systems such as Google Home and Amazon Echo. These are built around a 'hub' run by an automated personal assistant – similar to Apple's Siri – which enables the user to talk directly to the system. So depending on a hub's capabilities and your own preferences, you can connect it to physical devices around your house.
The number of smart home security devices or gadgets you can connect to is increasing. They currently include:
Video cameras In a smart system, cameras can be combined with motion detectors to record only when there's movement, or when a door is opened. Cameras can also double as baby monitors or for keeping an eye on pets.
Smart locks A keyless door lock that you can control via your smartphone. Features include the ability to give someone temporary access to your house, so they can pick something up or feed the cat.
Leak detector These devices monitor your pipework and alert you to a leak, which is a common reason behind home insurance claims.
Door or window sensors Attached to entry points on your house, they alert you to whether they've been opened or not.
Motion detectors Designed to alert you to unexpected movement in the home, motion detectors are often best used in conjunction with cameras.
Smart lights Using either smart bulbs or smart sockets, lights can be programmed to turn on and off to give the impression that you're at home (or because you can't be bothered to get up).
Smart socket An outlet plug that you can turn on and off remotely.
If you're thinking about buying a smart home security system, first check it's compatible with your phone. Most related apps should work with Apple and Android phones, but not as many work with Windows devices.
Smart systems are sold on the assumption that you have good mobile and internet connectivity in your area, so make sure you're okay on that front too.
Will smart home security lower my insurance premium?
In principle, yes. The more secure your home is, the lower your home insurance premium is likely to be.
However, because smart home security systems aren't yet commonly used, there are some grey areas when it comes to insurance. For instance, if doors that open automatically do so while you're not there and a burglar gains entry, your insurer is likely to turn down a claim.
In many existing policies, such an incident would be treated as if you'd left a door unlocked and a thief gained entry that way.
Insurance companies all over the world are taking a keen interest in smart homes. AXA announced in 2016 that it would offer lower premiums to customers who used smart light bulbs, and several insurance companies in the US offer discounts to users of smart home devices.
While there are very few connected home insurance products in the UK at the moment, major industry players have shown increased interest in smart home tech solutions in recent years.
Smart home hackers?
The future isn't quite here yet, though. Connected homes may take a bit longer to become the norm than some expected. And there are the security concerns that come with just about any Internet-related activity.
Anything that's online is theoretically vulnerable to hackers, and that includes smart home systems. Last year, for instance, security experts demonstrated that a wide range of smart locks could be hacked with very basic tools. Only time will tell whether the benefits of smart homes outweigh these kind of risks.
If you're thinking of installing a smart home security system, and you're curious about the insurance implications, just ask your provider – they'll most likely be very interested in your questions.
---
If you're going to wait a little longer for the future to arrive, you still need to secure your home. You can cover your belongings with our home contents insurance.
And if you do get a quote, think about adding Home Emergency Cover, which will cover you for damage to door locks or windows caused by a theft or attempted theft.