As you're leaving to go on holiday, you might run through a mental checklist. Doors and windows locked. Gas turned off. Appliances unplugged. All the things you don't want to worry about when going away.
If you've got pets that need feeding or plants watering, you might also ask a friend or neighbour to pop in, giving them a spare key or letting them stay over.
But what happens when someone else is responsible for your property?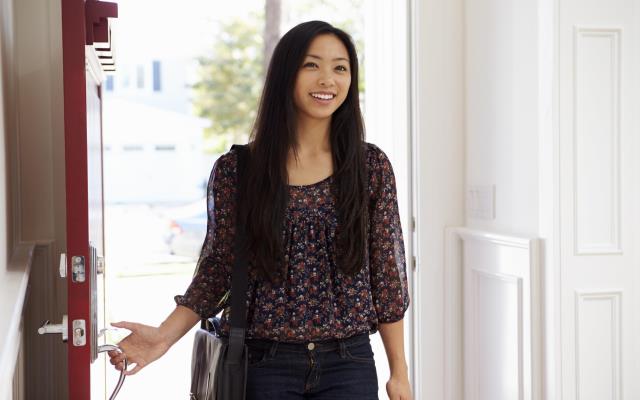 How does house-sitting affect your home insurance?
Most insurers will welcome you having someone about to keep an eye on your home. It can help reduce the risk of burglary and they can spot if something's gone wrong, like a burst water pipe.
Even a neighbour popping in to remove mail from the letterbox and putting some lights on can make it less obvious that no one is at home.
The terms and conditions of your policy will still apply though. So if your neighbour leaves a door unlocked and there's a break-in, this could invalidate your claim.
You should also take care when giving keys to a neighbour or friend. If the keys are lost and end up being used to enter your home, this could affect your insurance.
If there are no signs of a forced entry, it might be harder to prove that a burglary has taken place. You should check what your provider says about lost keys and what it means for your cover.
Using professional house-sitters
Using a house-sitter is increasingly popular, with nearly half of UK households using some form of house minding when going on holiday. Friends or family aren't the only option, of course, as many companies offer a professional service.
They'll send a trusted house-sitter to stay in your home while you're away. They're popular for security reasons, but also for people with pets. If you need cat-sitting, dog-sitting or even rabbit-sitting services. They'll keep Rover fed and also keep the house secure.
Assuming you can find a trustworthy company, a professional house-sitter can be more reliable than a neighbour or friend who's doing you a favour. It may seem odd to have a stranger in your house, but they'll be there full time and should be experienced at looking after property.
The company, or individual, should also have public liability insurance. This means if they break something or cause damage in your home, they'll be covered.
What about home insurance for extended holidays
If you're going away on a longer break, it might be the case that your policy only covers a certain length of time. A couple of weeks away should be fine, but leaving the house unoccupied for 30 consecutive days could mean you're no longer covered. This can be up to 60 days, but will depend on your provider.
You can take out specialist 'empty house' insurance if you're going away for quite a while, or you can make sure the house is occupied by using a house-sitter. You should always check with your current provider to see if they can offer extended coverage for your existing policy.
Your insurer may also add additional endorsements to it, for example, not covering you if there's a burst pipe.
Home security while on holiday
If you have someone looking after your house, that should help make things more secure. There are still a few things you can do for extra peace of mind.
Securely lock any doors and windows that your house-sitter won't need to use. You should also check that all locks are working properly and comply with your home insurance policy. You can find out more in our article about security locks for your home.
One common dilemma is whether to keep your curtains open or closed when on holiday. Permanently closed curtains are an obvious sign of an empty house. If your house-sitter is popping in regularly, they can open and close the curtains and switch on lights at night.
Put away any valuables you're leaving at home. If you have a safe, a lockable cupboard or other secure space, pop your stuff in there out of sight.
---
You can get buildings and content cover with our home insurance, with flexible extras to suit your needs.