Do I need breakdown cover?
Breakdown cover gives you peace of mind – once you're covered, you don't need to worry about what to do if you break down. Just call us and we'll fix your vehicle by the roadside or, if it needs repair work, tow you to a nearby garage.
Depending on your level of cover, we'll also help you continue your travel, recover your vehicle to any UK destination or bring cover right up to your doorstep.
So while breakdown cover isn't a legal requirement, it can make your life easier and take away the stress of a breakdown – and can be especially reassuring for inexperienced or elderly drivers, anybody with a health condition, or anybody who doesn't drive regularly or travels long distances.
And it's important to remember that buying breakdown cover normally works out cheaper than joining at the roadside when you have actually broken down.
You may already have courtesy cover through your bank account package or car manufacturer – if you're not sure, it's always best to check. Make sure you also know which levels of cover you're entitled to – do you have the right level of cover for your personal needs?
Why should I choose the AA?
We're proud of the quality of our service – but don't just take our word for it. We've been awarded 5 stars by independent research company Defaqto, and more than 95% of our breakdown cover reviews recommend us – here's just a few reasons why:
We're the UK's largest breakdown organisation, with more than 2,900 dedicated mobile mechanics – which means we fix more breakdowns at the roadside than anyone else.
Our trained experts rescue someone every 9 seconds, and fix 8 out of 10 cars at the roadside.
They all attend more than 1,200 breakdowns every year (that's almost 6 breakdowns a day, each).
You can also enjoy exclusive Member benefits when you join us.
We've been getting people back on the road for over 100 years – since 1905, in fact. Back then, we promised to campaign for road safety and put our Members first – and we're still doing that today.
And we don't just offer roadside assistance. From fitting new tyres and batteries, to replacing lost car keys and giving you a hand if you've filled up with the wrong fuel, we'll do all we can to get you going again.
Take a look at our guide on comparing breakdown cover policies and companies.
---
What level of cover do I need?
Choose the right level of cover for your own circumstance. We've designed our breakdown cover product to be flexible, allowing you to add and remove elements to create the right cover for you.
Our standard, starting level of cover is available once you are over ¼ mile away from home and is included in all of our products. We'll help you any time of day or night in the UK, and if we can't fix your vehicle by the roadside, we'll tow you to a local garage for repair.
Who can I cover?
As a minimum, your cover can apply to 1 vehicle, regardless of who is driving it.
If you choose personal cover instead, you'll be covered in any vehicle (whether you're the driver or a passenger).
You can also add up to 3 other members of your household to your personal cover – such as your partner, family members (including students temporarily living away from home) and housemates.
Build your cover to suit you
Your roadside assistance will always include:
24/7 cover for breakdowns over 1/4 mile from home
A tow to a nearby garage if we can't fix your vehicle at the roadside
Unlimited callouts
You can also add extra levels of cover to your policy to build a more bespoke package that suits you:
National Recovery: if your vehicle can't be fixed at the roadside, or if a prompt repair can't be made at a local garage, we'll take you, your vehicle and up to 7 passengers to wherever you need to be – whether that's back home, or to the start or end of your journey.
At Home: brings cover to within ¼ mile of home, right up to your doorstep.
Onward Travel: car hire, overnight accommodation or public transport costs to help keep you on the move if your vehicle's out of action being repaired.
Parts and Garage Cover option: help with garage repair bills after a breakdown.
Breakdown Membership makes you an AA Member. You'll enjoy access to range of savings and discount across the UK – which means you might end up saving more money than you spent on membership.
Find details of the latest options and offers available on our breakdown cover. We've also written FAQs to answer common questions.
Just so you know, you won't be covered for the following:
roadside assistance after a breakdown or accident that involves the emergency services
routine maintenance and running repairs
repeat callouts for the same fault
Please read our terms and conditions for full details on inclusions and exclusions.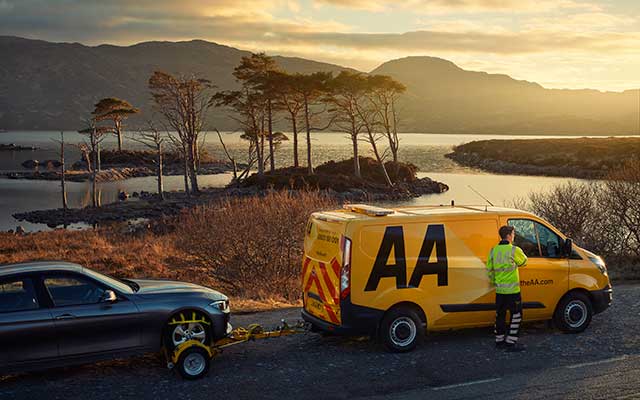 Can I buy cover for somebody else?
If you're buying personal cover on someone else's behalf, please call us on 0800 085 2721.
---
Can I buy business breakdown cover?
If you want cover for a business fleet of cars, vans, trucks and other vehicles, you need business breakdown cover.
We can help you out – with cover options ranging from roadside assistance in the UK, to European breakdown cover.
---
Will you cover my vehicle?
We can come to your rescue if you're in a car, van, minibus, motorhome or on a motorbike.
Your vehicle must weigh less than 3.5 tonnes (3,500kg) and be no wider than 8ft 3in (2.55m). This also applies to any caravans and trailers that are being towed.
This is to make sure that if you break down, we can recover your vehicle, if necessary.
We'll cover vehicles of any age or mileage. However, if they're used for reward – such as taxis, limos or delivery vehicles – we can't offer our optional Parts and Garage Cover.
---
How soon will I be covered?
Your cover will activate 24 hours after purchase. Parts and Garage Cover claims can only be made for breakdowns that occur after the first 14 days of your cover.

You'll get your documents and membership card(s) through the post within 28 days. Make sure you make a note of your membership number, or keep your confirmation email to hand, in case you break down before you receive your documents.
---
What about travelling in the Republic of Ireland or Europe?
The Republic of Ireland isn't covered under UK membership – but we do have an arrangement with AA Ireland. This means you'll get an equivalent level of service if you break down there (apart from Parts and Garage Cover, which won't apply).
If you're driving in Europe or want extra cover while travelling to the Republic of Ireland, you can get alternative travel and accommodation costs, legal protection and more, with European Breakdown Cover.
Our European single-trip and annual multi-trip cover gives you access to over 40,000 quality-assured garages in 44 countries across Europe. Choose the cover that best suits your needs – from our no-frills cover for short breaks, to comprehensive cover that gives you an unlimited claim limit.