Find out how and why
More Personal Members
The AA is the UK's biggest direct breakdown service provider. More customers directly choose us as their breakdown provider than any other major breakdown provider. These are people who actively join the AA online, by calling us up to become Members, or by speaking to an AA member of staff. We confirmed this by looking at the number of AA paid personal members published in the AA's Annual Report and Accounts for 2021 and comparing against our biggest competitor1.
More Patrols
We also have more expert Patrols who attend and repair more breakdowns than any other UK breakdown provider. We've confirmed this by looking at the number of AA patrols and attended breakdowns published in the AA's Annual Report and Accounts for 2021 and comparing against our biggest competitor1.
Patrol training and expertise
Our Patrols' expertise is based on their extensive experience of working in the car repair and wider automotive industries – this experience is a prerequisite of our recruitment criteria. All new Patrols must complete a robust induction programme which places customer service at its core and focuses on technical skill development, as well as our approach to breakdown service delivery.
Our focus on expertise doesn't end once our Patrols have passed their inductions and are out on the road. As part of our culture of continual professional development, our Patrols are subject to ongoing competence and technical assessments, and we ensure they receive regular training to keep up-to-date with the latest developments in automotive technology.
We also have an internal mentorship programme which encourages knowledge sharing across our Patrols and provides opportunities for coaching and technical support.
All our Patrols are trained in 'Level 1 – Electric Vehicle Awareness', and over one-third of our Patrols are currently trained in 'Level 2 – Electric Vehicle Prepared'. Level 2 training has become standard for any new joiners to our AA fleet.
Level 1 – EV Awareness. The Patrol has knowledge of high-voltage and EV systems and is able to work safely on the vehicle but not directly on the high-voltage system.
Level 2 – EV Prepared. The Patrol is able to isolate and reinstate the vehicles high voltage system where it might be necessary to do so for safety reasons.
Speed and reliability
With our breakdown cover, you'll get unlimited call-outs included without it costing you any extra, as long as it's not for a repeat call-out for the same fault within 28 days.
Our Patrols will usually get to you in less than an hour and get you back on the road in around 30 minutes of arrival – whether it's rain, hail or shine. Their expertise also means that we fix 4 out of 5 cars at the roadside. This has been proven by our data on the breakdowns that AA Patrols respond to, as well as an independent reliability study from What Car?.
What's more, our handy app means you can report a breakdown with the tap of a button. Our expert Patrols pinpoint your exact location while you can track us in real-time – right up until the moment we arrive.
The best service and most trusted brand
UK drivers have consistently rated us as the best breakdown service against all other major breakdown providers, according to the Brand and Market Tracker study2 from March 2020-March 2022.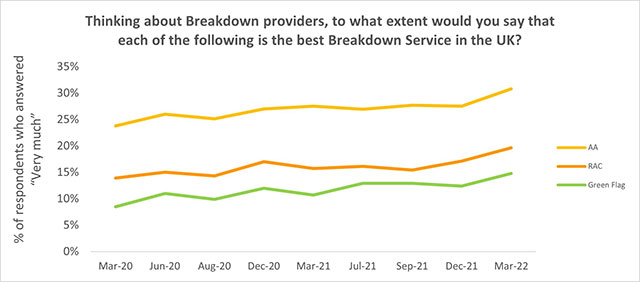 This driver confidence in the AA is further reinforced by the latest independent Mintel Vehicle Recovery report (September 2021), in which consumers rated the AA as their most trusted, most recommended and favourite brand of those covered by the survey.3
The experts at Which? also agree that our breakdown service is excellent. We are the only major breakdown provider to be Which? recommended in 2022 – the fifth year in a row that we've received this accolade. In particular, our expert Patrols were rated 5-stars for their knowledge and courtesy.
1Sources: AA Limited Annual Report and Accounts 2021 – 2,500 Patrols, 3.014m annual breakdowns attended and 3.168m roadside paid personal members. RAC Group (Holdings) Limited Annual Report & Financial Statements 2021 – 1,600 Patrols, 2.3m annual breakdowns attended and 2.563m consumer breakdown members.
2The Brand and Market Tracker is a study conducted on behalf of the AA by an independent research provider (Old Street Data Science – trading name HGSR Ltd.) and the results are based on responses by participants who self-identify which provider they are with. Interviews are held with 1,500 respondents every quarter, who identify themselves as UK-based drivers, which is rolled up to 6,000 annually.
3Brands included in Mintel's Vehicle Recovery report are the AA, Green Flag, RAC, Direct Line, AXA, LV=/Britannia Rescue, Start Rescue and Allianz Assistance.