Keep your Greek islands or the Mediterranean cruise – nothing beats hitching up your tourer for a caravan holiday in the UK or Europe. Well, can over half a million caravan users in the UK be wrong?
But before you pack the folding chairs, choose your campsite chill-out playlist and slap on the sun cream, there are a few things you should know about keeping your caravan safe.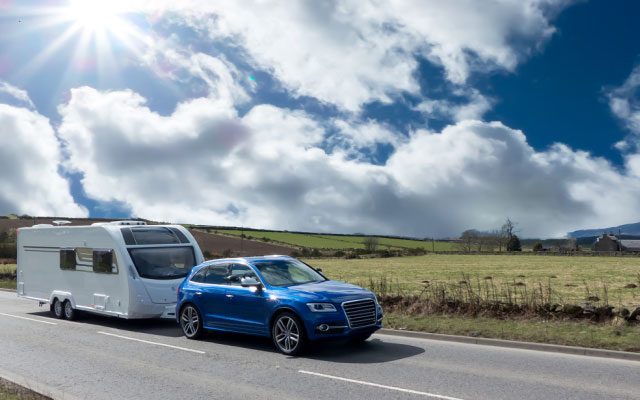 Do I need caravan insurance?
No, you're not legally required to have caravan insurance. But around 4,000 caravans are stolen every year, and there's always the risk of accidental damage, even while the caravan is on your driveway.
Damage when towing is the most common type of accident. For example, misjudging the width of the caravan and hitting things like gate posts or kerbs, or hitting something when reversing. Or a caravan being towed can be blown off course in high winds, and unseasonal gales can damage caravan awnings and other holiday kit.
To avoid theft, many caravan policies ask you to use a hitch lock and wheel clamps. The hitch lock stops someone else connecting their tow bar to your caravan. If your caravan disappears from a motorway service area because you haven't secured it, your insurer won't pay out for the loss.
What kind of cover do I need?
You can tailor your caravan insurance to your lifestyle, but we recommend that it includes cover for:
Loss or damage cover for fire, theft, flood and storm.
A choice of new for old or market value.
Contents cover (increase this if you're taking lots of expensive stuff with you).
Accidental damage cover for when you're towing.
Cover for European touring, although most policies will cover you anywhere in Europe.
What's the difference between 'new for old' and 'market value'?
'Market value' means your caravan will be insured for how much it's currently worth. So if you bought it for £20,000 and it was stolen 3 weeks later, you'd get around £20,000 from your insurer. If it's 10 years old and worth around £7,000, then that's what you'd get from the insurance company if stolen – enough to buy a similar caravan of the same age.
With 'new for old' cover you would get around £20,000 at any point – even 10 years later, when the value of your caravan has decreased.
Do I need caravan insurance while my caravan is parked at home?
Don't worry, caravan insurance covers you whether you're on the road or at home. But it's still a good idea to insure your caravan if you keep it off the road for some time. Organised gangs target high-value caravans, and even a well-lit driveway isn't a deterrent.
You can reduce the chances of it being stolen by caravan registration and security devices, but that doesn't rule out events such as flooding, or a tree falling on your pride and joy.
If your caravan doesn't fit on the driveway, many insurance policies insist on the caravan being stored at a CaSSOA (Caravan Storage Site Owners' Assoaciation) approved site as they offer a high degree of security. Some insurers even offer a discount to owners who use the most secure storage sites.
Will my car insurance cover my caravan?
Most car insurance policies cover your vehicle while towing a caravan, but they almost certainly won't cover damage to your caravan in the event of a collision. Do check, but you'll probably find that caravans are specifically excluded in the policy. That's why it's important to take out additional caravan insurance.
What are the different types of caravan insurance?
There are 3 main types of caravan insurance.
Touring or tourer caravan insurance This covers caravans which are towed behind a vehicle.
Static caravan insurance This is for caravans in fixed locations, such as holiday parks or seaside resorts. If you move your static caravan to a new site, check that the movers have 'goods in transit' insurance to protect it in case of damage, accident or theft.
Trailer tent and folding caravan insurance Contents stored in trailer tents and folding caravans are less secure than traditional caravans, and so they can be trickier to insure.
Do I need a separate driving licence to tow a caravan?
What you can tow depends on when you passed your driving test – check the rules on towing with a car. So if you passed your test on or after 1 January 1997 you may need to take a B+E test, depending on the combined weight of your car and trailer.
Will the contents of my caravan be covered?
Our caravan insurance covers the contents in the UK and Europe. Also check your home insurance to see if it includes valuables when you're anywhere in the world. If it does, your tech and sports gear will be covered up to a certain value.
How much does caravan insurance cost?
These factors all play a part in your premium:
The model and make of your caravan.
Your caravan's security, including whether it's fitted with a tracker (which can be a policy requirement).
Where the caravan is kept when you're not using it.
How much the contents are worth.
Where you live.
Your age.
How can I lower my insurance premium?
You can reduce the cost of your insurance by making your caravan more secure. Ground anchors and hitch posts will make life harder for thieves. Caravan wheel clamps are more likely a prerequisite for cover, rather than the key to a discount.
Keeping your caravan in an approved caravan storage site will bring down the premium. And if you have a high-value caravan, insurers may insist on a tracker being fitted. You're still likely to get a discount if you fit one to a less expensive caravan.
If you register your ownership of the caravan with the Central Reservation and Identification scheme, this will help the police recover your caravan if it's stolen.
---
Did you know our UK breakdown cover for cars also includes a caravan under tow at the time of the breakdown? Your vehicle and trailer must be under 3.5 tonnes, and no more than 2.3 metres wide.