If you're planning a caravan, motorhome or campervan holiday soon, you might be thinking about getting an awning to bring with you.
A caravan awning adds extra living space, making it a very useful item to bring on a holiday.
But it can be tricky to know which size to get for your motorhome and whether an inflatable air or traditional poled awning is right for you.
We cover this and more so you can choose the right awning for your next caravan holiday.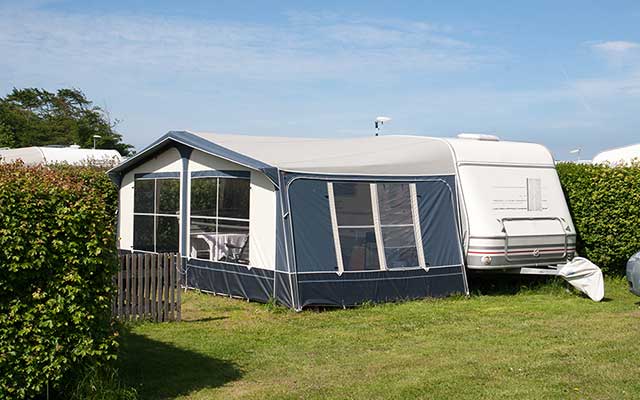 What is a caravan awning?
An awning is a bit like a tent that you can attach to your caravan, motorhome or campervan.
Depending on the size and type of awning, it can provide more living or storage space or even extra bedrooms.
What are the different types of awning?
The main types of awnings generally available for caravans, motorhomes and campervans are full awnings, porch or universal awnings and canopy or cassette awnings.
Full awning
A full awning will cover one whole side of your caravan, providing lots of extra living space and sometimes sleeping cabins.
Porch or universal awning
A large porch awning covers most of one side of a caravan while a small porch awning won't cover much more than the doorway, but is useful for storing muddy shoes and bikes.
Canopy or cassette awning
This is a shelter that extends from the caravan roof and can be fitted on to a caravan either temporarily or permanently. Some of the higher end ones come with walls to create a more enclosed space.
Did you know that our standard breakdown cover includes caravans, trailers, motorhomes and campervans?
How do I know what size of awning I should get for my caravan?
The size of awning you need will depend on the type of awning and size of your caravan.
How to measure a caravan awning
For a full awning, you'll need to find out your caravan's 'A' measurement. This might be in your owner's handbook – if not, you can measure it yourself:
Make sure to level your caravan first.


Thread a soft measuring tape or a piece of string through the awning rail that runs around the side of your caravan on the door side.


The tape or string should hang down on either side of the rail – fasten one end to the ground.


Pull the other side tight and mark where each side touches the ground.


Measure the length of tape or string between the points where it touched the ground to find out the 'A' measurement.


The other measurement you'll need to decide on is the depth of the awning – the deeper the awning, the more space it offers, but also the heavier and bulkier it'll be to transport.
For porch or universal awnings, you don't need to know the 'A' measurement, but you'll need to measure the height of your caravan from the ground to the awning rail.
With a porch awning, you'll also need to think about windows and whether you're happy for them to be covered. This can help you decide on the size of porch awning you want.
For a canopy or cassette awning, permanent ones are best fitted by a specialist so it's worth speaking to your local caravan dealer.
If you're planning a caravan or motorhome trip, you might also want to learn more about caravan leisure batteries.
Do all awnings fit all caravans?
Porch awnings can generally be moved from one model of caravan to another.
On the other hand, full-size awnings are usually sized to fit your model of caravan.
Does a caravan awning need to be exact?
It's best to be as precise as possible with measurements when choosing an awning to fit your caravan.
There may be a bit of flexibility with some products – if you're unsure if an awning is right for your caravan, you should speak to the seller or manufacturer.
Check out our list of the best places to stop on a road trip.
How to put up a caravan awning
Make sure to read the instructions on how to put up your awning as it may be different to others.
Here are some of the key steps you'll generally have to take when putting up an awning with poles:
Thread the awning cord through the awning rail of the caravan.


Once it is all the way through and positioned centrally, start assembling the poles according to the instructions. It's normally best to start with the centre poles to give you space to work under the awning.


Tension the poles to make sure your awning's stable – you can do this by hand or use a specific tool.


Attach guy ropes and/or storm straps to increase tension and stability.


Peg down the awning according to the instructions to make sure it's secure.


Add any finishing touches including curtains or a draught skirt.
If you have an air awning, it has tubes which you inflate to put it up rather than metal poles. This means instead of steps 2 and 3 above, you need to fill the inflatable poles with air using a pump.
Again, it's important to follow the instructions for your particular awning as different products can vary.
Read our guide on how to tow a caravan.
Is an inflatable air awning better than a traditional one?
Some people like inflatable air awnings as they feel they're easier to put up at a campsite. On the other hand, lots of people still prefer traditional poled awnings.
It's up to you whether an inflatable air awning will suit better than a traditional poled one. It's worth doing your research to find the product that works best for you.
How much does a caravan awning cost?
As there are many different types of awnings available, the price will vary based on the size and type you choose.
The cost can vary from around £150 for a small porch awning to upwards of £2,000 for a full-size one.
How long does a caravan awning last?
How long your awning lasts will depend on the type you buy and how often you use it.
It's also important to look after it - you should clean off any mud and dry it properly after you've used it.
Some manufacturers or retailers may offer a warranty period of 1 year or more but it's important to check the terms and conditions of this before buying.
With 24/7 roadside assistance, we'll try to fix your caravan or motorhome on the spot so that you can get back to your holiday.
Are caravan awnings waterproof?
Yes, caravan awnings are generally waterproof but they can lose their effectiveness through time and use. You may need to reproof your awning from time to time to help avoid any rain leaks.
If you have a cassette awning and there's a chance of heavy or sustained rainfall, you should also make sure the awning is pitched at an angle to allow the rain to run off one side.
Otherwise there's a chance of water puddling in the canopy which will stretch the fabric and potentially cause it to collapse or tear.
Can you use a caravan awning when it's windy?
It's best to avoid using your awning if there are high winds expected.
---
Published: 11 August 2021 | Updated: 11 August 2021 | Author: The AA