We officially go into 'holiday mode' before we've even set foot on foreign soil. Whether it's the sheer thrill of putting on your 'out of office' or getting giddy at the thought of no cooking or cleaning for a week or 2, we all have that moment where it clicks.
But the perfect holiday starts with the perfect holiday checklist. Some organisation leading up to the day you jet off can help your holiday be the dream getaway you deserve, and not a holiday nightmare.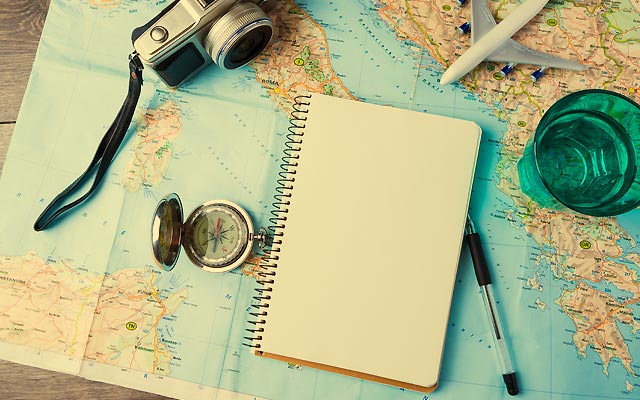 What should I do up to 3 months before I leave?
Travel vaccinations should be a priority on your pre-holiday checklist, with enough time to ensure you can safely have all the jabs or injections that are needed. Find out exactly what immunisations you'll need by searching your destination on the NHS Fit for Travel site.
An essential for any travel checklist, checking your passport expiry dates way before you go could save you a lot of time, stress and money. Some countries require a passport to have a certain amount of time left before expiring to allow you to enter. Countries like the USA and the United Arab Emirates demand any travellers to their countries have at least 6 months left on their passport from the date of your entry. Just remember, getting a passport renewed will take time (unless you want to waste some of your holiday money on fast tracking a passport renewal).
You'll know at the time of booking your holiday if your specific destination needs an additional visa, and you'll want to get these in plenty of time before you go. Some countries and their embassies can be tough about scheduling interviews so it's best to leave plenty of time to get it all sorted.
If you're going on holiday to America and you've ever found yourself in trouble with the law (for crimes of moral turpitude), you'll be excluded from the ESTA and must apply for a visa which could prove complicated and time-consuming.
Buying your travel insurance as soon as possible after booking your getaway is always recommended. Not only is it one thing to tick off your to-do list, you'll have more time to plan activities and day trips when you know what you're covered for.
Plus, if you take out gadget cover, you won't have to think twice about taking your tablet, Kindle or camera on holiday with you.
What should be on my holiday checklist a week before?
Stay on the grid: phone data and charges
With the EU dropping roaming data charges in 2017 you're now able to spend less time worrying about how much checking on the dog just cost you. Texts and calls won't mean any extra charges, if they're included in your regular phone plan. Data is different and you should look up your provider's conditions before posting all those #NoFilter Instagrams.
If you plan on using your debit or credit card abroad, telling your bank about your holiday dates will stop you having your accounts frozen. Many banks will be quick to temporarily block accounts which show suspicious activity. If your normal daily spends include the train and a Tesco sandwich, an unannounced round of Margaritas abroad might make them spring into defensive action.
Most airlines these days allow, and often prefer, you to check in before turning up at the airport. They'll usually tell you when you book your holiday so just follow the instructions for an easier departure on the day.
Handy tip: many airlines nowadays have apps, so you can just show an electronic boarding pass.
Making a holiday clothes checklist and having those outfits cleaned, ironed and packed a week before could save you a lot of last minute stress. Knowing your clothes are already sorted means you can't get a stain on that perfect beach dress or lose your sharp summer shirt in the wash.
What should I do the night before my holiday?
Keep calm and (pack your) carry on
Going to bed knowing you've packed the essentials – passport, boarding pass, all necessary travel documentation, money – will make it much easier to jump up in the morning and head straight out the door.
We'd advise keeping all your important documents in your carry on, but take any photocopies or print-outs of your documents in your case, including your schedule of insurance and insurer's emergency medical contact number (which you could also save to your phone). That way you'll be covered for any unexpected emergencies.
Whether it's an actual taxi, or you call in a favour with a family member or friend, arrange your lift to the airport ahead of time. You don't want an overbooked taxi service to slam the brakes on your fun in the sun.
What do I need to do on the day of my departure?
Check your house is properly secured (we've talked about home security whilst on holiday before) but other than one last spot check it's time for you to get to the airport, check in - and check out of the daily routine for some well-deserved rest.
There's nothing quite like getting a head start on your holiday checklist, so get travel insurance ticked off your to-do list early and have more time to plan the fun things.