Come fly with me, let's fly, let's fly away - just after this 5-hour delay. Sure, it rhymes, but having your holiday halted before it's begun definitely won't leave you in the mood for singing.
If you're unlucky enough to have complications with your flight, you should at least make sure you're being looked after properly, and getting the compensation you deserve. Read on to find out what's covered by the airline and what's covered by your travel insurance.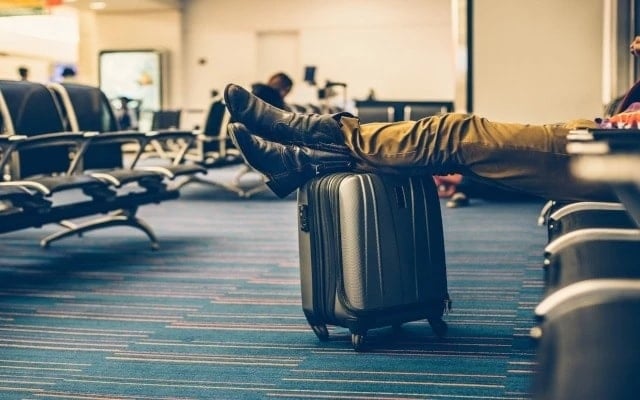 My flight is cancelled, what do I do?
If you're flying from a European airport, or into a European airport on an EU airline, and your flight is cancelled, you're entitled to either a full refund or a replacement flight to get you to your destination.
If you're left stranded as a result of a cancelled flight, you'll also be entitled to a 'care package' from your airline, which usually offers food and drink, access to phone calls and, if you need it, overnight accommodation.
Replacement flights
If you take a replacement flight, your airline still has to provide food, drink and accommodation if you need it.
When it comes to reimbursing these costs, if you're not handed vouchers at the airport, keep receipts of your expenses to claim from the airline later. You'll only be able to claim for 'reasonable' expenses, so it's probably best not to spend the night in 5-star luxury, swigging the finest champagne.
What happens to the rest of my holiday?
If your cancelled flight is part of a package holiday, you'll be protected by the ATOL scheme and your travel company has an obligation to look after you.
If your outward flight is affected, you'll be offered a full refund for the holiday or the option to rebook the same holiday, at the same price, when it's available.
If your return flight is cancelled, your tour operator will cover any extra costs including accommodation and will get you on a flight home as soon as possible.
How do I claim compensation for cancelled flights?
You'll need to claim from the airline to get compensation. Search their website or call their customer services department. If you struggle with getting your claim heard, you can always contact the Civil Aviation Authority (CAA).
Is there a time limit on my claim?
You have 6 years to make a claim for a delayed or cancelled flight, but we recommend making it sooner rather than later to ensure you have all the relevant information handy.
Am I entitled to compensation for flight delays?
If a flight that's departed from Europe or was with a European airline is delayed 2 or more hours your airline:
Must provide food and drink
Must give you access to phone calls and emails
Must provide accommodation if you're delayed overnight – plus provide the travel between the airport and the hotel
If you have flight delays of 3 hours or more, you're entitled to a set amount of compensation depending on factors such as the distance of the flight and the length of the delay.
How much compensation will I get from my airline?
Length of flight
Length of delay
Payout
Up to 1500km
3+ hours
€250
1500km-3500km
3+ hours
€400
Over 3500km
(EU to non-EU airport)
3-4 hours
€300
Over 3500km
4+ hours
€600
Figures provided by Civil Aviation Authority (CAA).
If your flight is delayed for over 5 hours:
You have no obligation to take the flight and the airline has to give you a full refund for the flight
You'll be owed a full refund for any connecting or return flights which were part of the same booking
You'll be provided a flight back to the airport you departed from if you're part way through a journey
When will I not get compensation for flight delays?
You won't get compensation for a flight delayed by bad weather, a strike or anything outside of your airline's control. You will still get food and drink, and refunds in the case of a cancellation, though.
If you are flying between two non-EU countries on a non-EU airline, you may not be covered in the same way and compensation will depend on the airline you are flying with.
Can I claim for other expenses on my travel insurance?
Your airline can give you a full refund for your cancelled flight, but they won't pay for any other costs, such as cancelling hotel bookings, hire cars or other cancelled events. This is where you could claim on a comprehensive travel insurance policy.