"We're all going on a summer holiday, No more working for a week or two. Fun and laughter on our summer holiday, No more worries for me or you…"1
Sorry to interrupt you there, Sir Cliff, but for anyone already dreaming of days in the sun and nights under the stars, you're probably aware you need travel insurance. But you might not be clear about which activities your insurance covers during your getaway.
If your perfect break involves reading Jackie Collins by the pool, moving only to ensure an even tan, this article might not be for you. If you plan to get active – hiking up sunny mountains, paragliding through warm sea air – read on to find out when you just might be overworking your insurance.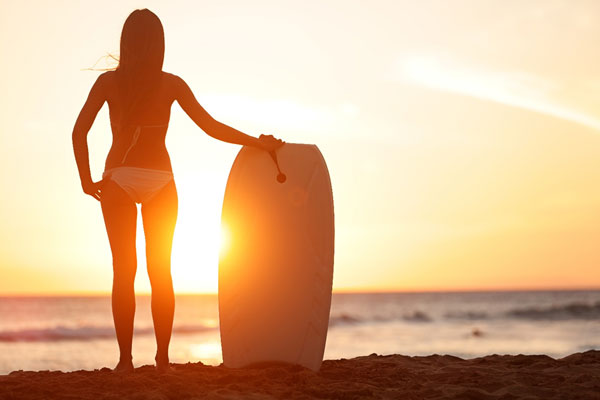 Are sports and activities included in my travel insurance?
When it comes to extreme sports insurance, it's likely you wouldn't be equally covered under standard travel insurance. Anything professional or competitive requires specialist insurance. (No, racing to be first on the sunbeds doesn't count.)
But if you're tempted by paragliding or itching for a game of beach volleyball, you should know what you're covered for in case something goes wrong.
You want to have fun on holiday, so most activities available to holidaymakers tend to be covered on a recreational and non-professional basis. An idea of what's covered is in our policy booklets, but usually you can expect to be covered for:
Pleasure sailing
Camel riding
Fishing
Badminton
Volleyball
Tennis
Rambling
Are adventurous activities included?
Your insurance might still cover you for more adventurous activities, but they may come with limitations or conditions. We've highlighted some examples below, but always double-check your policy before jetting off.
Hiking – Tempted to get your legs working overtime and trek up a mountain? Most insurance providers would put a limit on your cover, such as an altitude or distance.
Horse riding – A favourite activity for many holidaymakers, we cover customers for galloping fun in the sun. But you'll need to wear a helmet, and you wouldn't be covered for horse jumping, competitions, racing or hunting.
Hot-air balloon insurance – You're meant to be up in the clouds on holiday, and your insurance will likely cover you for just organised pleasure rides.
Mountain biking – Like hiking, there may be an altitude limit, and the cover wouldn't extend to extreme events, racing or competitions.
It's standard for most providers to set premiums or restrictions on certain activities. Again, check your policy for a comprehensive list.
What about insurance for water sports?
When it comes to getting wet, you might have to tread water with your insurance before diving in. Yet if you want to take a dip in an authorised pool or go banana boating with the family, your travel insurance will have you covered.
Your insurance may cover you for more adventurous aquatic activities, but with limitations and possibly an additional premium.
Scuba diving insurance will usually be included as standard for dives up to depths of 18m if you're qualified or accompanied by a qualified instructor.
White-water rafting may need an additional premium depending on the grade of the river you tackle.
Generally, travel insurance doesn't cover any power boating for legal expenses and personal liability. And it's the same for any thrill seekers choosing to go swimming or diving with sharks.
What about any sports equipment I might take abroad?
It's one thing if you spontaneously decide to try something out, but you might go abroad with the intention of indulging in your favourite sport – whether water sports or even a golf holiday.
Most policies cover your baggage up to a certain value, but if you're transporting valuable water-sports equipment or golf clubs, this amount might not cover what you paid for them.
So check with your provider how much you're covered for, or consider adding specialist cover. If you're looking to get into the swing of things abroad, we have an option to add golf insurance.
But do check your home insurance first, because you may have cover for personal belongings and valuables outside the home, anywhere in the world. Not only will this cover your baggage and your camera, it may cover your golf clubs as well. What's more, you can ask your travel insurer to remove baggage cover, which will reduce the premium a little.
What can I claim for?
You can find a full list of sports and activities covered as standard in our policy booklets. Incidents you can usually claim for include:
Personal accident
Cancellation
Emergency assistance
Medical expenses
Personal belongings and money
However, always check with your individual insurer prior to travel just what you can claim for.
---
Whether you're taking the family for some much-needed rest and relaxation, or you're off with your friends for sun, sea and sports, unexpected bills could make your summer holiday a washout. For a carefree holiday, start with our competitive travel insurance.2
---
1 Summer Holiday lyrics © Sony/ATV Music Publishing LLC.
2 AA Travel Insurance, a brand name of Automobile Association Insurance Services Limited (AAIS), is sold, administered and underwritten by AXA Insurance UK plc.