Life's what happens when you're making plans - or so the saying goes. And it's never more apt than with your holiday plans. You might've been counting down the days until your romantic getaway or your beach holiday with your bestie, and then you break up, fall out or fall ill.
Whatever the reason for you cancelling a holiday, you'll need to know what rights you have when it comes to claiming back any available refunds.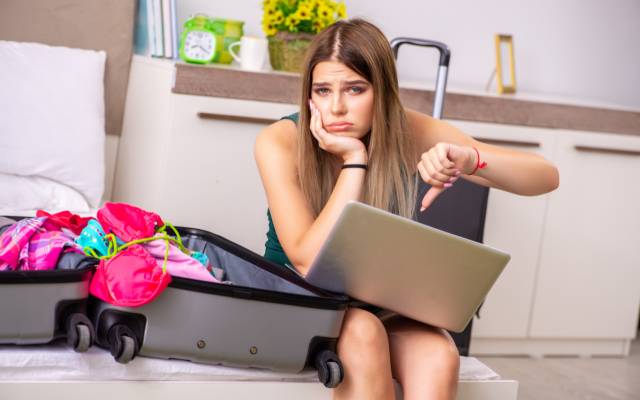 Can I cancel my holiday?
Your rights when it comes to cancelling a holiday depend on why you're choosing to do so.
If you've booked a package holiday, you'll be ATOL protected. This means if your travel operator changes the terms and conditions of your holiday, you have the right to cancel and get a full refund. You'll have the right to cancel if they make any changes to your:
Accommodation - including if you've been moved to a different hotel or a different room type
Travel dates
Flights
You'll also have the right to cancel and get a full refund if the price of your holiday changes once you've booked and you're asked to pay more.
What does ATOL protected mean?
We've just mentioned it above, and no doubt you'll have seen 'ATOL protected' used when shopping around for your holiday. ATOL stands for Air Travel Organiser's Licence and is a financial scheme put in place to protect you when you book a holiday with any UK travel company. If your company goes under or something goes wrong with any part of your package, the scheme will protect you financially.
If you don't book an ATOL protected holiday and decide to book your flights and hotel separately, whether you can cancel will be up to each company's discretion. You'll find that sites like Booking.com will advertise if you can cancel your reservation, and what notice you have to give.
Will I have to pay a cancellation fee?
Each operator will have different rules, but you can expect that the longer you wait to cancel, the higher any fees will be.
This means you may not receive 100% of the cost of your holiday back, but instead you might receive a proportion of this. If you cancel last minute, or if you have chosen a budget class of travel with less flexibility, you may not receive any money back.
Cancelled holidays for sale
Selling on your holiday or transferring it into someone else's name could get you some of your money back. Contact your holiday provider to see if you can do this. Most companies will only let you transfer your holiday if you give plenty of notice; usually around a month before your departure date, and charge you a fee if they do let you.
Cancelling a holiday due to illness
If illness forces you to make a holiday cancellation, there's no legal obligation for the package holiday operator, airline or hotel to refund you.
You should check the terms and conditions of your booking to understand what options are available to you. You might be able to get a partial refund if you pay a cancellation fee.
If your insurance specifically includes cancellation cover, you should be okay to claim, but there might be some obstacles. If you cancelled your holiday because of an unforeseen accident or illness, you'll likely be covered, but if you cancelled because of complications associated with a pre-existing condition, you might not be able to claim anything back. You'll also not be able to claim for illness or injury caused by drug use or self-inflicted injuries.
Cancelling a holiday due to bereavement
Facing the death of a loved one is difficult enough, without having to worry about changing travel plans. Many people assume that tour operators will be lenient in compassionate circumstances. But unfortunately, that's not always the case.
The first thing you should do is to talk to the company you booked your holiday with. They can tell you what conditions you agreed to when you paid for your trip. They may treat a cancellation due to bereavement just the same as cancelling for any other reason, which might mean you won't get all your money back.
Tour operators charge cancellation fees as you're technically 'in breach' of your contract with them and they're entitled to compensation - just the same as if they'd cancelled your holiday. These charges may seem unfair, but travel firms have recently been warned to treat customers more fairly by the competition watchdog.
Tour operators might be more lenient or waive the fees if they have a chance of reselling your holiday to someone else. So try to give as much notice of cancellation as you're able to.
Bereavement and travel insurance
If you have to cancel your holiday due to the death of a loved one, your travel insurance could help to cover you. This depends on the type of policy and when you took it out. The sooner you buy cover, the sooner you're protected.
Many policies will cover emergencies such as illness, the death of a close family member or redundancy. But insurers may have different opinions on who qualifies as 'close'. The death of a parent, sibling or child would likely be covered, but an uncle or aunt might not be.
Insurers may be less likely to accept your claim if you knew your family member was very ill or could pass away. Most policies exclude cover for anything that you knew might happen when you booked your holiday. If you have a family member who is terminally ill, make sure that your policy covers this type of cancellation.