Once you pass airport security, you can officially enter 'holiday mode'. But how can you make sure that your luggage goes through the scanners smoothly?
Nobody wants their bag to be taken for extra checks or to be parted from their favourite bottle of perfume. So, we've got everything you need to know about taking liquids on a plane.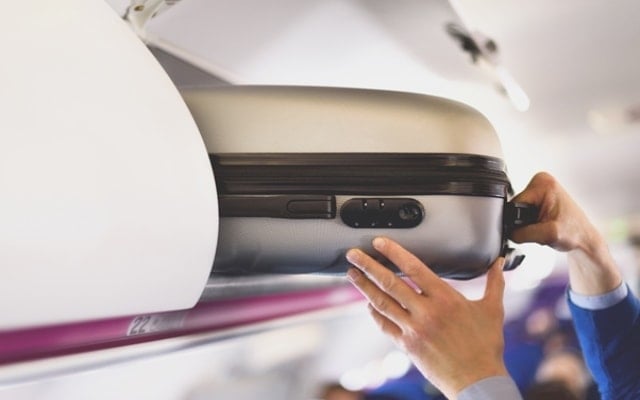 What liquids can I take on a plane?
To take liquids in your hand luggage on any flights to or from the UK, remember:
You can't take more than 100ml of any permitted liquid, cream, lotion or gel.
Containers over 100ml aren't allowed - even if they aren't full. Decant your toiletries into specific 100ml containers or buy the airport-approved miniature versions of your fullsize favourites. You can find these containers and miniatures at most high street chemists, supermarkets or online. You can also buy miniature toiletries at the airport if you forget anything.
All containers must fit inside a clear, plastic bag provided at the airport. These are usually no larger than 20cm x 20cm and must be able to be closed and sealed. Only 1 bag is allowed per person.
The maximum amount of overall liquids you can bring on a flight is 1L.
Airport liquid restrictions
For flights to and from the UK, the restricted liquids include:
All drinks, including water.
Foods including jam, honey, soup and syrups.
Toiletries including toothpaste, perfumes, mascara and lip gloss.
Aerosols including shaving foam, hairspray and deodorant.
Hair gels and wax.
Contact lens solution and eye drops.
Any other products with similar consistencies to those listed above.
Baby on board
Travelling with children can be stressful enough as it is, so luckily you can carry breast milk, formula and other baby food with you onto a flight.
You can carry more than 100ml of milk and sterilised water (but it must be in a baby bottle and you must have a baby with you, unsurprisingly). Security might ask you to taste the liquids yourself to prove that there's nothing suspicious about them.
You can't carry frozen breast milk though, and the maximum amount of breast milk you can carry on is 2L.
Duty free
If you buy any alcohol at duty free, you'll be allowed to take this on the plane as you'll have already passed security. You just need to make sure you keep it with the receipt in a clear, sealed airport bag (you'll be provided with one of these at checkout).
The duty free bag won't count towards your allocated hand luggage allowance, so don't worry if your airline has said you can only take one bag on board.
If you're catching transfer flights, you might have to have them re-checked and they could be subject to that country's laws too, especially when concerning alcohol.
What about my medicine?
Restrictions don't apply to essential medications provided you have a note from a doctor to prove it. With the doctor's note, you can keep any medicine you need on you in your hand luggage – including liquid medicines, cooling gel packs, tablets and hypodermic syringes - and these can be larger than 100ml.
Vaping
It's possible you or someone you're travelling with will have e-cigarettes or vape pens. You can take your e-cigarette or vaporiser on board, but you won't be able to use it – just like with an actual cigarette.
In fact, because e-cigarettes and vape pens use lithium batteries, you're required to carry them on-board rather than checking them in. Refills over 100ml will have to go in hold luggage, but you need to keep the vape on you.