Watching your kids experience things for the first time is one of the joys of parenthood. Holidays with children mean seeing their first splashes in the ocean or watching them build their first sandcastle. But as well as priceless memories, taking them abroad comes with hassles and risks.
If you're planning a family trip to strange-and-sunny lands, it's normal to be worried about your child's safety abroad as well as tantrums along the way (you wouldn't be the first parent who has witnessed their little angel's halo slip on holiday).
Read on for our top tips on travelling with kids, including how to keep them entertained, to keep kids safe abroad and keep costs down.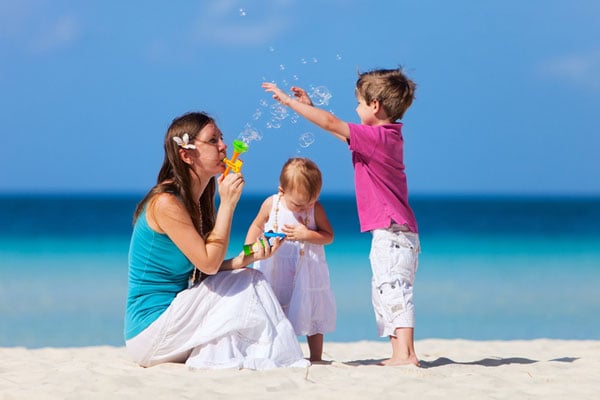 Prepare before you go abroad
Though it might not really put you in the holiday mood, take some time before you leave to devise a plan in case things go wrong, and you could avoid a tricky moment becoming the worst-case scenario.
Avoid getting lost
Make sure they know what to do if they get lost and can't find you. Explain that if they can't find you or someone from your holiday party, they should find a staff member, a police officer or other families to ask for help.
If everyone you're travelling with memorises or has access to some contact details – whether it's a phone number or the address of your hotel – then your kids should be able to get themselves to a safe location.
Check high street stores or online shops like Amazon for child safety wristbands which you can put contact details. They can be bright and colourful or come with characters from popular children's TV or films to encourage little ones to wear them.
Research the area
Ask your holiday provider and read reviews online about the area surrounding where you're staying.
Make a point of noting all the fun places to go, and places to avoid by themselves - like pick-pocket hot spots and major roads.
You could also make up fun games to teach children how cars drive on the opposite side of the road in different countries.
Prep them before you go on holiday and hopefully nothing will get forgotten in the excitement.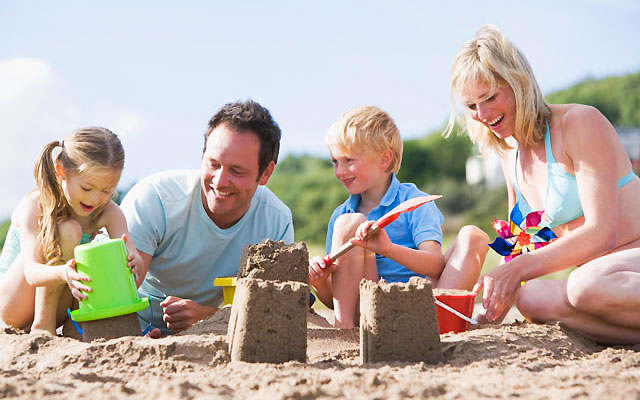 Keep them entertained on the way
In-flight entertainment
Before you even begin to worry about keeping them safe in the sun, first you have to get through the journey. Whether it's by plane, train or automobile, luckily we now live in an app-happy world that can make any journey easy. With the right gadgets and apps, the 'are we there yet?' question and frustrated tears are a thing of the past.
If you have a streaming subscription, download the kids' favourite programmes to your compatible mobile or tablet. They can then watch them later, even without an internet connection.
There are also great games, colouring and drawing apps, and books that you can carry around in a portable device – perfect to keep children of any age distracted.
Hotels with entertainment
When you're booking the family holiday, look for hotels or resorts that offer entertainment for the little ones, so that you can enjoy some quiet time by the pool. From daily activities to night-time shows, they all help to keep the kids occupied.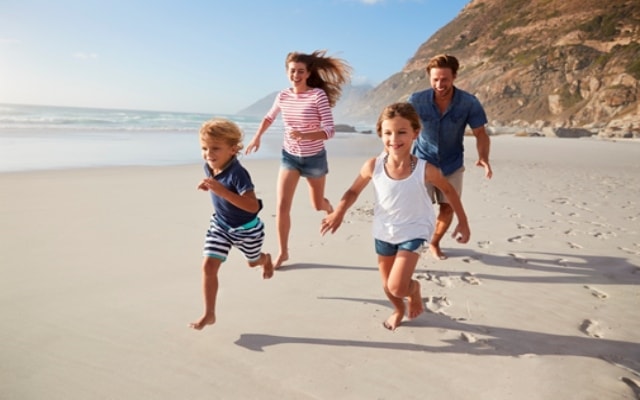 Keep them safe when you're there
Heat exhaustion
Little ones have a higher risk of getting heat exhaustion, so avoid being out and about in direct sunlight for too long. Always keep them hydrated, wear a high SPF sun cream and clothes that keep them cool and protected from the sun.
What are the signs of heat exhaustion?
Dizziness and confusion.
Loss of appetite and feeling sick.
Excessive sweating, and pale, clammy skin.
Cramps in the arms, legs and stomach.
Rapid breathing or a quick pulse.
A high temperature of 38°C or above.
Increased thirst.
How do I treat heat exhaustion?
Take them to a cool shelter.
Give them plenty of water to drink.
Apply something cool like a cold, wet sponge or a cold pack to their necks or around their armpits.
Heat exhaustion can turn into the much more serious heatstroke or sunstroke so seek medical assistance if their temperature goes higher than 40°C or if they don't start to feel better after 30 minutes.
Coping with the heat
For holidays in a much hotter climate than your children are used to, consider choosing clothes made from natural fibres to prevent sweat rash and irritated skin.
If you have a young child in a pram, a common mistake is to use a blanket to shield them from the sun. This could actually make things worse by making the pram much hotter. Instead use a parasol or ensure the pram's hood is up for shade.
Swimming on holiday
The best attitude to keep is 'you can never be too careful.' Even if your child is a strong swimmer, try to keep an eye on where they're swimming and how far they go out. If the waves become powerful or they hurt themselves on rocks in the sea, they could get into trouble out of your sight.
Some beaches can have strong currents which aren't visible from the shore, so check for any warning signs.
Make sure your children know to swim only between the flags - these are normally red or yellow and indicate the areas are safe and patrolled by lifeguards.
Check online for Blue Flag awarded beaches - beaches that have been found to have the safest, cleanest water and land.
Check their swimming costumes for anything that might get trapped in a pool filter. According to the Telegraph's Safer Tourism Foundation, 23 serious incidents reported in 2018 were due to hair or clothing being caught in pool filters.
Whether at the pool or the beach, you should always check that your children are swimming somewhere with lifeguards on duty. If you do happen to look away and an accident happens, it's their job to leap into action.
Allergies abroad
If your children have allergies, you'll already have a heightened sense of what to look out for. But if you're abroad and not as familiar with the products, there's no such thing as being overly prepared.
At allergyuk.org you can buy food allergy translation cards, showing what your children are allergic to and how severe the allergy is in the language of your destination. Cards for 70 different allergens are available in 36 languages, and are sold in sets of 3 per language.
Avoiding insect bites
If your accommodation doesn't provide mosquito nets for baby cots, you'll need to take your own. Another way to protect babies from insect bites is to put them in a lightweight cotton sleeping bag or liner with a long-sleeved top, and apply insect repellent to the fabric. Remember to check the repellent is suitable for your child's age.
Safety in your room
What we simply see as features of a room, smaller children see as an obstacle course. Check that balconies are safe and that there's no way a younger child could open a window or fall down any gaps.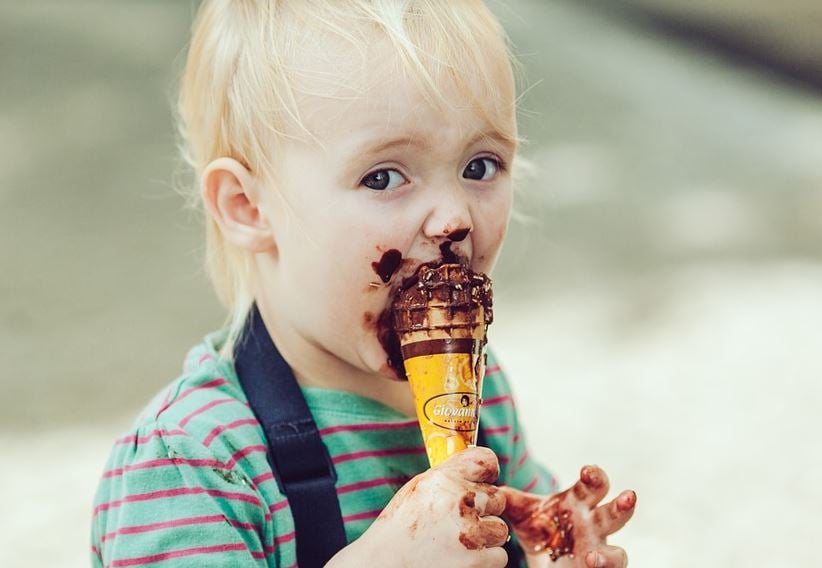 Keep the cost down
Consider all inclusive
All-inclusive accommodation can be a cheaper option for families. With buffet-style meals and most drinks included in the price, you'll be able to feed even the fussiest of eaters (applies to the grown-ups too).
Make the most of discounts
Solve the problem of what to do with your kids, as well as saving yourself some money, by looking for attractions, resorts, days out or parks which offer discounted rates for children under a certain age.
---
Everyone deserves a holiday, and the thought of travelling with children shouldn't stop you from treating yourself to a much-needed getaway.