Babies are the best, but having children means making big changes in your life. Lots of parents-to-be forget that having children could change the way you holiday.
To make sure you squeeze in a grown-up retreat before your little one arrives, why not plan a babymoon? We're here to explain what a babymoon is, how to travel safely while pregnant, and what it means for your travel insurance.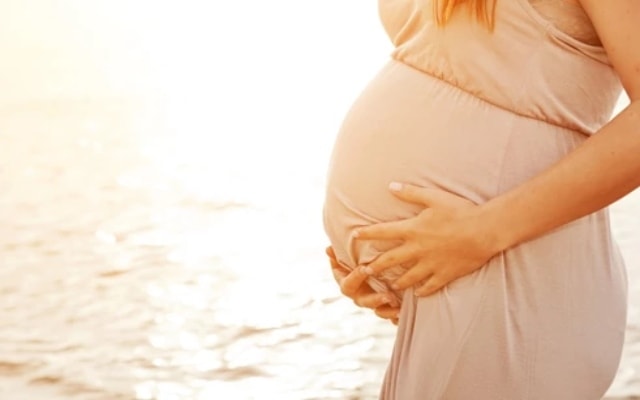 What is a babymoon?
A babymoon is a holiday you take when you're pregnant. It's a final getaway without kids before you're upgraded to the status of Mum or Dad. It's the perfect excuse to treat yourself to a relaxing getaway, because the next few years are going to be busy!
When should I go on my babymoon?
You might be worried about flying while pregnant, so our advice is to take your babymoon during the second trimester when you're 4-6 months pregnant.

If you travel before 12 weeks, you might find you feel nauseous. The risk of miscarriage is also higher in the first 3 months which is why some people prefer not to travel abroad during this period. After your 12-week scan, you'll know if it's safe to fly away for a week or 2 of relaxation.

Travelling after the 28th week of your pregnancy might be more tiring and uncomfortable, and some airlines may ask for a letter from your doctor proving it's safe for you to fly.

You should always consult with your doctor if you're planning a long-haul flight.
How to have the perfect babymoon
If you're expecting your first child, this is the perfect opportunity to get in some peace and quiet. Pick a resort that'll let you indulge in some of these grown-up treats:
Adults only – the benefit of a babymoon is being able to stay in a hotel that's just for adults.
Swimming – a relaxing adults-only holiday means a pool free of divebombing children. Swimming can ease pregnancy aches and pains because in the water we weigh just a tenth of what we do on land.
Dining – without any little ones with you, why not indulge in a grown-up, late-night dinner? You won't have to worry about bedtimes or finding something for fussy eaters.
Spa breaks – Plenty of spas offer special pregnancy packages. Pampering treatments like facials, wraps and massages improve circulation, ease tiredness and leave you glowing.
Tips for travelling when pregnant
Insect-borne illnesses
If you're pregnant, you should take extra precautions against being bitten by insects.
Find an insect repellent that's suitable for use if you're pregnant (not all are and you should always check).
If you're travelling to an area with malaria, check whether anti-malaria tablets are safe to take, as some might not be.
Some vaccines using live bacteria or viruses aren't safe while pregnant, so you should check where you plan to visit and consult your GP or midwife.
Health tips for your flight
Blood clots are a potential risk to any traveller, but pregnant people could be more vulnerable. If you take a flight while pregnant, make sure you:
Do exercises, like leg lifts and ankle circles. You'll usually find some example exercises on the plane or you can ask a flight attendant for advice.
Wear loose, comfortable clothing.
Stay hydrated and move about regularly – every 30 minutes or so.
Buy a pair of compression or support stockings which will help reduce leg swelling.
Avoiding tummy bugs
All travellers should be aware of what they eat or drink abroad, but if you're pregnant, you're at risk if you fall sick.
Check what food and drink is safe in the country you're visiting so you can avoid a stomach upset. Some medicines for treating bad stomachs aren't suitable if you're pregnant.
Always check if you can drink the tap water. If there's any doubt whatsoever, drink bottled water.and avoid drinks with ice in. You should also avoid fruits and vegetables that are washed in
water and aren't peeled, like salads and berries. Bananas and oranges, which are peelable, are fine.
If you fall ill, stay hydrated and continue eating for the health of your baby, even if you might be feeling queasy.
Fatigue and dizziness are common during pregnancy so it's important to drink regularly and eat healthy foods to keep energised.
Travel insurance when pregnant
Your travel insurance will cover you as normal for travel during your pregnancy up to full term. But most policies will set out some exclusions and points to be aware of.
Your insurance will cover you for complications associated with pregnancy and childbirth, but not for routine treatments or a normal birth.
Look out for any time restrictions, such as only being covered for complications from a premature birth within the first 32 weeks.
Check your airline's policy - each airline will have separate restrictions on flying when pregnant.