There's always confusion about what can and cannot be packed into your hand luggage.
Instead of listening to your next-door neighbour (who swears you can get away with smuggling a huge bottle of perfume if you're nice to the staff) read on to find out what you can pack, and how to make sure you're making the most out of your hand luggage.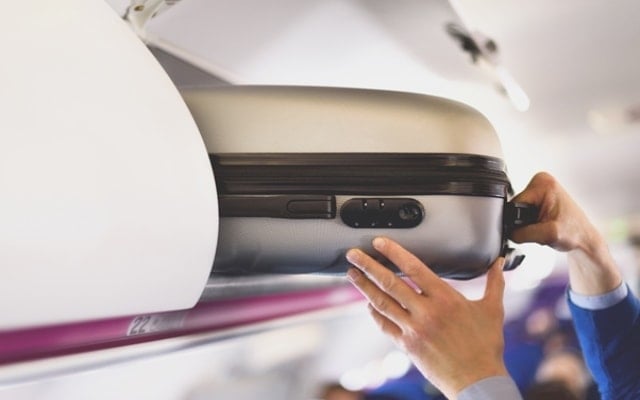 What can you take in your hand luggage?
Can you take electronics in hand luggage?
You can take the following items on board in your hand luggage, but you still must respect the rules of your airline as to when (and if) you can use them.
Mobile phone
Laptop
Tablet devices
MP3
Hairdryer or straightener
Electric shaver
E-cigarette
If none of your devices can be switched on upon request, you'll not be allowed to take it on the aircraft so make sure those devices are charged. If you're taking your gadgets on holiday with you, it might be a good idea to get gadget insurance.
Can you take medication in hand luggage?
You're allowed to take essential medication (including any over 100ml) in your hand luggage. You'll need to provide some documentation from a relevant medical professional (such as a letter from your doctor or a copy of your prescription).
Just be aware that airport staff might need to open the containers to screen the liquids.
Everyday items you can take:
Spoons
Scissors with blades that don't exceed 6cm
Disposable razor blades
Nail clippers
Tweezers
Knitting needles
Sewing needle
Umbrellas
Walking sticks/aids
Pushchair
Wheelchair
Safety matches
Breast milk (in containers up to 2000ml)
Formula milk (with a baby present)
Baby food (with a baby present)
You can find a full list of what you can – and can't – pack in your hand luggage online on gov.uk.
How big can hand luggage be?
Each airline has different limits and restrictions about hand luggage sizes so you must check long before turning up at the airport for your flight. Airlines will restrict your bag based on how much it weighs and how big the bag is too.
Travel packing guide for hand luggage
Plan your outfits
If you're limited on what you can bring, make a plan about what you're going to take and stick to it. Look at the weather forecast, work out what events you plan on doing and then prepare to pack the outfits necessary.
A good tip for making the most out of your hand luggage is rolling, not folding, your clothes. Take each item of clothing, fold any sleeves in then roll as tightly as possible. With thinner materials, bundle them together and then roll. You'll be able to fit much more in, and if you're worried about creased clothes, most hotels abroad will have an iron you can use or just hang them up in a steamy bathroom.
Pick the right bag
Before you start packing your bag, make sure you've picked a good one. Generally, bags and cases made from fabric, rather than a hard case, are lighter and easier to pack more stuff into. You should also look for a bag with a pocket on the front or at the sides, so you can easily store your important documents and safely zip them up.
Decant your liquids
If you plan ahead, you can buy some small 100ml clear bottles to decant your liquids into, meaning you won't have to chuck anything away when you get to the airport. By doing this ahead of time, you'll also have to wait less in the queues. Just take your already-decanted bottles and pop them in the airport's transparent bags and you're ready to head through security.
Fill your boots
A good way of saving space is by tucking things inside your shoes when they're in your bag. Small items like chargers, underwear and accessories can easily be shoved inside your shoes.
What if something happens to my hand luggage?
You should check with your insurer beforehand but most don't include cover for unattended valuables. Your insurance isn't responsible for checked luggage but you do have the legal right to claim compensation from the airline if checked-in luggage is lost, damaged or delayed in getting to you. But you can only claim if the airline can be proven to be at fault. Citizens Advice provide a comprehensive overview of your rights.
Our insurance will cover you to replace essential items if your hand luggage is delayed by more than 12 hours. Find out more about our travel insurance.