The government has announced that there'll be a temporary period of MOT exemption during the coronavirus (COVID-19) situation. The length depends on the type of vehicle. This exemption is to help you carry on shopping for necessities and to travel to work, if you can't do so from home.
MOT tests during coronavirus
All cars, vans and motorcycles that normally require a MOT check will be exempted from needing a test, starting from 30 March 2020. For lorries, buses and trailers, the MOT exemption will last for 3 months from 21 March 2020. You might need to apply for this, this will depend on your vehicle.
What if my MOT has already expired?
If your first MOT check was due before 30 March 2020 and your vehicle didn't pass, you won't get an extension to the MOT due date. As a result, your vehicle will need to pass a MOT before you can drive it again. The government is allowing MOT centres and garages to remain open, so follow their advice on getting a MOT booked.
What drivers need to check to make sure their vehicle is roadworthy?
You must keep vehicles in a roadworthy condition, drivers can be prosecuted if they are deemed to be driving unsafe vehicles. Garages will be allowed to stay open for essential repair work.For guidance on maintenance you can read our how to maintain your car page.
For more on how we're dealing with the coronavirus situation and our advice, visit our FAQ page.
If your vehicle's more than three years old, you'll have to get it tested every year to show that it meets minimum standards for roadworthiness and emissions. The rules are different if it's a taxi.
The MOT test basically confirms, without dismantling, that your vehicle meets the minimum acceptable environmental and road safety standards required by law.
An MOT's no substitute for regular maintenance, and doesn't mean that your vehicle's roadworthy for the life of the 'certificate'.
If you want to know exactly what the test covers, you can read the official testing guides

.

You can easily check the official MOT history

and status of a vehicle you own or are thinking of buying. You only need to know the make and registration number.

The status check confirms the date, mileage and expiry date of the last test as well as details of previous MOTs back to 2005.
What's changed in the MOT test since 20 May 2018?
The way the MOT test works changed as part of an EU directive (2014/45).
Defect categories
New defect categories of 'dangerous', 'major' and 'minor' are now used. Vehicles with a 'Dangerous' defect mustn't be driven until repaired.
Dangerous (fail) - an immediate risk to road safety or serious environmental impact. Don't drive until repaired.
Major (fail) - may affect safety, put others at risk or have an environmental impact. Repair immediately.
Minor (pass) - no significant effect on safety or environment. Repair as soon as possible.
Advisory (pass) - could become more serious. Keep an eye on it and repair if necessary.
Pass - meets minimum standard required.
How early can you get an MOT?
You can take your car for an MOT up to a month early and keep the same renewal date but what if the car fails the test?
The expiry date of your old MOT still stands so you'll still have a current MOT. If you drive your car away, you'll not be committing the specific offence of driving a vehicle without a valid MOT.
But, you can't simply ignore the test result and continue using your car until the old MOT expires.
It's an offence to drive a vehicle with a known defect and to drive an un-roadworthy vehicle.
You can be fined up to £2,500, be banned from driving and get three penalty points for driving a vehicle in a dangerous condition.
Changes to testable items and defects from 20 May
There's a major overhaul of the MOT testers' manual that came in at the same time as the new defect categories.
There's a long list of changes with some new checks added, some existing checks updated and a few failure items removed. Changes include:
New items
Brake fluid contamination
Front fog lights
Reversing lamps
Light source and lamp not compatible - Halogen headlamps converted for HID bulbs will fail
Vehicle Identification Number (VIN) obviously falsified
Brake lining or pad wear indicator illuminated
Engine malfunction indicator lamp
Exhaust gas recirculation valve
NOx sensor
Evidence that a Diesel Particulate Filter (DPF) has been tampered with
Any visible smoke from a vehicle with DPF
Stricter limits for emissions from diesels with a DPF
Fluid leaks other than coolant and Adblue
If you've heard that having fluffy dice on your rear-view mirror can fail your MOT, you're right. It's not a car myth - obstruction of more than 4cm could land you with a failed MOT. (But realistically you'll probably be told by your mechanic to remove the dice before the MOT takes place.)
Items that won't now cause an MOT failure
A few defects that would've resulted in a failure before, are classified as 'Minor' defects. You'll still need to get them repaired as soon as possible but they won't result in an MOT failure. These include:
Brake fluid below minimum level

Brake fluid warning lamp
Direction indicator flash rate
One of two number plate lamps not working
Historic vehicles
From 20 May 2018 cars, vans and motorcycles over 40 years old won't need an MOT as long as they've not been substantially changed in the previous 30 years. You won't have to apply to stop getting an MOT but when you tax your vehicle you'll have to declare that it meets the rules for no MOT. You must of course ensure that the vehicle remains in a roadworthy condition.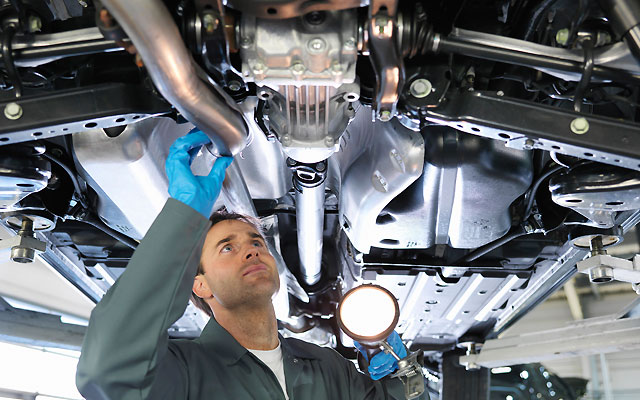 More MOT Advice
How much is an MOT?
As set out by the Department for Transport, the maximum fee that can be charged for an MOT is currently £54.85 for a car.
Maximum fees are set to take account of the time a test should take and the costs associated with being an MOT tester.
MOT certificate
The paper document you get from the garage is just your receipt, though it is still widely referred to as a certificate. It's not proof of an MOT.

The official record – dates, mileage, location and any advisory work noted at the time – is held online and is connected to all MOT testing stations.
Mileage
Your MOT certificate will show the mileage at up to three previous MOT tests as well as the latest one. This is to help beat 'clocking',where a vehicle's mileage is fraudulently reduced to increase its value.
If it's your car:
Check the mileage on the 'certificate' when you collect the car
If the garage has made a mistake the system will only allow them to correct it within seven days
Any error, if missed can affect your car's value or make it harder to sell.
If you're buying a car
Not satisfied with your MOT results?
Pass or fail, if you disagree with the result, it's best to talk to the you test station first if possible. It's important not to let anyone else carry out repairs to your vehicle.
If you're not satisfied with the way your test was conducted, complain to the Driver and Vehicle Standards Agency (DVSA) as this helps them maintain good service and consistent standards.
---
Recent changes to the MOT test
Since February 2014, removing a Diesel Particulate Filter (DPF) will mean an MOT failure.
In 2012/13 several new test items were added to meet European Directive 2009/40/EC. these included:
Electronic parking brake controls

Electronic Stability Control (ESC) if fitted
Electronic parking brake warning light
Electronic stability control warning light
Headlight main beam warning light
Electronic power steering warning light
Brake fluid level warning light
Seat belt pre-tensioner warning light
If a steering lock was fitted as standard it must be present and working
Headlamp self levelling and cleaning devices where HID or LED dipped beam headlamps are fitted
An insecure or leaking battery is now a reason for failure
A basic security/damage check of 7-pin trailer sockets and a full electrical connectivity check of 13 pin sockets
Tyre pressure monitoring systems fitted since January 2012 must be working correctly and not indicating a malfunction
Original equipment airbags must be present and not obviously defective
Original equipment seatbelt pre-tensioners must be present and not obviously deployed
Original equipment seatbelt load limiters or folding webbing type limiters fitted as standard must be present and not obviously deployed
Airbag warning light
Speedometer not fitted, incomplete, inoperative, a dial glass broken/missing or can't be illuminated
You must be able to lock the driver's seat in two or three different fore and aft positions.
On electric seats the motors must move the seat fore and aft
Doors must be easy to open and close
A rear door that can't be opened from the outside
Inappropriate repair or modification to a tow bar assembly
A catalytic converter fitted as original equipment but missing
---
Published: 16 November 2016 | Updated: 03 October 2018 | Author: The AA