Gusts are more likely on open stretches of road, when passing bridges or gaps in hedges, or when overtaking high-sided vehicles. Strong winds can also bring down tree branches, blow you off course or blow other vehicles into your path.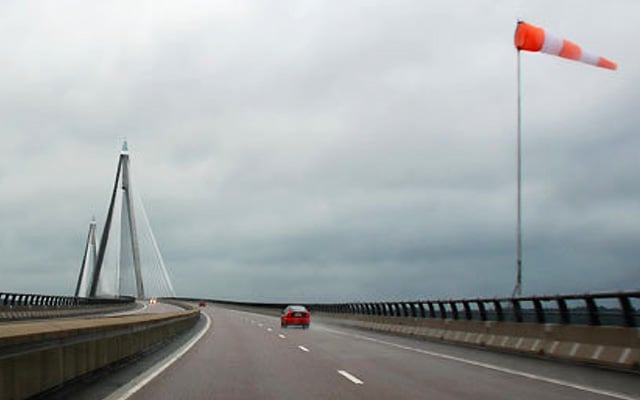 How to drive in strong winds – our top tips
Keep both hands on the wheel
Be ready for stronger winds and gusts
Wind is worse on exposed stretches of road or when passing high-sided vehicles
Sudden gusts of wind are likely when passing tall buildings in urban areas
Keep your speed down – strong gusts won't blow you as far off course
Take care and leave extra room around cyclists and motorcyclists. They're particularly vulnerable to sudden gusts and may veer across the road
Avoid overtaking. Overtaking can be dangerous in strong winds, as there may be a sudden gust as you pass a large vehicle (which could cause it to veer into you)
Keep your distance from other vehicles, especially high-sided vehicles and caravans
Avoid towing. High-sided trailers like caravans or horseboxes can be dangerous to tow in windy conditions
Leave the roof box at home. A roof box can increase the impact of crosswinds on your vehicle
Look out for debris in the road. Twigs or small branches in the road could mean there's a tree or large branch in the way around the next bend
Look out for hanging trees. Partially fallen trees can hang above the sweep of your headlights, making them hard to spot
Plan ahead. Plan your journey carefully, checking weather and traffic bulletins regularly
Expect lower speed limits or temporary closures
Exposed bridges may have lower speed limits – especially for towing vehicles
There could also be road closures due to fallen debris or accidents
Keep to main roads. Try to drive on main roads if you can, as minor roads are likely to be obstructed by fallen branches and debris
Park safely. Try not to park near/under trees, telephone wires or poles that could fall on your car
If you have a garage you may want to park your vehicle in it to minimise potential damage from strong wind
Is it safe to drive in 50mph winds?
The National Service says that driving conditions can become difficult and potentially dangerous when wind reaches speeds of 30-45 mph. When the wind speed goes above 45 mph it will definitely be more dangerous to drive – we recommend avoiding driving if you can.
The UK's official weather service, The Met Office, issues warnings when bad weather is expected. Listen to local traffic news bulletins to find out what to expect from the weather. Weather warnings are colour-coded according to severity:
Yellow: there will be minimal disruption to your journey
Amber: there will likely be road closures and travel delays
Red: there will be disruptions to your journey due to dangerous weather conditions – you should ideally stay home and avoid travelling if possible
What to do if you break down
If you break down during a storm, make sure you put your hazard lights on to make you more visible to other motorists.
Contact the emergency services or your breakdown service and stay in your vehicle, unless there's somewhere safer to wait. Make sure you're covered in these situations by buying breakdown cover with us.
We provide 24/7 roadside assistance.
Why choose us?
We're a Which? recommended provider for 5 years running.
UK drivers have consistently rated us as the best breakdown service against all other major breakdown providers.
Our Patrols will usually get to you in less than an hour and get you back on the road within around 30 minutes of arrival.
Verify at theAA.com/best.
Last updated: 15 March 2023 Author: The AA