Gusts are more likely on open stretches of road, when passing bridges or gaps in hedges, or when overtaking high-sided vehicles. And wind can bring down tree branches, blow you off course or blow other vehicles into your path.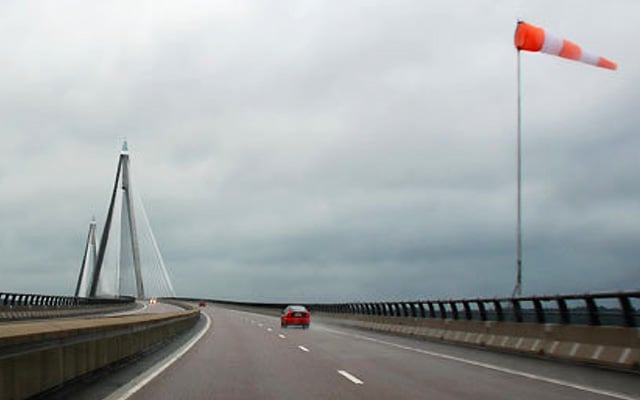 Top tips
Keep both hands on the wheel
Be ready for stronger winds and gusts on exposed stretches of road or when passing high-sided vehicles
Be ready for sudden gusts when passing tall buildings in urban areas
Keep your speed down – strong gusts won't blow you as far off course
Take care and leave extra room around cyclists and motorcyclists. They're particularly vulnerable to sudden gusts and may veer across the road
Keep your distance from other vehicles, especially high-sided vehicles and caravans
Avoid towing high-sided trailers like caravans or horseboxes if very windy conditions are forecast
Twigs or small branches in the road could mean there's a tree or large branch in the way around the next bend
Partially fallen trees can hang above the sweep of your headlights, making them hard to spot
Plan your journey carefully, checking weather and traffic bulletins regularly
Expect lower speed limits or temporary closures on exposed bridges – especially for towing vehicles – and road closures due to fallen debris or accidents
Naming storms
The World Meteorological Organisation has been naming Atlantic tropical storms since 2008, but storms affecting the UK and Ireland have only been named since 2015/16. The idea's to raise awareness of severe weather.
UK storms over the winter of 2018/19
Ali (19 September 2018)
Bronagh (20-21 September 2018)
Callum (12-13 October 2018)
Deirdre (15-16 December 2018)
Erik (8-9 February 2019)
Freya (3-4 March 2019)
Gareth (12-13 March 2019)
Hannah
Idris
Jane
Kevin
UK storms over the winter of 2017/18
Aileen (12-13 September 2017)
Ex-Hurricane Ophelia (16-17 October 2017)
Brian (21 October 2017)
Caroline (7 December 2017)
Dylan (30-31 December 2017)
Eleanor (2-3 January 2018)
Fionn
Georgina
Hector
UK storms over the winter of 2016/17:
Angus (19 November)
Barbara (20 December)
Conor (23 December)
Doris (22 February 2017)
Ewan (26 February 2017)
UK storms over the winter of 2015/16:
Abigail (12-13 November 2015).
Barney (17-18 November 2015).
Clodagh (29 November 2015).
Desmond (5-6 December 2015).
Eva (24 December 2015).
Frank (29-30 December 2015).
Gertrude (29 January 2016).
Henry (1-2 February 2016).
Imogen (8 February 2016).
Jake (2 March 2016).
Katie (27-28 March 2016).
updated 11 March 2019