The holiday season can mean high temperatures, increased stress levels and extra demands on your car – so here are our seasonal tips to help with the challenges of summer driving.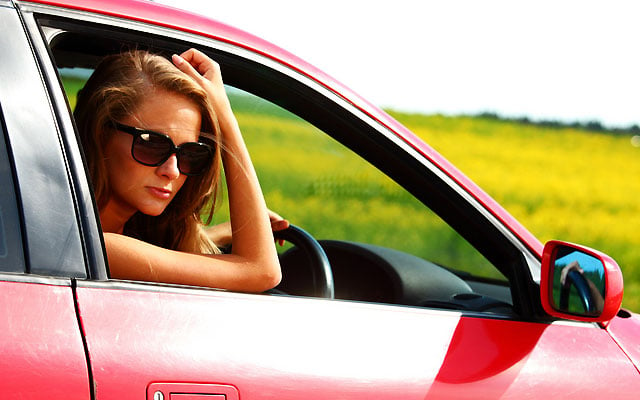 Wet or lost keys
It's easy to lose your car keys in the sand or ruin your remote control with water by accidentally taking your keys for a swim – keep your keys safe and dry.
If your remote stops working, check your handbook – on most cars, there's an alternative way to open the doors.
Do you need a replacement car key or key fob?
Call Key Assist on 03300 530 407.
Our specialist technicians will come to you wherever you are – we're a fully mobile service operating nationwide.
Learn more about our AA Key Assist service
Punctures
If your tyres are already damaged or they're at the wrong pressure, the higher temperatures of summer will increase the risk of a blowout.
Make sure you check tyres regularly – for condition and pressures – and increase pressures to suit extra loads, as advised in your handbook.
Check caravan tyres too, and replace those that show any signs of cracking in the sidewall or tread grooves.
Heavy traffic
During the summer you may encounter heavier traffic on the roads, as more people travel during this time to go on holiday. Here are our 6 tips on how to stay safe in the traffic this summer:
1. Drive defensively
Driving defensively means being able to 'expect the unexpected'. In heavy traffic, someone might cut you off or a motorbike may come filtering past you between lanes. Be aware of what's happening around you to avoid dangerous situations.
2. Remove distractions
Driving in heavy traffic requires you to be more alert and focussed, so keep your eyes on the road and both hands on the steering wheel at all times. Checking your phone is illegal while driving and adjusting your car's infotainment system is distracting, so avoid doing this while stuck in traffic.
3. Plan ahead
Planning your journey ahead of time may help you avoid heavy traffic. Leaving early to avoid peak traffic hours and being prepared for unexpected delays can also help keep you calm during your trip. The AA route planner can help you find the best route to your destination when traffic is heavy.
4. Keep a safe distance
It's important to keep a safe distance from other cars so you'll have enough time to respond and slow down in an emergency. A safe following distance is 3 seconds behind the car ahead of you.
5. Drive at a safe speed
When traffic is heavy, you may need to keep your speed below the displayed speed limit. By slowing down you'll have enough time to brake and avoid a collision if traffic ahead of you stops suddenly.
6. Remain calm (and avoid road rage)
Heavy traffic can cause agitation which could lead to an accident. Try not to drive while tired and remember that other drivers are going through the same stress. Angry driving and road rage can also increase your fuel consumption and cost you more money. Check out our monthly fuel price report. Plan regular breaks as this can help to relieve your tension and give you the chance to stretch your legs, and perhaps even enjoy a cup of tea or coffee.
Overheating
Cooling systems are under more strain in high temperatures, so issues are more likely to be exposed when it's hot. It's important to check the coolant regularly to avoid overheating.
It's not just the car that can overheat, so it's important to keep kids, pets and yourself cool in the car in summer. You can do this in the following ways:
Put a sun shield over the back windows – this will help keep the sun off the passengers in the back of the car and will keep some of the heat out
Have iced water in the car – this will help keep all passengers refreshed and hydrated throughout the drive
Use the air conditioning – driving with the A/C on will help keep the internal temperature of the car nice and cool
Try to park in the shade – if you stop along your drive, try to find a shady parking spot to avoid the sun heating up the car
Use a windscreen shade when parked because most of the heat enters the car through the glass
Glare
Dazzle from the sun can reduce visibility, but you can lessen the effect by keeping your windscreen nice and clean. Replace worn or damaged windscreen wipers to keep your screen clear and read our top tips on how to wash a car.
It also pays to keep a clean pair of sunglasses in your car year-round.
Driving tired
It's not safe to drive tired. If you do feel tired, stop in a safe place and take a break.
It's best to avoid getting tired in the first place if you can. Try these tips:
Include a 20-minute break in journeys of more than 3 hours
On longer trips, take a break every couple of hours
Take several short stops (of at least 20 minutes) rather than one long one
Don't drink alcohol or eat a heavy meal before driving
Never stop for a nap on the hard shoulder and make sure you check parking restrictions before putting your head down at a motorway service area, as you could get a ticket for overstaying your welcome.
Pedestrians and cyclists
In warmer weather, you're more likely to encounter cyclists and pedestrians out and about on the roads. It's important to be aware of your surroundings while driving and The Highway Code has clear rules and guidelines to ensure all road users are protected.
Driving at a safe speed and removing any distractions while driving will help you be aware of your surroundings. This also means you'll be able to react in time should you encounter vulnerable road users.
Hay fever
If your hay fever is particularly bad, it's best to get someone else to drive if you can.
If you can't avoid driving:
Make sure any medication you're taking doesn't cause drowsiness
Close windows and air vents to reduce pollen grains in the car
Clean mats and carpets regularly to get rid of dust
Keep tissues close to hand
Wear sunglasses to block out bright sunlight


Slow down and drop back if you feel you're about to sneeze – at 70mph you'll lose vision for up to 100m
Loose chippings
Roads repaired with tar and loose chippings are a common sight in the summer. They can cause cracked headlamps and windscreens, and damage paintwork if you're not careful. Stick to any temporary speed limit that's been put in place, avoid overtaking and keep your distance from the car in front.
Fire
It's illegal to smoke in a vehicle carrying passengers under 18. If you are a smoker, don't just throw your cigarette out of the window when you've finished it. Verges and embankments can become bone-dry and a smouldering cigarette may be enough to ignite roadside grass.
Tractors
The driver of that slow-moving tractor in front of you may have a soundproofed cab, or could be wearing ear protectors, so may not be able to hear approaching cars.
Be aware that tractors only have to have brake or indicator lights if driving at night, so they may stop or turn suddenly and without warning in daylight hours.
When you're driving in the countryside:
Keep plenty of distance behind a tractor
Remember that a tractor may be longer than it appears – there could be a loader on the front
Before overtaking, make sure you have plenty of room to get past

Slow down gently if you come across a spillage – if you hit a bale of straw at speed you'll damage your car
Don't park in a gateway or passing place
Drive extra carefully after rain, which can turn dry mud into a skid pan


Be prepared for an emergency
Make sure to have the AA App downloaded on your mobile phone
Download the free what3words app
Ensure you have water for all passengers, including your pets (make sure you have a bowl for pets to drink out of). Also have some snacks on hand in case of a breakdown
Have a first aid kit in your car, as well as mobile phone chargers
Take hats and sun cream in case you breakdown in an area with little or no shade


Broken down?
We'll get you back on the road.
If you're on a motorway, call us on 03330 046 046. If you break down anywhere else:
Report via the AA App

.

There's no need to give us directions – we'll come straight to your phone's location
Report online. Tell us about the problem and track your AA Patrol right up to your vehicle
If you aren't already with us, call us on 03330 046 046 to get instant breakdown cover