For better or worse, we're a trusting species, which may explain how myths trickle down and sneakily appear to be facts. You can see the Great Wall of China from space? Well, only just in low orbit, and then using a camera with a telephoto lens.
It's no surprise then that after a spell of severe weather, many people start to believe – and share – the idea that driving during extreme weather isn't covered by your insurance. Weather or not, we clear up the myth below.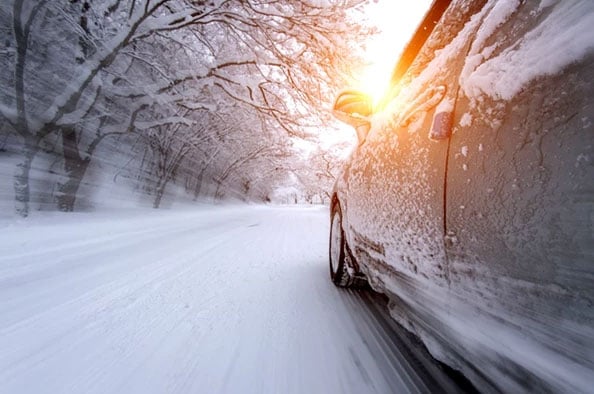 Weather warnings explained
When the weather is about to turn hazardous – such as rain, thunderstorms, wind, snow, lightning, ice and fog – the Met Office issues warnings up to 7 days ahead, giving you enough time to plan ahead and stay safely off the road.
Usually, you'll hear about a warning on TV or radio weather forecasts, but they'll also appear on social media and of course the Met Office app and website. The warnings are highlighted as red, amber or yellow, with red having the highest impact.
What's a red weather warning?
A red weather warning is the most serious alert, with risk to life as well as serious disruption to travel and possible damage to property. If you're in an area affected by a red weather warning, avoid travelling if possible and follow any advice from the emergency services.
Red weather warnings can be issued for different types of severe weather.
Rain When widespread flooding is expected, and fast-flowing waters will be dangerous.
Ice and snow When travel routes will be cut off or made extremely dangerous due to severe icy conditions or heavy snow.
Wind When the wind is strong enough to pose a danger to life with flying debris or by blowing cars off the road.
An amber weather warning?
A step below red, an amber warning lets you know that severe weather is likely and that there's a possibility of travel delays and disruptions, and potential risk to life and property. You should consider cancelling or rearranging travel plans, and taking any necessary steps to minimise the impact of severe weather.
A yellow weather warning?
This weather warning is issued when there could be some travel disruption and you should consider alternatives. However, yellow warnings are posted when there could be a severe impact anywhere across the country, so do check if your region may be affected.
Can I drive during a red weather warning?
Yes, you can drive during any weather warning, be it red, amber or yellow. But the aim is to make you aware of the risks and their likelihood so that you can plan ahead. Your insurance provider won't invalidate your policy just because you had to drive in heavy snow or strong winds. If your car is taxed, has a valid MOT and is insured, you're legal for being on the road.
Safe driving tips for bad weather
Besides our winter driving advice, here are some simple tips for a safer journey when severe weather is expected.
Slow and steady Driving within the speed limit is a legal requirement, but the limit is a maximum, and a slower pace is advisable in adverse weather. Stopping times could be affected, and steering can be more challenging. You might even struggle with visibility, so giving yourself more time to react could help to evade disaster.
Avoid country roads Where possible, you're safer sticking to main roads. They're more likely to be gritted if it's icy, while country roads may have fallen branches, flooded dips, and deep snow or ice that could cause accidents.
Retire a tired tyre Driving in heavy rain could cause you to slide uncontrollably with a loss of steering control. If this happens, lightly hold the steering wheel and lift off the accelerator to slow down gently until your tyres grip again. More about safe tyres.
Get kitted up Keeping an emergency survival kit in the car is a good idea year-round, but it's extra important during extreme weather.
---
You can't trust nature, but you can trust us to offer 5 Star Rated car insurance, keeping you protected on the roads, whatever the weather.
---
Published: 2 August 2018
Author: Jim Hunt