Whatever you're driving, the condition of your tyres is critical for your safety as they're the only part of your vehicle in contact with the road.
Because your tyres play such a vital role, there are some very important and specific legal requirements relating to their condition and maintenance:
Tyre must be fit for purpose and be free from any defects which might damage the road or endanger any person.
Tyres must be correctly inflated to the vehicle manufacturer's and the tyre manufacturer's recommended pressure.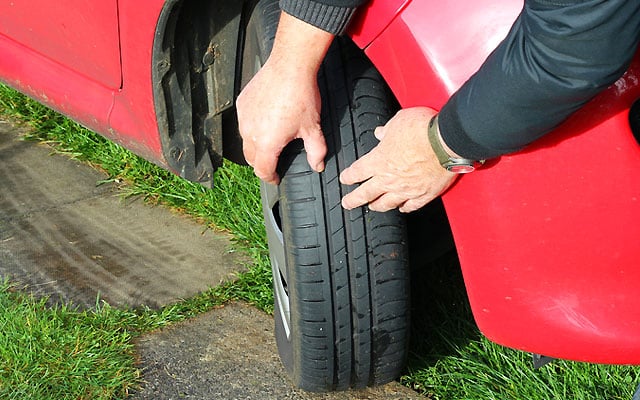 Fit for purpose means that a tyre must:
Be compatible with the types of tyres fitted to the other wheels
Not have any lump, bulge or tear caused by separation or partial failure of the structure.
Not have a cut or tear in excess of 25mm or 10% of the sectional width of the tyre, whichever is the greater, and which is deep enough to reach the ply or cord.
Not have any part of the ply or cord exposed
You can expect an MOT failure if your tyres have any of these faults or if you have tyres of different sizes on the same axle.
Tread depth
The tread of your tyres is the part in contact with the road in normal conditions and the depth of the tread grooves mustn't be less than the legal minimum.
The minimum depth of tread depends on the type of vehicle:
Type of vehicle
Minimum tread depth

Cars
Goods vehicles (<3,500kg)
Trailers and caravans (<3,500kg)

At least 1.6mm throughout a continuous band in the centre 3/4 of the tread and around the entire circumference
Most larger vehicles
At least 1.0mm throughout a continuous band across at least 3/4 of the breadth of the tread and around the entire circumference. The original tread pattern must be visible in the remaining quarter.

Motorcycles 50cc and over



At least 1.0mm throughout a continuous band across at least 3/4 of the breadth of the tread and around the entire circumference. The original tread pattern must be visible in the remaining quarter.

Mopeds and motorcycles under 50cc

The original tread pattern must be visible
3 February 2017