If you're worried about getting a puncture, perhaps because of concerns about your safety, then run-flat tyres are worth considering.
Run-flat tyres have either a reinforced sidewall or additional internal structure to support the tyre in a deflated condition.
Test drive run-flat tyres first as the ride may be firmer
Run-flat tyres are more expensive and harder to get repaired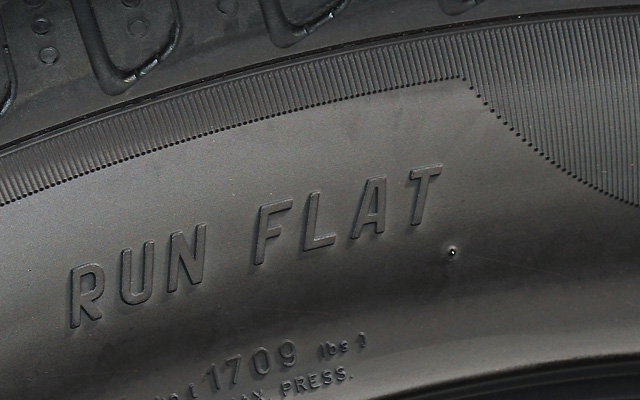 If you do get a puncture in a run-flat tyre you might not notice, particularly on a motorway, because the ride quality will be very similar to normal. This is why run-flat tyres are always fitted together with a tyre pressure monitoring system (TPMS).
Your handbook will tell you about any restrictions on use if you do get a puncture.
Expect at least 50 miles range, depending on load, at speeds up to 50 mph.
Get the tyre renewed or repaired as soon as possible.
If you're replacing a run-flat tyre, then new one should be the same make.
You'll need to reset the TPMS, once the new tyres fitted, by following the steps in your handbook.
We provide 24/7 roadside assistance.
Repairing run-flats
Inspecting a tyre internally to make sure it's safe to repair is a basic principle of tyre repair.
The repairer will consider the damage and condition of the tyre taking into account the position of the puncture and the extent of any secondary damage – damage that has occurred as a result of running in a deflated condition.
If you've got run-flat tyres then you're likely to have driven on the 'flat' tyre at speed for a considerable distance following a puncture.
The construction of run-flat tyres can make it difficult to identify any secondary damage.
Even though run-flat tyre repair kits are available to the trade, many repairers may be reluctant or simply refuse to repair a puncture in a run-flat tyre.
3 February 2017