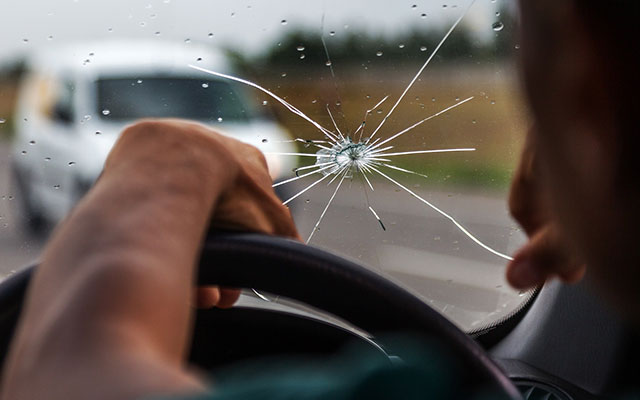 It's important to look after your windscreen - and not just to protect yourself from the elements.
Driving with a damaged windscreen can be dangerous. A large crack or chip can get in the way of your view of traffic and other hazards. And even a small crack could grow, weakening your windscreen.
Find out more:
Find out whether your insurance will cover windscreen damage and what the rules are for passing your MOT.
Does car insurance cover windscreen damage?
If you have a chipped or cracked windscreen, you may be able to claim for a repair or replacement on your car insurance. But windscreen damage isn't included on every car insurance policy.
Windscreen damage may be included in a comprehensive policy but not in a third party, fire and theft policy. It also depends on your provider.
That means you'll need to check your policy to see if it includes windscreen cover.
If your policy says it includes windscreen cover:
You'll be able to claim on your car insurance if you want to repair a damaged windscreen.
If your policy doesn't include windscreen cover:
You'll either need to pay for cover separately or pay for the costs of any repairs yourself.
What is windscreen cover?
Your comprehensive car insurance may include windscreen cover as standard. If it's on your policy, you'll be covered for:
Repairing any chips or cracks
Replacing a windscreen or other windows
You'll just have to pay a small excess towards the cost.
If it's not included on your policy as standard, you may be able to add windscreen cover as an option.
Stand-alone windscreen cover is around £30 a year. This could save you having to pay out up to £1,000 or more for a windscreen replacement yourself. Plus, it lets you to keep any no claim discount.
How do I claim for windscreen damage?
To claim for windscreen damage on your insurance, you'll often need to follow a process like this:
Contact your insurance provider by phone or online. Make sure you have your policy number handy.
You may need to tell them what's happened. Try to remember details of where you were at the time and anything you saw.
Your insurer will review your claim and advise you what to do next.
Usually, you'll be told which repairer to use, otherwise you might end up paying the bill yourself. Different insurers may have slightly different steps to follow, so make sure you check with your provider.
Find out how to claim for windscreen damage on your AA car insurance.
Is it legal to drive with a chipped windscreen?
It's the law to make sure that nothing obstructs your vision when you're driving. Depending on its size and position, a chip on your windscreen can distract you or even impair your vision.
Rule 89 of the Highway Code says you must 'ensure your vehicle and trailer comply with the full requirements of the Road Vehicles (Construction and Use)'. This states that all drivers must have a clear and unobstructed view of the road ahead, and any other possible hazards.
Read more about the risks of driving with a cracked windscreen.
What are the MOT rules for a damaged windscreen?
It depends which zone it's in, but some windscreen damage can mean your car will fail its MOT.
The windscreen's divided into 2 zones for the MOT: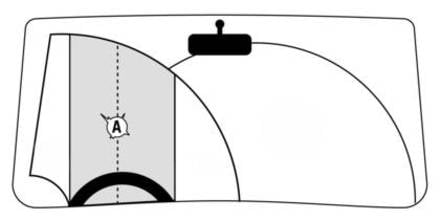 Damage in the A-Zone
The 'A-zone' is a 290mm wide band centred on the steering column. The top and bottom of the zone is defined by where your windscreen wipers sweep.
Damage larger than 10mm across will normally fail your MOT if it's in the 'A-zone'.
Damage anywhere else
Read more about passing your MOT here.
What causes a cracked windscreen?
Stones and grit are the most common causes of cracks and chips in windscreens. They can be picked up by car tyres and flung upwards towards other cars on the road.
You can avoid getting a chip this way by leaving a good gap between yourself and the next car, especially on roads with a poor surface and loose debris. Driving at a safe and sensible speed over uneven surfaces also makes it less likely that your car will flick stones or debris at other vehicles.
Other causes of cracked windscreens include:
What should I do if I get a chipped windscreen?
If you spot a small crack or chip in your windscreen, it's best to get it fixed quickly. It'll be more difficult to repair if you leave it and dirt gets in.
Until your repair appointment, there are a few simple steps you can follow to stop the damage getting worse:
Change temperature slowly - Avoid any sudden temperature changes by increasing your air conditioning or heating gradually.
Defrost your car carefully - If you have a chip or crack in the winter, avoid using hot or warm water to defrost your windscreen as this could cause more damage.
Park in the shade - Avoid the sun where possible, or use a heat reflecting car shade.
Avoid slamming car doors - Slamming the door could cause a sudden pressure change inside your car, which could make the glass crack.
Can I repair a chipped or cracked windscreen?
Damage of up to 40mm across can sometimes be repaired, depending on where in the windscreen it is. If any cracks reach the edge of the screen, it probably can't be repaired.
If the damage is right in front of you – in the area known as the 'A zone' – only damage up to 10mm (slightly less than the size of a 5p coin) can be repaired.
Repair involves cleaning and drying the damaged area and filling it with a clear resin with similar optical properties to glass.
The damage won't completely disappear but the repaired area will be much less visible and have a smooth surface
If ignored, small chips can grow and become irreparable. Secondary cracks can form through the combined effect of heat, moisture, frost, dirt and vibration.
Any dirt or moisture getting into the chip will make it more difficult to produce a visually acceptable repair so it's important to act quickly.
---
Published 9 August 2018 | Updated 12 August 2020 | Author: The AA