The saying goes that cracking a mirror brings you seven years of bad luck. And though we're certain a cracked windscreen doesn't carry quite the same curse, it can spell bad news for drivers, especially if your car insurance doesn't cover damaged windscreens.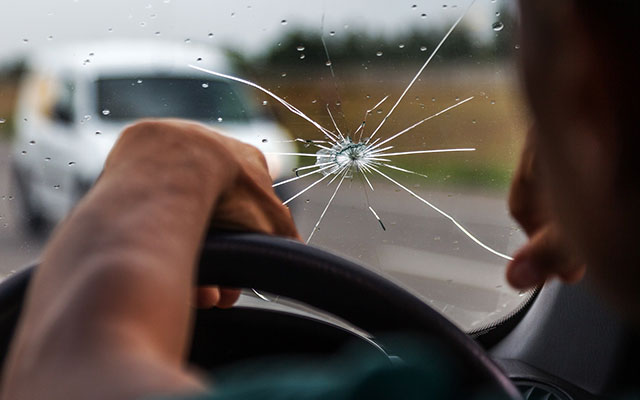 What is windscreen cover?
Windscreen cover can come with your comprehensive car insurance as standard. If it's on your policy you'll be covered for replacing a windscreen and other windows, or repairing any chips or cracks, paying just a small excess towards the cost. Or you may be able to add windscreen cover as an option.
Stand-alone windscreen cover is around £30 a year. This will save you having to fork out up to £1,000 or more for a windscreen replacement yourself, as well as allowing you to keep any no claim discount.
What causes a cracked windscreen?
Road debris Stones and grit are the most common cause of cracks and chips, picked up and flung towards other cars on the road.
Extremes in temperature If you clear a frosty screen by pouring hot water over it, the thermal shock could lead to a crack or turn an existing chip turning into a crack.
Potholes The shock of hitting a pothole could lead to a windscreen cracking, particularly if it already has some damage.
Weather Heavy hail stones or chunks of ice coming off other vehicles could cause a chipped windscreen, as well as debris falling from trees or carried by strong winds.
What are the dangers of driving with a cracked windscreen?
Vision Depending on the extent of the damage, a cracked windscreen can impair your view of traffic and other hazards.
Reduced strength Going over a speed bump too fast, for example, could cause just a small crack to grow, leaving you with a structurally unsound windscreen.
Keeping your windscreen in good condition does more than protect your car from the elements – a clear windscreen helps you to drive more safely.
Is it legal to drive with a chipped windscreen?
Rule 89 of the Highway Code says you must 'ensure your vehicle and trailer comply with the full requirements of the Road Vehicles (Construction and Use)'. This states that all drivers must have a clear and unobstructed view of the road ahead, and any other possible hazards.
What does a 'clear and unobstructed view of the road ahead' mean in practice? Well, you run the risk of failing an MOT if there are any cracks or chips more than 10mm across in the swept area right in front of the driver's steering wheel, and damage more than 40mm across in the remaining swept area of the wipers.
If the chip or crack on your windscreen exceeds the MOT limits, we advise that you replace the windscreen as soon as possible.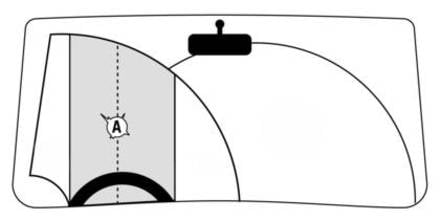 What should I do if I get a chipped windscreen?
If you spot a small crack or chip in your windscreen, best get it fixed quickly. If it's ignored and affected by dust and other contamination then the repair will be more difficult.
If you have windscreen cover, there should be an emergency number to call if your windscreen is damaged. Usually, you'll be told which repairer to use, otherwise you might end up paying the bill yourself.
Until your repair appointment, Auto Windscreens recommends these simple top tips to stop summer heat turning your chip into a crack:
Slowly increase air conditioning We all want to say cool, but just slowly increase the speed and coolness of your air conditioning to avoid an instant temperature change.
Avoid slamming car doors A quick slam of your door could cause a sudden pressure change inside your car, which could make the glass crack.
Park in the shade Avoid the sun where possible, or use a heat reflecting car shade.
Gently clean hot windscreens In direct sunshine, just gently wipe the windscreen as the middle layer in the laminate glass can soften in the heat.
How can I reduce the risk of getting a cracked windscreen?
Keep your distance Leave a good gap between yourself and the next car, especially on roads with a poor surface and loose debris.
Go slow Driving at a safe and sensible speed over uneven surfaces will reduce the likelihood of flicking stones or debris at other vehicles.
---
When it comes to safer driving, you need a clear vision. Windscreen, window and sunroof repairs or replacement are included as standard in our comprehensive car insurance, subject to an excess, and you won't lose your no claim discount.