Windscreens cracks are one of the most common types of damage you'll find on your car. It's easy for a piece of loose gravel or a branch falling from a tree to cause a crack.
But while it might only be a small crack, it's important to know the laws around chipped windscreens and how damaged windscreens affect your safety while in the car.
This guide will explain common causes of cracked windscreens, laws to be aware of, how it could affect your MOT and how to get it repaired.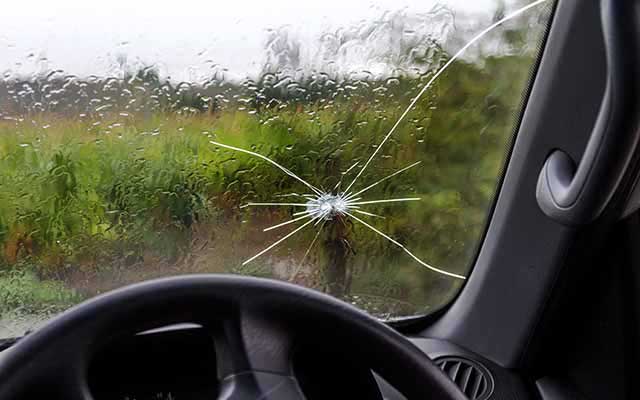 What causes a cracked windscreen?
Cracked or chipped windscreens most commonly happen after being hit by rocks, stones, or gravel thrown up from the road by the tyres of other cars.
There's not much you can do to prevent this entirely, but leaving space between your car and the one in front can reduce the risk of this happening.
Cracked windscreens can also be a result of poor glass quality, particularly if it's already been replaced by someone other than an expert technician.
Cracks and chips can also be caused by debris knocked about by bad weather, such as falling tree branches, as well as sudden changes in temperature.
Your car is always likely to be safest in a garage if you have access to one, and it's better to avoid using boiling water to defrost a frozen windscreen.
While your car is in your garage, it's also worth checking other basic maintenance items, like your battery and your tyres.
Can you drive with a cracked windscreen?
Depending on the crack, it may be illegal to drive with a cracked windscreen and might constitute a motoring offence, as it could be considered use of a motor vehicle in a dangerous condition.
Drivers legally need to have a full view of the road ahead. Any blockages of that view can result in a fixed penalty of three points on your licence, as well as a fine. It's also dangerous to drive if you can't see the road clearly.
The penalties may increase if you're involved in a collision while you have a cracked windscreen, as it makes it more likely that the accident was your fault.
If you take out breakdown cover with us, we can help you after an accident.
Does a chipped windscreen fail an MOT?
Your car might fail its MOT if its windscreen is damaged. Windscreen chip MOT rules mean that a chip of 40mm anywhere on the windscreen will result in failure.
But even a smaller chip of as little as 10mm can result in MOT failure if it's within a certain area of the windscreen at the steering wheel, as this means it's in the driver's line of vision.
If your car fails its MOT due to damage to the windscreen, you'll need to get the windscreen chip repaired before retaking the MOT.
How much does it cost to repair a windscreen chip?
Basic repairs to your windscreen can generally be affordable and will vary depending on the damage itself, but you should expect to pay between £50 and £70. These repairs are often covered by your car insurance.
This is one of the reasons it's important to get damage looked at as soon as possible – the longer you wait to get repairs, the larger the damage is likely to be and the more the price will increase.
Replacing the entire windscreen can be upwards of £100, with high-end vehicles reaching as much as £400 to £500.
AA Smart Care allows you to book in for an MOT, service or expert vehicle check quickly and easily.
How to repair a windscreen chip
Windscreen repair depends largely on the nature of the crack or chip.
A small chip can be repaired without replacing the windscreen in one of the following ways:
Filling the chip in with resin yourself using a windscreen chip repair kit.
Taking your car to an expert.
It's always better to take the damage to an expert technician first or speak to your insurance provider as incorrectly repairing a chip may not resolve the issue, which means the damage could increase over time.
For the same reason, it's also important to get any windscreen damage looked at as soon as possible.
Smaller chips can be repaired at a lower cost than a full replacement but the longer you go without getting the repairs done, the more a chip can spread.
Larger chips or cracks will mean higher costs or might even result in the entire windscreen needing replaced.
---
Published: 30 July 2021 | Updated: 30 July 2021 | Author: The AA