If you hit a deep pothole – even at a relatively slow speed – you could damage your tyres, wheels and steering alignment.
Hitting one at a higher speed can cause a lot more damage to your car. You could also lose control and end up crashing.
The repairs may not be worth an insurance claim but you might be able to get compensation from the local council.
So, if you're unlucky enough to hit a pothole, here's what you need to do: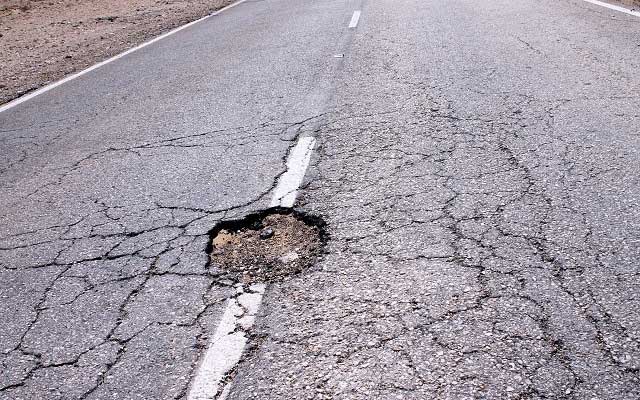 1. Check for damage
Pull over as soon as it's safe to do so and check for any obvious damage to your wheels and tyres.
Some damage might not be obvious straight away, so keep an eye out for any vibrations, your steering wheel not centring properly or the car pulling to one side.
If any of these happen get your car checked by a garage or tyre specialist as soon as possible. Ignoring tracking or steering damage can be costly and dangerous.
2. Take some notes
Don't rely on your memory. Return to the scene, take notes, make sketches and, if safe to do so, take photographs of the offending pothole.
It's a good idea to include a familiar object in your photo, like a shoe or drinks can, to give a sense of scale.
Make a note of exactly where the pothole was – the road name, town etc and its position in the road – as well as the contact details of anyone that saw what happened.
3. Report the pothole
4. Repair your car
If you have to get repairs done it's a good idea to get several quotes first.
Make sure you keep all quotes, invoices and receipts and take copies to support your claim.
5. Make your claim
Write to the council responsible for the road with all the details you've collected, including copies of your quotes, invoices and receipts.
A word of warning: although you might be able to claim for the cost of any repairs, it's important to understand that the relevant highway authority does have a statutory defence. They can't be held responsible for a pothole they didn't know about, either because it hadn't been reported to them, or because it wasn't picked up by them during their regular checks.
6. Make an appeal
By law, councils have to operate a formal system of road inspection and repair, covering how often roads are inspected, the size of damage to be repaired and how quickly repairs should be carried out.
If your claim's rejected and you feel this is unfair, you can ask to see details of the council's road inspection reports and attempt a reclaim.
If the damage is very expensive, have a word with your insurance company or seek legal advice.
updated 26 February 2018