29 June 2017
Two fifths (38%) of drivers say they will not drive in lane one of a smart motorway where the hard shoulder has been permanently converted into a running lane, according to a survey1 of more than 18,000 drivers conducted by the AA.
The picture is starkly different to a traditional three-lane motorway with a permanent hard shoulder, where more than eight out of 10 (85%) drivers said they would drive in lane one.
When asked why they avoid using the new running lanes on smart motorways:
More than a third of drivers (37%) said that they wouldn't use lane one 'for fear of coming across a broken down vehicle'
One in ten (13%) said that they believed lane one was 'the lorry lane'.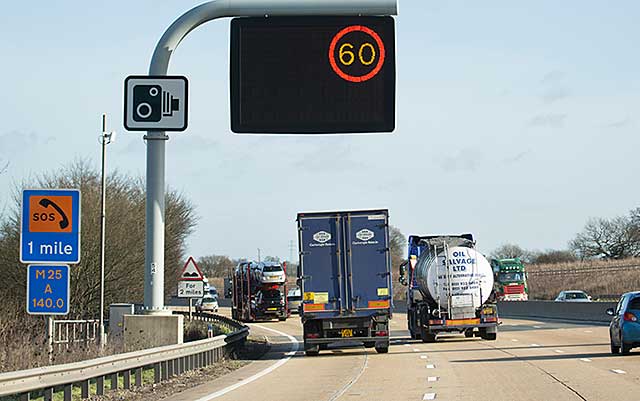 Documents2 from Highways England analysing two stretches of M25 Smart motorway scheme show that traffic flow is significantly lower on lane one than other lanes within the scheme. Within the document for the scheme between junction 23 for Barnet and junction 27 for Epping it says:
"Figure 1-5 shows the flow by lane for the Before and Year 2 After periods. In the Before, flows per lane are relatively similar for most of the day. The lane 3 flow is the highest in the peak periods and the lowest during the night.

It is notable that lane 1 flows are much lower than the other lanes in Year 2 After, indicating that drivers are less keen to use that lane; this effect is common when Smart Motorway schemes are introduced. The lane gain, lane drop arrangement can make lane 1 less likely to be used; in addition drivers can be reluctant to use lane 1 as found in the road user surveys performed in the first year of operation".
An extra 40 minutes for a one-hour journey
Department for Transport data for 2016, shows that congestion levels are now so high that drivers need to allow an additional 40 minutes to complete a one-hour journey if there is traffic on the motorway.
Drivers are voting with their wheels
Edmund King, AA president, says: "Despite all the talk about improving traffic flow and easing congestion by having more lanes, it seems that drivers are voting with their wheels by avoiding converted hard shoulders and clogging up the other lanes.
We need more education for drivers using smart motorways as clearly they do not trust the schemes in their current state
"Drivers are fearful that, with the current lack of Emergency Refuge Areas, they will come across broken down vehicles and have little chance to avoiding collisions.
"We need more education for drivers using smart motorways as clearly they do not trust the schemes in their current state. The AA Trust has developed a Drive Motorway course to help.
"We have led calls for double the number of Emergency Refuge Areas on smart motorway schemes, and we hope the Secretary of State listens and acts on our request, otherwise the benefits will be lost."
---
1. Populus received 18,077 responses from AA members to its online poll between the 26 April and 3 May 2017. Populus is a member of the British Polling Council and abides by its rules..
2. M25 J5 to J7, M25 J23 to 27