Holidays don't always have to be about sun, sea and sand; some of us love ice, ice baby.
You might've booked yourself a winter holiday instead, where you can enjoy all the adrenaline-packed adventures the slopes have to offer. Skiing, snowboarding, tobogganing – you'll have plenty of activities to keep you entertained, but these come with the risk of injury.
If you do hurt yourself, winter sports insurance will help you focus on getting the attention you need without worrying about any chilling medical bills.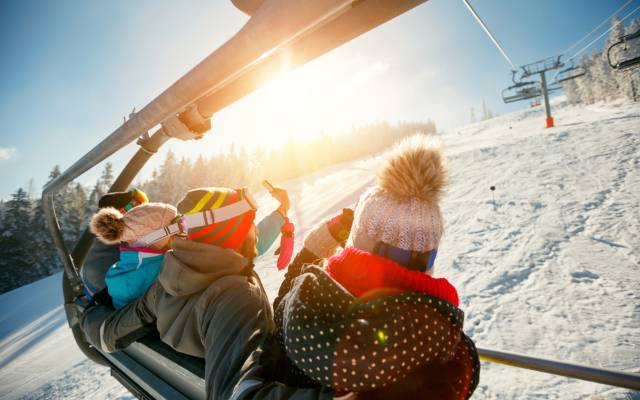 Why do I need winter sports insurance?
Thinking about heading to a winter wonderland? A standard level of travel insurance is unlikely to cover you for winter sports - including popular activities such as snowboarding, skiing and ice-skating - without a winter sports insurance extension.
What benefits do I get with winter sports insurance?
You can't conquer the slopes if you're worrying about being left in the cold after a mishap. The possibility that you'll be involved in an accident is probably the last thing on your mind as you plan your holiday, but winter sports insurance is an essential safety net just in case you are.
Aside from covering your medical expenses, there are other benefits to getting specialist winter sports insurance.
Typical benefits of winter sports insurance include:
Ski equipment
Ski insurance will protect more than just medical claims; it will cover your equipment too. Some insurance policies can provide up to £1,000 (or more on specialist policies) for any lost or damaged ski equipment you own, and it's likely other policies will cover you if you need to repair or replace your skiing equipment.
Off piste
Seasoned skiers may want to venture off-piste but make sure that your insurance will cover you to do that. Some will allow you to - but not without a guide - so make sure you understand any special restrictions or conditions of the cover.
Avalanche delay or piste closure
Your cover could offer some compensation if you find yourself unable to hit the slopes due to an avalanche or if there's not enough snow. In that case your cover may include transport to slopes nearby where there is snow.
Equipment hire
If your luggage is delayed or misplaced on the outward journey, your winter sport travel insurance may contribute towards the hire of replacement equipment at your resort.
Emergency rescue - Most winter sports will cover you if the worst comes to the worst and you need to be airlifted from the slopes, winter sports insurance will cover you for that - as well as being returned to a UK hospital if necessary, but always check your policy to ensure you're covered.
Which sports are usually included with winter sports insurance?
Ski insurance and snowboard insurance are 2 of the most sought after reasons for getting winter sports cover, but many other sports and activities are likely to be included.
You could expect to be covered for bobsleighing, glacier walking, ice fishing, ice hockey, lugeing and snowmobiling, but check first!
What should I check my winter sports insurance policy for?
With the higher risks of covering someone on a skiing holiday or doing other winter sports, you might find limitations or conditions attached to your cover.
When you're off-piste skiing, for example, most insurers will only cover you if you're accompanied by a fully qualified ski guide. Check your policy carefully - you wouldn't want to get a nasty surprise and be left with the chill of a big bill to pay.
You should also remember to make your provider aware of any pre-existing medical conditions which could need extra attention when on a winter sports holiday. This could change the standard terms of winter sports insurance
EHIC and winter sports
If you're hitting the slopes in Europe, you should take your free European Health Insurance Card (EHIC) and your insurer is likely to insist that you carry one. An EHIC isn't a replacement for a standard travel insurance policy, and you should expect that you'll need more extensive cover for winter sports insurance.
An EHIC only covers you for the same level of healthcare that citizens of the country you're visiting are entitled to, so sports-related emergencies like repatriation or rescue might not be covered.
Going on a skiing holiday, conquering the slopes on your snowboard, and taking advantage of the après-ski shouldn't be interrupted by surprise expenses or costly medical bills. Winter sports insurance is the only way to properly protect yourself against costs snowballing if you find yourself in an accident.