If you don't stop at the scene of an accident or report an accident you're involved in, it's a serious offence. It could end with a hefty fine, a driving ban or even prison.
If you're involved in an accident, here's what to do...
If you're driving, and:
A person (other than yourself) is injured
There's damage to another vehicle or to someone else's property (including objects on the street like lamps, signs and poles)
An animal (horse, cattle, ass, mule, sheep, pig, goat or dog) is killed or injured, except in your own vehicle or trailer
Then you must:
Stop and remain at the scene for a reasonable period.
Give your details to anyone with reasonable grounds to ask for them. That includes the vehicle registration number, your name and address, and those of the vehicle owner (if different).
If you don't exchange details at the scene, you must report the accident at a police station or to a police officer as soon as you can. In any case, report it within 24 hours.
If another person's injured, you must:
Show your certificate of insurance, if anyone at the scene has reasonable grounds to see it.
If you don't, you must report the accident at a police station or to an officer as soon as you can (and in any case within 24 hours). You'll need to show your certificate of insurance. If you don't have it with you, you'll have 7 days to take it to whichever police station you nominate when you report the accident.
Remember that it's not enough to report the accident to the police by phone and you can't ask someone else to report for you.
You're must do these things when you're directly involved in an accident, but also if your vehicle's 'presence' was a factor.
If you're a breakdown Member, we'll help you at the scene of an accident.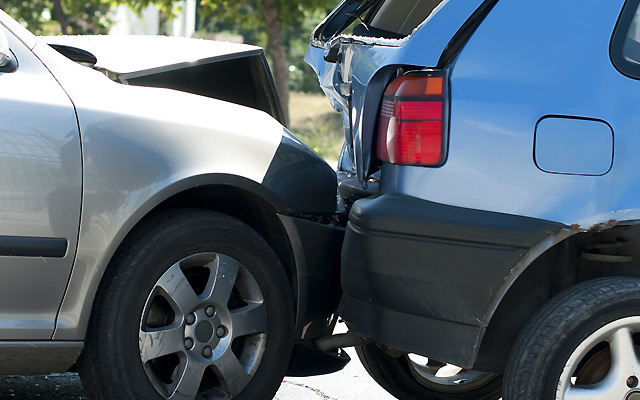 Dealing with your insurer
Even if you don't want to claim yourself, you should report the accident to your insurance company within a reasonable time.
At the scene
Collect as much information in photographs and notes – as you can while you're there.
Scene – date, time, location, weather conditions, traffic conditions, road markings and signs or signals.
Vehicles – make, model, registration number, colour, condition, estimated speed, direction, use of lights or indicators, number of passengers.
People – contact details, description and distinguishing features of driver(s), contact details of passengers, pedestrians or other witnesses, details of any police officers involved.
Damage – description of the damage to vehicles or property, and any injuries to people involved.
---
Claims, valuations and repairs
If you've got comprehensive car insurance, then the damage should be covered subject to the terms and conditions of the policy.
You don't have to claim from your insurer. But if repair costs are high or your car's a write-off, then you may want to. Bear in mind that your no claims discount may be affected.
If your cover's third party or third party, fire and theft only, then accidental damage to your vehicle won't be covered.
When you make a claim, follow your insurer's instructions which are usually in the document.
Insurance valuations
If your vehicle's stolen and not recovered or if your insurer estimates that the cost of repair is more than the vehicle's worth, then it will be declared a 'write-off'. You'll be offered a cash payment based on the vehicle's market value.
Market value will be based on the retail price of a comparable vehicle from a reputable dealer immediately before to the damage/theft.
Cars often sell for less than advertised so insurers will use official price guides (Glass's, CAP etc.) for a more accurate picture.
The value you put down on the car insurance form or on any claim form won't be taken into account.
If you're unhappy the valuation:
Roadworthiness
Your insurance policy probably says that you must make sure the vehicle's kept in a roadworthy condition.
Your claim could be rejected if they find you didn't keep your vehicle in a roadworthy condition and that either caused or substantially contributed to the accident.
---
Repairs
If you've got comprehensive cover, your insurer may tell you to use their approved repairers.
Using an authorised repairer means that any repair problems will go to your insurer
The approved repairer may provide a courtesy vehicle, but this is normally subject to availability on a discretionary basis. It's not an automatic entitlement unless your policy states otherwise.
If your vehicle's a 'write-off' then the policy probably won't give you a courtesy car.
If your policy has an excess, you'll normally have to pay the excess to the repairer before you're allowed to collect the repaired vehicle.
If you've only got third party cover and the accident wasn't your fault, you may be able to claim the cost of repairs from the other party.
Once the details of your claim have been passed to the other party's insurer, they may offer to have the repairs to your vehicle done for you. If they don't, you'll need to pay for it yourself and then recover the cost involved, along with any other uninsured losses.
---
Insurance write-offs
If a vehicle's written off because the damage is too bad or repair costs too high, it's important that the remains of the vehicle (the salvage) are dealt with properly. This makes sure that dangerous, badly repaired vehicles aren't put back on the road or that the wreck isn't used to give a new identity to a stolen vehicle.
What happens to a vehicle when it's written off depends on the damage and the estimated cost of repair. 4 different categories of salvage are defined in a voluntary code of practice supported by major organisations including government departments, the Association of British Insurers (ABI), the DVLA, and the National Police Chiefs' Council.
Following a two-year review a new version of the code of practice came into effect from 1 October 2017.
Old salvage categories
A: scrap or crush only, no economically salvageable parts e.g. total burnouts
B: break for spares and crush body-shell/chassis
C: repairable but repair costs exceed pre-accident value
D: repairable but repair costs don't exceed pre-accident value
New salvage categories (from 1 October 2017)
A: scrap - complete vehicle crushed without any components being removed
B: break - body-shell and chassis crushed without any structural components being removed
S: structurally damaged but repairable
N: non-structurally damaged but repairable
You might also hear the terms 'actual loss' to describe categories A and B, and 'constructive loss' to describe S and N.
Details of all total loss vehicles are notified to DVLA and recorded on the Motor Insurance Anti-Fraud and Theft Register (MIAFTR). The salvage category of the vehicle is also recorded.
The VIN (Vehicle Identification Number) plate, Visible VIN and number plates must be crushed along with the bodyshell (A and B). Airbags and seat belt parts must be properly disposed of and not re-sold (B).
Vehicles in Categories S and N may be sold on for repair.
Vehicles notified to DVLA in categories A and B will not be re-registered by DVLA.
Buying a Category S or N write-off
If you're thinking of buying a repaired write-off, bear in mind that its salvage status is marked on the registration document in the case of Cat S and is recorded on the MIAFTR register. That'll affect the future resale value and this should be reflected in the current purchase price.
Consider an independent inspection for peace of mind that repairs have been carried out to a satisfactory standard.
Car insurance can be more expensive and some insurers may even refuse to insure a repaired Category S or N write-off.
updated 27 September 2017