Ghost town
On Sunday the roads were empty. Traffic has been low since Covid-19 lockdown began. But last Sunday roads in our towns, cities, countryside and coastlines were even more deserted apart from cycles, joggers and walkers. It was surreal to see pictures of an empty M25 and M6. Our world seems different. Our roads certainly are different.
At the AA we reacted quickly to the new world. We were at a slight advantage as we are used to dealing with emergencies mainly brought on by extreme weather. Another advantage is that we have been a pioneer in home-working for almost 25 years having between 150-300 contact centre people permanently working from home. So, we knew what was needed. In a short space of time our call centres closed, except for 70-80 key people at Oldbury, and most were able to log on at home.
Ambulances
Whilst helping the company adapt to our new business continuity plans with Gold, Silver and Bronze teams in full action, I received a call for help. It was one of those frank calls where you know they really need help and you really want to help.
I had known Garrett Emmerson from his work at TFL and knew he was now chief executive at the London Ambulance Service (LAS), but I hadn't spoken to him since he had switched jobs. His early morning call was clear. The ambulance service was under pressure with all the additional coronavirus patients and therefore they needed to get more ambulances on the road quickly. I said leave it with me.
There is always that slight hesitation when you want to desperately do something, but it isn't dependent on you alone. Would we have enough patrols in the London area? I need not have worried. Our Roadside Chief Operating Officer, James Hosking, was all over it in an instant and within an hour we had a meeting and within 24 hours we had a few patrols on site. In fact, we were inundated with volunteers from our brilliant patrols. The couple of patrols increased to another forty patrols in no time and the work began alongside LAS colleagues to get more ambulances roadworthy.
This all worked but a week later early on Sunday morning there was another call. Could we give additional support as new and used ambulances were coming in and more help was needed.
The partnership has been all about providing additional expert support to help the Service keep clinicians on the road responding to Londoners in need during the coronavirus epidemic.
The partnership includes 24-hour breakdown and incident management services such as roadside assistance and vehicle recovery for London Ambulance Service vehicles. The AA teams also provide technical support for the Service's fleet of more than 500 ambulances and 70 fast response cars.
On the call I was told that the purchase of additional new and used ambulances meant another 100 patrols were needed to ensure as many ambulances as possible could be on the road to save lives. We delivered.
Similar work on a smaller scale is ongoing with other Ambulance Services across the UK. This is a great example of the AA being proud to help keep Britain moving in a way that will save lives. The feedback from our ambulance colleagues has been outstanding. I shouldn't have even questioned it.
---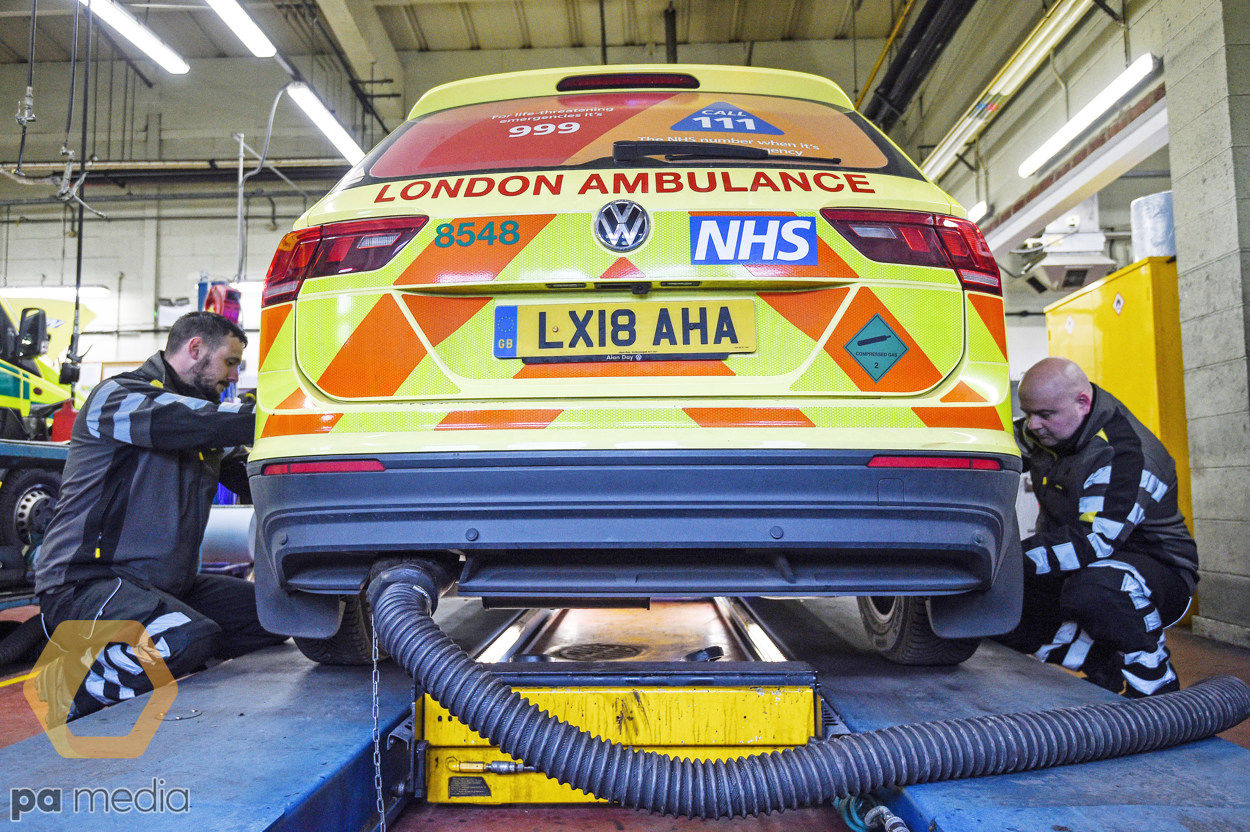 AA Patrols working on a London Ambulance Service vehicle. Photo courtesy of PA Media
---
Free NHS breakdown service
As the coronavirus crisis unfolded we all realised early on what a brilliant service the NHS was providing under intense pressure. We received numerous suggestions from our people indicating that the NHS are there for us, so we want to be there for them. We realised that with the rundown of public transport, shift work, long hours and social distancing, all meant that more NHS staff would be dependent on their cars.
What could we do? Well in an incredibly short period, and after sounding out some of my good contacts within the NHS, on April 2 we launched a free breakdown service for NHS workers during the Coronavirus (COVID-19) crisis.
NHS staff who break down on their way to or from work will be able to call for help, whether they are an AA member or not. A dedicated NHS hotline has been set up on 0800 0725064 and we suggested calls would be quicker if they registered here first.
The service, which is available to anyone with an NHS ID, includes free recovery to and from work as well as help if they break down at home.
Within the first two weeks more than 15,000 NHS workers had registered for the proposition and more than 1,000 had been rescued.
The assistance has been warmly received by the NHS. A director from NHS Scotland said: "That is wonderful news, Edmund. It will help in a practical way. It will boost morale. And it will be remembered."
An Air Ambulance critical care paramedic took the trouble to contact us to say:
"I just wanted to send my thanks for your amazing offer to help all NHS staff with any breakdown offer. This is appreciated more than any words I could put down in an email. I also wanted to thank all your staff who are also working and keeping us safe on the roads. Keep up the amazing work."
It makes me feel very humble, and indeed proud, to think that those at the sharp end of this awful pandemic are so grateful for the part we can play, whilst they are battling it out day and night to save lives. They all deserve our love, gratitude and indeed a medal.
---
Edmund (20 April 2020)