I'm Edmund King OBE, president of the AA and Visiting Professor of Transport at Newcastle University.
I head up public affairs and communications at the AA and often appear as a transport commentator on radio and television. I am also director and a trustee of the AA Charitable Trust for Road Safety and the Environment, and a director of AA DriveTech.
Outside of the AA, I am a member of the influential Motorists' Forum and a Fellow of the CIPR and PRCA. Together with Deirdre King, we were runners-up in the Wolfson Economics Prize with our submission on Road Miles.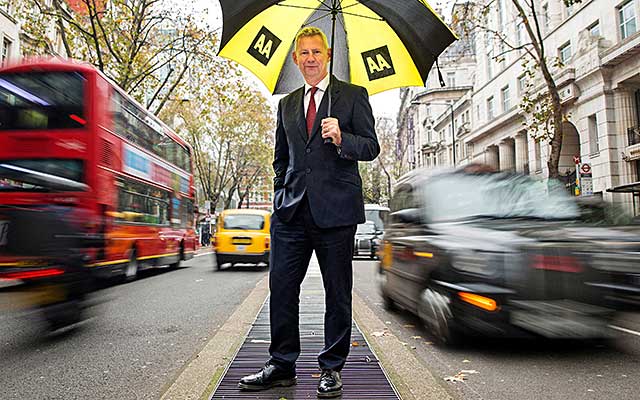 Read my blog posts from the archive
---
Easy EV run to mark a significant milestone
Our head of PR Ian Crowder has taken to the road again in his wife's Nissan LEAF, this time to mark an important milestone in the development of electric cars in the UK. Here's his account of a triumphant day organised by Chargemaster.
It seemed appropriate somehow that a 'silent run' on 19 June, to mark the 100,000th UK registration of a plug-in electric vehicle (EV), should start almost exactly on Greenwich Meridian, against the historic backdrop of the Queen's House at Greenwich.
Perhaps symbolically linking the driving past with the driving future, the latest EV and plug-in hybrid electric vehicle (PHEV) models silently slipped into London's Sunday morning traffic on a 100km (about 62 miles) journey to Milton Keynes.
Why Milton Keynes? This is a city that is leading the UK in embracing electric vehicles. It boasts around 200 charging points, including 60 rapid chargers, as well as free parking throughout the city for EVs. And, on 22 July, it will see the opening of the UK's first multi-brand electric vehicle experience centre.
David Martell, CEO of Chargemaster, the UK's leading vehicle charger provider, which organised the event, flagged off the silent convoy after pointing out the significance of the occasion – noting that demand for EVs is climbing rapidly as is the charging infrastructure. Latest projections suggest there will be 1m EVs on Britain's roads by 2020, as battery range increases and vehicle prices fall.
A run of 62 miles through north London and the M1 is hardly challenging, and well within the range capacity of current EV models.
But the lack of challenge was made up by the run's symbolism. It placed a marker in the sand of EV technology and its wider acceptance to an increasingly less-sceptical car-buying public, looking for affordable and practical options to petrol or diesel. Electric and plug-in hybrid vehicles are practical, enjoyable to drive and extremely economical.
Hilary and I set off in our Nissan LEAF to enjoy the run to Milton Keynes' Willen Lake and a picnic in the sunshine as the cars quietly assembled on the lake's tranquil shore.
It was an easy journey but, just in case, the AA Patrol of the Year, John Snowling was the tail-ender to sweep up any misfortunes – there were none, although the reassurance of his immaculate bright-yellow van, 999AA, was welcome.
We're looking forward to enjoying a 250km (155-mile) run when the quarter-millionth registration takes place. That's likely to come around much more quickly than many might imagine.
Edmund (20 June 2017)
---
Naked streets?
A simple tin of paint can save lives
A few years ago after a street in a Norfolk village was re-surfaced the workmen forgot to repaint the white lines. Several councillors noticed that traffic seemed to have slowed down as there was a lack of certainty amongst drivers.
This concept of 'naked streets' or shared space is now spreading in Norfolk and elsewhere, but does it work? Well there is a hierarchy of roads.
Faster roads
We need clear lines and areas of demarcation on our fastest roads. Semi-autonomous cars are now on the market with lane departure warnings which rely on reading the white lines on the road and warning the driver or self –correcting the steering if the driver veers off.
A pot of paint indicating corners, bends and up-coming junctions can be crucial to road safety on faster roads.
'Negotiation by eye contact'
The original concept of removing all lines, signs, and barriers, particularly in urban areas, came from Dutch engineer, Hans, Monderman, in the 1970s.
The idea is that if you remove lines and pavements you create uncertainty and therefore drivers must make eye contact and interact with pedestrians, cyclists and other road users. However, it doesn't always work. DfT guidance on shared space states: "It has often been suggested that, when crossing a shared space, it is essential for drivers to make eye contact with pedestrians. However, during our research, no instances of negotiation by eye contact were observed. Eye contact cannot be relied upon."
Some evidence from Kent where schemes have been introduced backs this up with comments from parents saying that cars rarely gave way to pedestrians which made it hard for children to cross the road.
Blind and partially sighted
The RNIB who support blind and partially sighted people say that many people don't realise what a devastating impact removing crossings, kerbs and tactile paving has on people with sight loss. Half of them say it is harder to get around.
Shared space can be effective where there is very little traffic and it's moving at low speed, so let's remove some of the clutter and the old in-accessible roundabouts but remember that on most roads a simple tin of paint and pavement can save lives.
Edmund (4 February 2016)
---
Drivers need to hang up
AA supports tougher penalties for texting at the wheel
The majority of drivers see other drivers on the phone or texting on some or most journeys, according to AA members so the AA supports proposed tougher penalties for those caught using a hand-held phone.
The Government is proposing increasing the fixed penalty fine from £100 to £150 and penalty points for car drivers from 3 to 4 and from 3 to 6 for HGV and bus drivers.
This epidemic of hand held mobile phone use while driving has already cost lives and drivers have demanded action. Three quarters of drivers see others using mobile phones on some or most journeys, with one quarter seeing it on every journey according to our polls.
The majority of drivers will welcome these increased fines and penalty points, alongside driver improvement courses, to tackle those who use hand held mobiles at the wheel.
AA members ranked hand held phone use, alongside tailgating, as the two most irritating and dangerous actions on the roads in an AA-Populus poll of 29,660 drivers earlier this year.
Traffic police
But increased penalties are not the only answer and we need to see more cops in cars to help enforce the law and send out a strong warning to drivers who assume they will just get away with it.
Increased insurance premiums
The increased points will mean some drivers lose their licences more quickly while offenders can also expect an average insurance premium increase twice that imposed for a speeding conviction. While drivers may mistakenly exceed a speed limit, no-one uses a handheld phone by mistake so the insurance industry has long regarded mobile phone offences as being significantly more serious than speeding.
Learners on Motorways
The current situation whereby someone can pass their test in the morning, then drive alone on the motorway in the afternoon,without ever having driven on a motorway, is ridiculous so it makes sense that supervised Learners should be allowed on motorways as the government has proposed.
Drug driving
Drug driving is still the hidden killer and official police figures on the problem are only the tip of the iceberg. Often drivers have mixed drink and drugs but only the drink is detected. The extra help for the police to counter drug driving (£750,000 fund) is welcome and overdue.
Edmund (21 December 2015)
---
Autumn statement and spending review
Taking the hard shoulder
The Chancellor's commitment to the longer term Road Investment Strategy is welcome and reflects the largest road building programme since the 1970s.
However, it does come with a sting in the tail as all motorways in the 70s were built with hard-shoulders whereas the majority of motorway widening schemes today do away with the hard-shoulder either permanently or temporarily with the construction of more 'smart' motorways.
Potholes
The pothole fund of £250m over five years is a drop in the ocean and a sticking plaster approach to a massive maintenance backlog. The fund may fill 4,000 holes in Blackburn Lancashire but it won't cover the national maintenance backlog by a country mile.
Operation stack
Following the chaos of last summer, putting £250m into sorting Operation Stack will be a relief to millions of drivers and businesses in Kent and those that use the south coast ports.
Insurance
Efforts to reduce motor insurance fraud and premiums are welcome but won't compensate for the hike in IPT introduced this autumn.
Fuel duty
The Chancellor's complete silence on fuel duty – we've got used to him announcing a continued freeze on fuel duty at this time of year – raises the prospect of a duty increase next year, and this is something we'll continue to campaign against.
Edmund (26 November 2015)
---
Latest Think! drink-drive campaign
A second drink can double your chance of being in a fatal collision
December is still the worst month for drink driving so we support the various campaigns to highlight the problems and consequences of drunk driving.
The latest 'Think!' campaign from the Department for Transport is based around increasing agreement that driving after drinking two drinks impairs your driving and is dangerous.
We have always believed that the best advice for drivers is don't drink and the best advice for drinkers is don't drive.
The best way to avoid any second or third drink is not to have the first drink.
Once drivers have their first alcoholic drink their good intentions of not drinking and driving often go out of the window.
There is truth in the slogan that 'a second drink could double your chance of being in a fatal collision' but often it is that first drink which leads to the second, and with uncertainty about the strength of drinks and the size of glasses, the best advice is to forget the legal limits and have none for the road.
The Automobile Association and Jameson Irish Whiskey will be launching a joint anti drink drive campaign later in the month.
Edmund (1 December 2015)
Think Bikes
'Now you see me'
The best ideas are often the simplest. A couple of years ago when the AA Charitable Trust was mulling over what we could do about motorcycle safety I had a chance conversation with the then AA Patrol of the Year, Tony Rich.
He said that he had an idea about motorcycle safety which sadly had come about after the death of Jack Bellis, the 19 year old son of Tony's friend, in a motorcycle crash. The idea was to try to remind car drivers to look out for motorbikes by placing a small motorcycle sticker on the side mirror.
Simplicity
I loved the simplicity of this idea so promised to try to develop it with the AA Trust. Hence I took the concept to the trustees and argued that we could launch a Think Bikes campaign with motorcycle and cycle stickers to remind drivers to always look out for those on two wheels.
We then did much work developing ideas for the campaign and generating support from important external bodies such as the Transport Secretary, the police, London Mayor and motorcycle and cycling groups. We also worked with our AA designers to create a storyboard for a short video to highlight the main theme of the campaign.
Naked cyclist
We had various creative ideas to work on but the one we chose was the naked cyclist. It was fairly challenging trying to film the naked male cyclist around Kings Cross in London on a cold day in early March. With the help of police motorcycle outriders and a great crew we managed to pull it off.
The campaign was launched in Marble Arch with assistance from Chris Boardman, Olympic cyclist and John McGuinness, motorcycle TT champion. On the day millions of stickers were available free from every Halfords store in the country. We also sent out stickers to AA members, police forces and, fleets and local authorities. More than 6 million have been distributed.
'Now you see me'
The AA 'Now you see me' video also caused a stir and has been viewed over a quarter of a million times. Perhaps more pleasingly the campaign has also been rolled about across 22 other countries from Iceland to Iran. Tour de France cycling legend, Eddie Merckx, has even made his own Think Bikes video.
Awards
Why am I highlighting this now? Well a couple of nights ago Tony and my team attended the prestigious Public Relations Consultants' Association awards where Think Bikes won the Automotive Award 2015. This adds to an FIA Innovation Award and Fleet Safety Award.
Later this month we will hear if Tony wins the major FIM (Fédération Internationale de Motocyclisme) global motorcycle award for his inspiration.
The campaign has been great fun and has won widespread support from across the globe. I would just like to thank all those who have supported the campaign.
Think Bikes!
Edmund (12 November 2015)
Motoring of the Future
Select Committee report poses many pertinent questions
The Select Committee report, Motoring of the Future poses many pertinent questions about the future of motoring but the AA maintains that neither the report nor Government yet has the vision to answer those questions.
The report rightly points to potential problems of a transition period on the roads. There is a potential 'Blade Runner' scenario whereby robotic driverless cars are fighting for space with cars with humans behind the wheel and indeed semi-autonomous cars with no one totally in control.
Coexist in harmony
We really need a safe vision for the future whereby all vehicles and all road users, can coexist in harmony. This vision will entail Government, manufacturers, insurers and indeed drivers agreeing the way ahead.
Enjoy driving
We know that a majority of AA Members (65%) say they enjoy driving too much to ever want a driverless car but these new technologies do offer the prospect of cleaner, safer and cheaper motoring, while better electronic communication, allowing cars to talk to those that can assist them, means that drivers in distress on the roadside stay connected to and not cut-off from help.
Trust
AA Members' largely don't trust manufacturer and government assurances that driverless cars are safe and this concern was echoed by the Committee Chair, Louise Ellman MP when she said: "The public need to be sure that new types of vehicles are safe to travel on our roads," and "Transport Ministers must explain how different types of vehicles will be certified and tested, how drivers will be trained and how driving standards will be updated, monitored and enforced."
Liability and use of data
We agree with the Committee that the Department for Transport must clarify how the introduction of self-driving cars will affect the liabilities of drivers, manufacturers and insurers, and ensure that guidelines on the collection, access and use of vehicle data are updated.
However, government agencies and companies that facilitate these new technologies must always keep in mind: what works for the boffins may be baffling for the motorists. What may be a quantum leap in auto sophistication may be a leap of faith too far for the average driver.
Edmund (6 March 2015)
---
Road conditions in England
Government report brings a mixed bag of results
The Government's Road Conditions in England Report brings a mixed bag of results with some minor improvements on certain road categories and deteriorating roads elsewhere. Generally the AA believes that a great proportion of motoring taxation should be ring-fenced for road improvements.
On one level it is a relief that the condition of England's local Principal A roads have remained the same since the previous year with 4% of the network needing maintenance, however unclassified roads are in a pretty dire state with 18% needing work.
Motorways
Motorways and trunk roads generally have got worse in the last couple of years with 3% of motorways and 5% of A roads needing maintenance. AA patrols have reported more motorway defects as there has been a policy shift whereby motorway potholes are 'saved up' until there is a stretch that needs repairing rather than individual defects.
Skid resistance
Drivers and more importantly motorcyclists can't assume that motorway surfaces will always be smooth. Nor can they assume that skid resistance has improved in the last couple of years as 12% of A roads and 5% of motorways now have skidding resistance at or below investigatory levels.
London
There is a certain irony that, of all the English regions, it is London that has the highest proportion (12%) of its principal network that should be considered for maintenance. London has the busiest roads and the greatest proportion of two wheelers who are at greatest risk from potholes.
Spending
The Government has had to pump extra funds into filling the potholes and trying to catch up with the road maintenance that should have been done years ago.
There is a bitter irony that huge amounts of public money have had to be set aside for roads during a period of austerity - after road maintenance was cut back during the boom times before the credit crunch.
This must not be allowed to happen again. A greater proportion of fuel duty should be ring-fenced and spent on roads.
Drivers think two thirds of fuel duty should be spent on roads compared to the miserable one third that is currently spent. They want their money spent patching up potholes and unplugging pinch points.
Drivers should question all political parties on their pothole policy prior to the election.
Edmund (5 March 2015)
---
Seat belts and mobile phones
Latest survey shows seat belt wearing down/mobile phone use up
The Government's latest seat belt wearing and mobile phone use survey (published on 25 February) gives cause for concern as it shows that rear seat child passengers in England are becoming less likely to wear a seat belt.
The percentage of under-14's observed wearing a seat belt on the rear seat in 2014 was 91%, a significant drop from the 95% observed in the previous 2009 report.
The same report showed that the proportion of car drivers seen using a hand-held mobile phone has gone up. Overall, 1.6% of all drivers in England and Scotland were observed to be using a hand held mobile phone and that could be as many as half a million drivers every day!
Most were observed using the phone in their hand (1.1%) rather than holding it to their ear (0.5%) suggesting that most mobile phone use while driving is sending/receiving texts or using social media.
Male drivers (1.7%) are more likely to use a mobile phone than female drivers (1.3%) and van drivers (2.7%) are more likely to be observed using a mobile phone than car drivers (1.4%) or goods vehicle/lorry drivers (1.2%).
The only way to counter White Van Man's addiction to mobiles is to have more cops in cars and for employers to take their duty of care more seriously. If not they could face corporate manslaughter charges.
It's worrying that the percentage of car drivers using a hand-held mobile phone has not gone down since 2009. This shows that there is a hardcore of drivers who still believe there is nothing wrong with their behaviour and continue to put their own lives, and the lives of others, at risk by using their phone behind the wheel.
We know how common this behaviour is from our AA-Populus motoring panel. Virtually all of our members say they see other drivers using a hand-held mobile phone on most journeys, and the majority (81%) think that speaking on a hand-held mobile phone should be categorised as a dangerous driving offence in the event of a fatal collision.
On seat belts it is vitally important that all vehicle occupants wear their seat belts. An increase in the number of young passengers unrestrained is a cause for concern.
Besides the obvious life-saving effects of a seat belt in the event of a crash, young peoples' future attitude towards driving and road safety can be influenced by their parents setting a good example at an early age.
Education and enforcement are the tools needed to try and keep our roads safe for everyone who uses them.
Edmund (26 February 2015)
---
Driverless car trials
Highly automated vehicles are another step closer
Following a detailed regulatory review the Government has confirmed that there are no legal barriers to the testing of automated vehicles on public roads and has launched the first official UK trials of driverless cars which they claim could, eventually, save motorists six working weeks a year in driving time.
Greenwich will see the first trial of an autonomous shuttle - think automated golf buggy - while a driverless pod will be tested in public areas in Milton Keynes.
Importantly, for the purposes of the trials driverless cars will still have a fully-qualified driver ready to take over active control if necessary. There may be other requirements too as the Government has promised to publish a Code of Practice this spring for those wishing to test driverless vehicles on UK roads.
Clearly driverless' car technology - depending on the extent of the automation - offers major benefits for making driving safer, easier and more efficient.
However, the concept of handing control to a machine is so alien to many drivers that they will take a lot of convincing before they trust and accept it. Ironically, the term 'driverless' may be the biggest psychological obstacle.
Helping drivers
Many aspects of 'driverless' vehicles will help drivers. The technology may assist people to park, avoid collisions, speed up their reactions, and make their drive smoother and easier.
Older and disabled drivers
The driving ability of older drivers and disabled drivers may be vastly improved and make them safer. Perhaps even, in the long run, it will become the norm to hand over control to the car in certain conditions.
Liability
However, there are still fundamental questions around liability:
Under what conditions does a 'driver' become a 'passenger'?
What level of automation is required before the 'driver' ceases to be liable if there is an accident?
Until this key issue is clarified, probably by statute, many drivers will remain wary of 'driverless' driving. Today's government review moves the process of determining liability further forward but has yet to provide a full answer.
Sceptical
So far, AA members remain sceptical – in an AA-Populus poll in June 2013 65% said they enjoyed driving too much to ever want the vehicle to take over from them while 56% said they wouldn't trust manufacturer and Government assurances that driverless cars were safe.
Enjoy driving while you can!
Edmund (11 February 2015)
£6bn for local roads
New long-term spending plan tackles AA Members' top concern
The state of the roads is the number one concern for our members who are fed up with poor surfaces, flooding and other visible evidence of budget cuts. It is also a safety concern for those on two wheels, as well as on four.
Socks for Christmas
The announcement of government plans to provide £6 billion to 115 local councils in England over the next six years, to shore up and rebuild failing roads is welcome even if it is a bit like that present of a pair of socks for Christmas - something you should have anyway rather than a treat or luxury.
Step change
The new long-term funding plan, like that for strategic roads announced a few weeks ago, marks a step-change in the way cash is allocated and will allow councils to implement sensible road asset management strategies and efficiencies.
Authorities that do not plan and make efficiency improvements may be disappointed as they will not receive all the funding they may need.
Strings attached
We know some authorities baulked at the strings that are attached to this cash allocation but we believe it is important to have rigorous road asset plans, efficient practices and a challenge fund for councils to aim for. England's roads are a £400bn national asset and deserve to be looked after and not become a potholed route to ruin.
Our latest AA-Streetwatch survey shows that, despite extra emergency funding in recent years and urgent repairs by highway authorities, satisfaction with road condition has improved only marginally compared to this time last year.
No more emergency handouts
There remains the risk that another unpredictable winter producing bad weather will set back any marginal gains we have made in reversing the further decline of our roads. This announcement will mean that, in future years, there will be no emergency handouts - councils must get this right or risk a backlash from their electorates when roads start to crumble and they have failed to get all the money they need.
Merry Christmas.
Edmund (23 December 2014)
---
Autumn statement
'Highway to hope' for pump price-pummelled motorists
Re-confirmation of a £15 billion investment in UK roads and the continuing fuel duty freeze in today's Autumn Statement by the Chancellor of the Exchequer puts drivers on a 'highway to hope' after some hellish years of high fuel prices, potholed roads and only patchy investment.
Many drivers feel that they need some relief from high fuel prices after being pummelled at the pumps for years. AA analysis of Treasury petrol and diesel consumption figures show that UK families and businesses remain badly scarred by years of pump price spikes and records, beginning in the summer of 2008. Many drivers have been forced to cut back on journeys and have continually complained about the state of many roads.
According to the Office for Budget Responsibility (OBR) fuel duty revenues in each year between 2011-12 and 2015-16 are below their 2010-11 level, thanks in part to the reduction in the duty rate in April 2011 and subsequent duty freezes.
But a duty rate rise is still planned for September 2015, and fuel duty receipts are expected to increase by 0.3 per cent in 2015-16.
The investment in roads may well turn out to be a timely injection of funds into a network that will be challenged by economic recovery. It also recognises that the vast majority of long distance travellers go by car, not train or plane.
However drivers are still worried about the future as an AA-Populus poll of 17,874 AA members in September 2014 showed 84% were concerned that motoring taxes (VED and fuel duty) would increase following the general election in 2015. Almost a half (49%) agreed strongly with this.
Edmund (3 December 2014)
---
Car crime – increasing again?
Experts are starting to talk of a return to some of the circumstances of the early 1990s when car crime was at its peak.
In the early 1990s, as I got back to my black VW Scirroco after leaving a Stiff Little Fingers gig at the Brixton Academy I saw the tell-tale signs of car crime…shattered glass over the passenger's seat. At that time smash and grab to steal the stereo or indeed the car was very common. Some 700,000 cars a year were stolen back then.
At the time we motoring organisations made video news releases warning of the dangers of car crime and held regular meetings with the police, Home Office and others to tackle the problem.
Insurers (Thatcham) set demanding standards for new car security while older cars were retrofitted in large number with immobilisers, alarms or mechanical clamps.
Gradually cars became very difficult to steal without the keys – so car thieves started stealing keys! We even invented terms for it:
Hooking - using a coat hanger through your letter box to hook the car keys from the hall table.
Frosting – opportunist theft where the driver has left the car unattended with the engine running to defrost the windows.
By the late-2000s we talked about the keys being the weakest link – the only way to steal your car – and we warned you to guard your keys like your wallet.
Then it all went a little quiet. Theft rates were way down compared with 1990's levels and car crime didn't feature in the media. Had we beaten the crooks?
Car Cyber Criminals
Opportunist theft – we used to call it joyriding – is a thing of the past but organised, and often international criminal gangs are now hitting back, and this time they don't even need the keys. They are now Car Cyber Criminals (CCC) – well-resourced organised crime groups, using electronic means and targeting generally high value, prestige vehicles.
Back to the nineties?
Experts are starting to talk of a return to some of the circumstances of the early 1990s and if we're not careful, car crime figures might start to rise again, for the first time in 20 years.
If crooks have the right equipment - available cheaply on line - cars are easier to steal now than they were in the early 1990s as modern Onboard Diagnostic Systems (OBD) are actually enabling vehicle crime.
The number of cars being stolen may be much smaller but their value is much higher than in the 1990s when car crime was dominated by opportunism.
Current situation
2% of insurer losses are related to stolen vehicles
Stolen and unrecovered now as high as the 1990s
1 in 20 households are victims of vehicle related crime
50% of vehicle theft is now by electronic means
46% of 'theft from' involves an unlocked vehicle
11% of 'theft of' involves an unlocked vehicle
AA advice
If yours is an at-risk vehicle:
Don't be complacent. Make sure the car's locked every time you leave it.
Try to park in a garage or other secure location.
Fit 'OBD port protection' to prevent the crooks 'plugging in' to your car
Get an aftermarket, Thatcham approved immobiliser fitted to add another layer of security that can't be attacked via the diagnostic port
Consider fitting a tracking system
Other threats
Many cars have a permanent connection to the internet so may be more at risk there too - anti virus systems are generally good on pcs but what about cars?
And once cars start communicating directly with each other as part of a future 'Cooperative Intelligent Transport System' the risk and threat could be greater still.
It's not just the possibility of theft as our safety could be at risk too if cyber criminals were able to hack into emergency braking systems or gain control of your car in other ways.
The good news is that the manufacturers, Thatcham, the police and engineering and IT experts are aware of these threats so are devising solutions.
I will be raising some of these issues with experts brought together by the Institution of Engineering and Technology and no doubt we will soon be one step ahead again of those determined cyber car criminals.
Don't have nightmares.
Edmund (18 November 2014)
---
Country roads - take me home
The AA has welcomed the latest Department for Transport Think! campaign warning drivers of the dangers of rural roads.
Many drivers, particularly young drivers, are under the miscomprehension that motorways are more dangerous than rural roads. In fact, the number of people killed on rural roads is nearly 11 times higher than on motorways.
60% of fatalities occur on country roads
1,070 fatalities on country roads (2013)
9,104 serious injuries on country roads (2013)
Rural roads present drivers with additional, specific challenges and they must adapt their driving to ensure they cope with these safely.
For example, we know from our own research that many drivers are unsure of how to drive around horses and many drivers say they are often surprised when a cyclist or motorcyclist 'appears from nowhere'.
This time of year presents further challenges as the light begins to go and there are wet surfaces and more deer on country roads. Being aware of the additional dangers can help drivers make better decisions about their driving and ensure they get home safely.
Besides these risks, rural and isolated roads present additional dangers to road users as their very location often means it can take the emergency services that little bit longer to reach them and in the event of an accident the 'golden hour' after the crash is vital for rapid medical treatment.
We would advocate that drivers, even having passed their test, should consider additional lessons on rural roads particularly as some new drivers may never have ventured beyond the urban environment.
There are some great country roads in the UK but if you want the country roads to take you home, drive safely.
Edmund (9 October 2014)
---
Gone to pot
Public Accounts Committee report reflects public anger about local roads
We have had another report that tells us our roads aren't in a great condition, this time from the Parliamentary Public Accounts Committee. I think most of us probably realise that - I certainly did a couple of years go when the suspension on my estate car collapsed as a result of too many potholes.
Actually AA members think the state of the roads is a mixed bag. They are relatively satisfied with the state of motorways and trunk roads, but one in five say local roads are in a poor or terrible state.
Value for money
The Public Accounts Committee report reflects public anger about local roads and puts pressure on central government to work more closely with local government to carry out the basics: effective and regular road maintenance that gives the taxpayer value for money and does the job.
Longer term funding
The committee argues that we need longer term funding rather than relying on ad hoc pothole funds following bad weather. This seems to make sense but only if local authority funding is 100% ring-fenced to be spent on the roads so that it can't be siphoned off elsewhere.
Patched up
It does appear that central government's stop-start funding over many years has simply patched up the UK's roads, while the lack of ring-fencing of local authority funds and spending on maintenance has led to the sorry state outlined in the committee's report.
Poor drainage
We are particularly pleased to see that the committee has picked up on the issue of pools, ponds and puddles that blight UK roads because of poor drainage maintenance by highways authorities – some of whom have lost track of where their drains are.
A survey of 18,026 AA members found that 40% believed road drainage in June 2014 was no better than during the winter storms. A further 9% said it was worse.
Blaming each other
Poor drainage is the Scylla to potholes' Charybdis, a tandem of evils that endanger hapless road users and wreck their vehicles. All road users will hope that the Public Accounts Committee's stinging condemnation of the state of UK roads will bring about change and stop local and central government agencies blaming each other over funding – and, perhaps, stop both sheltering behind the 'biblical amounts of water' excuse this winter.
General election
Read any local newspaper and you can almost guarantee there will be letters about potholes. It is a major issue for all road users, whether on four wheels or two.
In the run up to next year's general election we will be pressing all candidates to let the voters know what they will do about the state of the roads.
Join us.
Edmund (26 September 2014)
---
£168 million to fix local roads
But potholes are not the only road maintenance menace
Potholes in the UK have been a long-running scourge that has cost tens of thousands of car owners millions of pounds in repair bills and councils millions in compensation claims.
The Government's announcement today that councils will be given £168 million to fix potholes is of course a very welcome cash injection for England's ravaged roads, but it will only be truly effective if roads are re-surfaced on time and not just patched up after each winter.
But potholes are not the only road maintenance menace that needs to be tackled.
Drainage
This winter's heavy rain exposed another aspect of sustained council under-spending on road maintenance: the collapse of road drainage, even in areas not hit by 'biblical' volumes of water. Ponds and small lakes on UK roads have been as big a menace this winter as potholes – the former often hiding the latter. Councils need to make sure this doesn't happen again, with or without government funding.
Lighting
We have also called for a government 'challenge fund' to allow councils to switch street lights to cheaper, greener and more fuel-efficient technologies, rather than switching them off all together.
With coroners blaming street light blackouts for contributing to the death of at least two pedestrians, this is a third danger created by cost-cutting on Britain's roads – the financial impact of which shouldn't be passed on to road users and, in some cases, the NHS.
Drive Safely.
Edmund (20 June 2014)
---
Living on the edge
Personal safety on the hard shoulder
AA patrols have been telling me that they are spotting more and more people waiting inside their cars when they have stopped on the hard shoulder of a motorway.
It has been estimated that some 20% of motorway fatalities happen on the hard shoulder, and there seems to be a hard-should hypnosis whereby truck drivers (in particular) suffer from tunnel vision when driving up the inside lane concentrating on the vehicle ahead in the distance. When that vehicle has stopped on the hard shoulder there is a danger that the following vehicle may just plough into it. This happens all too often and should be a stark reminder for vehicle occupants to exit their cars on the leftside and get to safety behind the barrier.
In one of our AA-Populus polls we found that some 68% of drivers have stopped on the hard shoulder – 37% of these stops were due to a breakdown while one in five had to stop due to tyre or wheel damage. Four per cent had to stop as they ran out of fuel.
So if you are forced to stop – you should only stop in real emergencies – remember your own personal safety should come first no matter what the weather.
Gradually we are beginning to see 'smart motorways' without a hard shoulder where some breakdowns can be even more perilous. But that's another story….
Drive Safely.
Edmund (5 June 2014)
---
European elections
FIA highlights policy priorities for motorists
The AA is a long-standing member of the FIA which represents 75 touring and motoring clubs across Europe and more than 37 million members.
Ahead of the European elections, the FIA, on behalf of European motorists is calling on EU decision-makers to:
Ensure smooth development of future car connectivity, while fully respecting motorists' freedom of choice and safeguarding conditions for effective competition in the aftermarket
Create the right conditions for the deployment of cleaner vehicle technologies and fostering user awareness via dedicated European projects
Offer life-long learning opportunities for all road users, with specific focus on vulnerable groups
Nominate a yearly road safety ambassador to support EU road safety policy
Ensure that motoring remains affordable via liberalised aftermarket for visible spare parts and stricter control for odometer tampering
Invest European funds and earmark taxation revenue to properly maintain the road infrastructure to safeguard Europe's growth and high levels of road safety.
You can read more in this pdf document published by the FIA or visit the campaign website, Mobility2014.eu
Edmund (17 January 2014)
---
Storms
It's been wet and windy rather than cold and icy
Normally the AA is flat out at this time of year with snow and ice related breakdowns. I am often called upon by the media to give advice to drivers from the side of a frozen roadside.
This year it has been different.
Drivers and our patrols have had to contend with really wet, windy and flooded conditions.
Over the past three weeks, the AA has dealt with 2200 flood related cases. More than 500 of these were cars actually stuck in water and around 1700 were breakdowns caused by driving through flood water.
Around 400 of these cases were attended by our Special Operations Response Team (SORT) with their flood adapted Land Rovers.
I would like to thank all our patrols for their efforts in this wet weather.
Edmund (14 January 2014)
---
Petrol and politics
There is a glimmer of hope with fuel prices
With various supermarket cuts and some competitive pricing from independent garages we are now seeing diesel at its lowest price since 2011.
Our pressure on government has also meant that there shouldn't be another fuel duty rise until after the next General Election.
There are still wide variations on fuel prices between different garages and different towns so the AA will continue with our regular fuel price reports to show you the best and the worst.
Talking of elections, we will be flagging up motoring election issues to all the main political parties. If 'Mondeo man' was essential in electing Tony Blair in the past I am sure that the present day equivalents, whether Fiesta Female or simply Ford Folk, will be equally important in the next election.
We already know that fuel duty, potholes, congestion and opposition to tolls tend to top our members' concerns, and we will keep pressure on all the politicians to address these issues.
Edmund (13 January 2014)
---
Potholes
The pothole season is late - but drainage is a problem
As a result of the weather the pothole season is starting a little later this year. Yes we are seeing roads damaged by excessive surface water and poor drainage but generally we are not (yet) seeing the number of deep potholes that snow and ice tend to inflict on already poorly maintained roads.
After my car suspension collapsed last year I am perhaps more cautious on how to approach these road defects.
Rest assured that we will continue to highlight the issues of poor road maintenance with the relevant highway authorities. We will also flag up some of the problems caused by poor road drainage that we have noticed during recent heavy rain. In fact we will be including questions on just this topic in our January 2014 Motoring Panel survey.
Edmund (10 January 2014)
---
60mph limits on motorways
Is reducing motorway limits to 60mph the right way to address local air quality issues?
The Highways Agency is consulting on introducing a maximum mandatory 60mph limit between junctions 28 and 35a on the M1 to mitigate the adverse impacts of road traffic on local air quality.
The proposal is that the maximum limit of 60mph will operate at certain hours of the day when the managed motorway–all lane running (using the hard-shoulder) schemes are complete.
At the AA we are keen to promote good air quality and therefore advocate the take-up of cleaner, greener, more fuel-efficient cars. However as there are plans for more than 100 miles of hard shoulder running on motorways the AA is concerned that these proposals may result in the introduction of a more general 60mph limit on motorways by the backdoor.
Many drivers have purchased greener, cleaner cars so shouldn't be penalised because of a minority of gross polluters. Perhaps the government needs to look at higher speeds on motorways in dedicated lanes for cleaner cars rather than reducing speeds for all?
We are asking for members' views in the January AA-Populus Motoring Panel survey and will study the consultation and make our response in due course, but clearly such a speed reduction when the M1 is empty would be nonsense.
We will be considering a range of ways to reduce particulate and oxides of nitrogen emissions and would welcome your views.
Edmund (7 January 2014)
---
Giving a little back to hard-pressed families
Will display of motorway fuel prices lead to cut price fuel?
Motorists in the UK often think they are treated as a cash cow so today's announcement by the Roads Minister Robert Goodwill of a package of reforms including freezing of the MoT test price and taking action on widely-criticised over-pricing of motorway fuel is welcome. It will go some way to help keep down the motoring costs of hard-pressed families.
The Minister also announced plans to trial new road signs that will compare fuel prices along primary routes, a practice that is successful elsewhere in Europe.
The AA has long campaigned for motorway fuel prices to be displayed at the start of motorways, as they do in France, so that the driver can make an informed choice on where to fill up. Prices can be 10p per litre more expensive than can be obtained from supermarket pumps or where there is greater local competition.
We understand that Motorway Service Areas have higher running costs, but welcome Government moves for greater transparency in fuel prices.
We know form our AA-Populus panel that sixty per cent of drivers use motorways at least 'several times per month' while 10 per cent use them every weekday. Displaying motorway fuel prices will widen their choice and inform their decision where to fill up.
MOT test
We welcome the decision to cap the annual cost of the MOT until 2015. Whilst most drivers support an annual MoT on safety grounds, many families find the price of the test a struggle to meet, although many garages offer deals that can be well below the maximum £54.85 cost. The cap will help to ensure that the canny motorist can still shop around for a cheaper MoT test.
Driving test fees
We also welcome the fact that fees charged for the driving test will be reviewed, including the current £31 for the theory test, £62 for the practical test and £50 fee for the provisional licence. 1.5m car drivers take their test every year and any opportunity to save money will be welcome as we have seen a drop in the numbers of teenagers taking their test, and the cost is certainly one element.
Edmund (23 October 2013)
---
Curfews for new drivers?
Should we slap restrictions on new drivers after their test?
We've been busy recently with lots of stories in the media linked to the expected government Green Paper on young drivers. Much of the coverage related to TRLs research, funded by the Department for Transport, which recommended a radical overhaul of the driving licence process in the UK.
In essence, the report advocates implementing a full graduated driving licence system, so that someone learning to drive at 17 would have to successfully complete a 12-month minimum learning period before taking their test and a 12-month probationary licence period after their test.
This would have a big impact on the lives of young people and their families. For example, an 18-year-old who had passed their learner driver test and had a probationary licence would not be able to drive themselves home after a shift that finished after 10pm – as most evening shifts do.
They would also have to complete a minimum of 100 hours daylight and 20 hours night supervised practice supported by a mandatory logbook completed by an ADI/parent/guardian or other supervising driver.
Other recommendations from the research included:
Road safety resources to be incorporated onto the national curriculum
Removal of motorway restriction for learner drivers
Possibly suggesting lowering of blood alcohol limit to 0.2 g/l
Possibly suggesting mobile phone ban (including hands free)
Green P plate legally required for 12 months after passing test
No driving between 10pm and 5am unless with adult over 30 during first 12 months of licence
In the first 12 months of having a licence, drivers under 30 can't carry a passenger under 30 unless accompanied by another passenger over 30.
Wide range of reactions
The media reported a wide range of reactions from industry bodies and experts. Many were in favour of the proposed system as a way of reducing the accident rate among novice drivers and to help bring down their insurance premiums.
There is undoubtedly a need for novice driver safety to be addressed, and there are many proposals in the report with merit and which are advocated by the AA.
Road safety on the national curriculum is something we have long campaigned for and I am pleased to see it being recommended here. Likewise we would also support learner drivers being allowed on motorways with their instructor.
Motorways and poor weather
Recent AA-Populus research showed driving on motorways and in poor weather conditions are the scenarios newly-qualified drivers feel most un-prepared for.
Half (51%) of drivers said they did not feel prepared for motorway driving when they passed their driving test
Just under half (43%) said they felt un-prepared for driving in poor weather
A minimum learning period, enforced by a logbook and with mandatory lessons on a variety of roads and in different light and weather conditions would help address this.
Balance
However, any changes to the licensing process must be balanced between the need to improve safety and the mobility needs of individuals.
At the extreme end, this report could be seen as just recommending taking novice drivers off the road by regulation and restriction rather than helping them develop the right attitudes and skills to provide them with the mobility they need.
Our AA-Populus research also found that one in ten (11%) drivers would have been less likely to want to pass their driving test if they had been restricted from carrying young passengers and only driving at certain times (6am-11pm) in their first year of driving
A third (34%) said these restrictions would have made it more difficult for them to get to work, prevented them giving lifts to siblings (34%) and prevented them helping their parents with errands (35%).
Early access or extended development?
Rather than offset proposed significant new restrictions through giving earlier access to the roads under supervision the authors of this research propose delaying and extending the driving development process to the point where even some 30 years olds would face restrictions when it came to carrying passengers.
This academic report has raised a number of options for debate but the real question is how many of its recommendations will be acceptable to the government and public at large?
We have argued that we would like to see drivers better prepared by the time they take their test rather than slap restrictions on them afterwards. What do you think?
Edmund (22 October 2013)
---
Google Glass
Should Government warn drivers?
We have had Google maps, the Google driverless carand now Google Glass has reared its head in the automotive space.
The government has warned that drivers using the "wearable computer" device Google Glass while at the wheel will fall foul of driving regulations.
Worn like small spectacles, Google Glass has a small screen just above the right eye and users can take a picture, record a video and read messages.
The device is expected to hit the market next year.
The Department for Transport has said: "It is important that drivers give their full attention when they are behind the wheel and do not behave in a way that stops them from observing what is happening on the road.
"A range of offences and penalties already exist to tackle those drivers who do not pay proper attention to the road, including careless driving which will soon become a fixed penalty offence.
"We are aware of the impending rollout of Google Glass and are in discussion with the police to ensure that individuals do not use this technology while driving."
The AA obviously wouldn't support any new devices that compromise road safety; however we question whether adequate checks have been done on Google Glass and driving. Perhaps TRL should be commissioned by the Government to carry out safety checks?
Some may argue that glancing at map instructions in the glass rather than straining to see a sat nav or road sign may enhance safety. Indeed more modern cars now have head-up displays projected onto the windscreen which manufacturers claim halve the time needed to look at dashboard displays. Head up displays have been widely used in military and commercial aircraft for many decades.
We don't know enough about Google Glass to know how driving would be affected so it would be interesting to see some research. Perhaps there needs to be a 'drive safe' mode.
In the 1960s some people thought it would be dangerous if cars had radios as they might be a distraction to drivers and make them crash. Technology has moved on but are we ready for Google glass in a car near you anytime soon? Perhaps in a Google driverless car?
Edmund (2 August 2013)
---
Parking charges
Not for propping up council budgets
Nobody likes to get a parking ticket and no driver should just park where they want, when they want, while any conditions that apply to parking must be fair, reasonable and indicated clearly on signs.
We were delighted when we got wheel clamping on private land outlawed last year, and we're now monitoring closely the way in which its replacement, the issue of parking charge notices (tickets) is operating.
We want to see a fair parking system that keeps traffic flowing but doesn't deter shopping in town or city centres.
When it comes to charges, whether for car parks or residents' schemes, these should be set at a fair level rather than just to make money.
Hence we were delighted to hear Monday's High Court judgement against Barnet Council on controlled parking zone revenue in which Judge Mrs Justice Lang DBE ruled that the council had acted unlawfully by hiking charges to pay for other transport projects:
"The 1984 Act is not a fiscal measure and does not authorise the authority to use its powers to charge local residents for parking in order to raise surplus revenue for other transport purposes funded by the general fund."
This case has confirmed that it is illegal for local authorities to deliberately milk revenue from residents and drivers to prop up council budgets for other services. Car owners are easy targets and, as we feared, some councils are now crossing the boundary into illegal activity - dressing it up as justifiable traffic management and parking control.
We have been warning about this type of activity for some time. For example, some authorities have been saying they cannot fix the potholes or clear ice from the roads unless controlled parking zones are extended and prices increased. This is in effect holding residents and drivers to ransom and is totally unacceptable.
The Barnet case must be a warning to other local authorities that try to profit from ramped up charges, unnecessary extended controlled zones, use CCTV for mass ticketing or argue the case for increased levels of penalty when there is already sufficient deterrent.
Of course, we need to secure adequate funding for council services but this is not the way.
Edmund (23 July 2013)
---
Language barriers
It pays to use a phrase book
I was quite relieved when we finally booked this year's summer holiday in France. For the first time in several years we had actually booked something rather than leaving it to the last minute.
But I was also relieved that we are going to a country where I can just about get by in the native language – having got an 'O' Level in French and spent a year living in Burgundy tasting wines...that's another story.
Misunderstandings
Last year I struggled in the small hospital in Sicily trying to explain that my 11 year old son may have broken his arm playing football….no his arm and not his leg.
I don't seem to be alone. A recent AA survey revealed that 13% of holiday makers heading abroad have absolutely no knowledge of the language of the country they are visiting while a further 7% rely solely on what they learnt at school. It's hardly surprising then that 1 in 5 (20%) have had a misunderstanding with language while on holiday.
To learn or not?
Just 7% of people travelling abroad say they take the time to learn the language especially for their holiday, while at the other extreme, one in ten don't feel it is necessary to even try to learn the language as they believe that everyone understands English.
When asked what they worry about when travelling abroad, 16% claimed it was not understanding the language.
Almost 80% of people are not confident when asking for directions abroad
over 60% feel uneasy ordering in a restaurant
only 13% feel confident dealing with medical staff
Linguistic misunderstandings that people have experienced include:
France: "I asked for somewhere to go to get my horse cut instead of my hair"
Turkey: "I asked someone for directions to the post office, which I thought was called the PKK. The post office is actually the PTT, and I had asked for directions to a Kurdish terrorist organisation."
Belgium: "I thought I said 'I'll see you later' to the Chief of Police in Brussels, when I actually said 'I'll see you later in bed'."
Spain: "I tried to ask for chicken, but accidentally asked for male genitalia."
AA guides
Many of these faux pas can be prevented simply by including a phrase book in your suitcase, and the AA publishes them in both children's and adult versions. In France hopefully I won't be mixing up my hotel with l'hotel de ville or town hall.
The AA Kids Phrasebooks are available in French, Italian and Spanish and have been designed for children aged seven to thirteen. They focus on the phrases children will find useful and have also been fully updated to include modern themes such as mobile phones and MP3s.
For parents who don't want to be shown up by their children, the AA's Phrasebooks could be the answer.
So do what I do and visit a country where you can speak the language or get a phrase book and at least learn the basics. The AA's Phrasebooks are available from all good bookshops and The AA Shop.
Happy holidays!
Edmund (2 July 2013)
---
Road relief
AA welcomes road investment announcement
At long last, the UK's road infrastructure looks like getting the attention it deserves.
This is critical to the UK economy and essential for the mobility and safety of its driving population.
The vast majority of goods and people move by road but for decades investment has been insufficient to keep up with the demand for improvement and expansion to cut the jams and fix the roads.
Drivers will be delighted to hear of the bold plans announced today by Chief Secretary to the Treasury Danny Alexander but hope this won't be let down by slow, patchy delivery. Potholes are here and now and our traffic jams just get worse.
Highways Agency
We welcome the government's plans to transform the Highways Agency into a public corporation with a clear brief and guaranteed funding free of political intervention. But UK drivers remain fearful of paying more to use our roads - after all they already contribute £46bn each year in tax.
Contentious and on the cheap?
If new road schemes involve tolls they will be highly contentious and, whilst adding motorway lanes is very welcome, pinching the hard shoulder to do this may be regarded by some as doing this on the cheap.
Overall this is very good news today for jobs movement and the economy, but the devil will be in some of the detail and we'll be watching what actually happens very carefully.
Edmund (27 June 2013)
---
Spending Round 2013
Welcome news for transport
Chancellor George Osborne delivered his spending round 2013 statement to Parliament today.
On Transport he said:
The Department for Transport will make a 9% saving in its day to day resource spending, bearing down on the running costs of Transport for London and rail administration, but its capital budget will rise to £9.5 billion – the largest rise of any part of Government.
Mr Osborne claimed that government is already massively expanding investment on major road schemes, and said they will do more by announcing the largest programme of investment in our roads for half a century.
Badly needed
It is great news that Transport, which is critical to the UK's economic fortunes, is being bolstered by an additional £2bn in 2015/16.
Improvements in the movement of people and goods and preservation of our hugely valuable transport assets like the roads, which are worth tens of billions of pounds, are badly needed.
We cannot afford to let road congestion worsen and potholes gradually decay our road system. This should bring a boost to employment and the economy.
All road users will keenly wait to hear more detail on the "biggest highway investment programme for 50 years" from Danny Alexander on Thursday (27/6)
Edmund (26 June 2013)
---
Road to nowhere?
Tolls or Taxes? How should we pay for our roads?
Next week we should hear the details of the Government's comprehensive spending review. For drivers the main issue will be around the level of funding for road maintenance and improving the road network.
But how should we pay for our roads? It was a surprise even to officials that the Government's mid-term review statement in early January contained no reference to plans to build new roads with private investment, despite this being trailed by the Prime Minister. Rumour has it that it was all too difficult so references to private financing of roads were cut out of the report.
Greener cars/falling taxes
It is ironic that the successful increase in the number of fuel efficient cars has left the Government with a problem of potentially falling taxes.
Whilst there might be environmental benefits of greener, cleaner cars, in the long run fuel efficiency is not good for government tax take, which relies on drivers to prop up the Treasury with motoring taxes of some £46bn each year – of which only about a quarter is spent on roads.
The Office for Budget Responsibility, which advises the Chancellor, has warned that the trend towards more fuel efficient cars could lead to the government's tax take from fuel duty being £100m less this year, rising to a shortfall of £600m by 2016-17.
This is due to more fuel efficient cars entering the market and drivers cutting out journeys due to the high cost of fuel.
A14
So what does the government do? Last year ministers published a complicated report looking at long overdue road improvements on the A14 near Cambridge.
The A14 is an important strategic road that links the port of Felixstowe with the rest of the country but the government has said they can't afford the improvements out of the public purse. The report looks at tolls of between £1-£2 and then £2-£4. With these tolls there would be a high risk of many drivers trying to divert to other roads. So the report advocates downgrading the old A14 to stop this.
Regulated utility model
In March last year the Prime Minister said; "We need to look at innovative approaches to the funding of our roads. Road tolling is one option...Why is it that other infrastructure – for example water – is funded by private sector capital through privately owned, independently regulated utilities...but roads in Britain call on the public finances for funding?"
It appears that this approach to road funding has been pushed by the Chancellor and Cabinet Office after pressure from those with a commercial interest. Officials then embarked on a feasibility study to consider options and transport ministers talked about "securing investment for the long-term" and prospects of a 'regulated utility model'.
The front runner seemed to be this 'regulated utility model' whereby a private company would run the motorways and main roads on a long-term licence. The company would be funded by a charge on drivers to use the most important roads. If the charge applies to a wider network more motorists would have to opt-in but operator costs would increase.
Motorway access charge
The favoured funding option seemed to be an access charge of £150 a year to use motorways, trunk roads or indeed a wider network of roads. There might be a slight cut in vehicle excise duty or a graduated charge depending on the car you drive. But as cars get cleaner, the charge, like VED, would have dropped so officials considered if they could base the charge on vehicle weight, but this would backfire as hybrid cars tend to be heavier.
Confused thinking
The Government seemed keen to ensure that the majority of funding came from a user charge rather than from taxes or grants, so that this 'Off-Road' utility is not on the Government's balance sheet.
The thinking is confused. It might benefit the Government, the construction industry and road pricing academics but nobody seems to be addressing the needs and indeed views of the consumer.
Drivers will question why, if they have to pay an access charge to use the motorways and main roads, should they then pay more to use the A14 or Severn Crossing via tolls?
An access charge, like a season ticket, does nothing to reduce demand.
Drivers don't like paying more taxes, but our research suggests they don't want the roads privatised or have to pay tolls and access charges.
Ring-fenced road excise duty
The simplest, fairest, easiest to enforce measure would be to gradually introduce a ring-fenced road excise duty to top up fuel duty paid at the pumps.
As cars gradually become more fuel efficient, the duty is increased – but can only be spent on road maintenance and improvements. If we do see significant growth in electric vehicle registrations the charge may need to switch to a VED payment rather than fuel duty.
National and responsible only to Government
Do we really want to lose control of our road network when 67% of drivers in an AA-Populus poll of 20,000 drivers say there is no need for major reform of how England's roads are owned or operated?
Indeed 73% think the strategic roads are currently well managed and should continue to be run by national bodies, responsible only to government.
Only 14% of drivers agreed with the Prime Minister's suggestion that strategic roads should be funded, operated and organised by private companies.
Our roads are an essential national asset. Of course our roads need investment. But do we really want to lose control of our roads and watch private companies line their pockets from new charges on drivers. Some commentators are suggesting that these ideas are 'too difficult' as they were rightly worried about public opinion.
Maintain our essential road assets
Rather than procrastinate about unpopular road privatisation, the first transport priority for any government should be to maintain our essential road assets. Some of our potholed roads are a national embarrassment. In the Spring a third of AA members rated the condition of their local roads as poor, very poor or terrible and a third of them had also suffered damage to their vehicles from potholes.
The only way to stop this cycle of decline is for a proportion of motoring taxation to be ring-fenced entirely for road maintenance and local highway maintenance budgets should be ring-fenced so what is intended for roads is spent on roads.
If nothing else let's hope we get a ring-fenced pothole fund in the spending review.
Drive on.
Edmund (21 June 2013)
---
Back off
New penalty will deal with AA Members' pet hates
The most annoying drivers I encounter on the days I go to the AA office in Basingstoke are the motorway tailgaters. You know, the drivers who insist on driving six inches from your bumper even though you are restricted by traffic ahead.
Last year one of these idiots even crashed into me as he was tailgating and "dropped his phone". A double whammy of dangerous driving.
I am not alone in this pet hate as it is the number one motoring irritation among AA Members according to one of our Populus polls.
One-in-three panellists (36%) find tailgating the most irritating behaviour when they are driving.
One-quarter (23%) think that people who talk on the mobile phone while driving are the most annoying
18% find middle lane hogging the worst behaviour
No other activity was selected by more than 10% of all panellists.
New penalty
Well help may be at hand to tackle all three of these irritations and road safety risks. The Government has just announced that they are to introduce new penalties to tackle tailgating and middle lane hogs under a new careless driving fixed penalty offence.
The changes will give the police powers to issue fixed penalty notices for some forms of careless driving, freeing them from resource-intensive court processes. The fixed penalty will also enable the police to offer educational training as an alternative to endorsement. Drivers will still be able to appeal any decision in court.
£100 fixed penalty
The fixed penalty levels for most motoring offences - including using a mobile phone at the wheel will rise to £100 to bring them into line with the penalties for similar non-motoring fixed penalties.
Whilst everything else seems to have gone up in price the general fixed penalty has been £60 since 2000.
Mobile phones
It is worrying that three quarters of drivers see others using mobile phones behind the wheel on some or most journeys. This epidemic of hand held mobile phone use while driving has already cost lives and our members have demanded action.
An increase in fines, if backed up by police action, will help deter those who commit motoring offences including mobile phone use. AA members broadly support an increase in the level of the fixed penalty.Our members also fully support educational training as an alternative to penalty points.
Unholy trinity
We are also pleased to see that at long last new powers and fines will be given to the police to tackle the top three pet hates of drivers – tailgaters, mobile phone abusers and middle lane hogs.
Let's hope that this action helps to eliminate the unholy trinity of tailgaters, middle lane hogs and mobile phone abusers.
Drive safely.
Edmund (5 June 2013)
---
Fuel prices
Have we been taken for a ride?
News came last week that the offices of various oil companies had been raid by EU officials looking into possible oil and fuel price fixing across Europe.
At the AA we warned about this two years ago. Indeed together with other European motoring clubs from the FIA we wrote to the EU Competition Commissioner about this.
We were then told there was no hard evidence to support this.
In the UK we had seen three 8p-10p a litre petrol price swings in 12 months.
Petrol is now 133.35p a litre, down 3.5p in the past month.
Diesel is now 138.17p a litre, also down 3.5p in the past month.
This isn't really a cause of celebration as we fear another big price swing. We have long been warning of the impact of speculators in the oil and fuel markets.
Now, the International Energy Agency warns that commodity traders and other market players are taking control of the fuel trading market.
There is a danger that traditional refiners, who have to balance supply with demand and prefer a smoother market, are being squeezed out by quick-profit players who thrive on what the IEA refers to as'market volatility'.
The AA also asked the Office of Fair Trading (OFT) last autumn to recommend fuel price transparency to make the market more open. The OFT reported that there was no need for this. We called their report 'a whitewash' and now we see three petrol companies under the EU spotlight.
The AA wants the EU to shine a light on the speculators the IEA is warning about. That is where we fear much of the pressure on prices is coming from. If there is evidence that prices have been artificially hyped then we believe that drivers should be in line for compensation through reduced fuel duty, or at the very least, they should be afforded the protection of price transparency, from oil well to forecourt, and a regulator to enforce a fair market.
There should also be an obligation to plough a proportion of refining and oil/fuel market profits back into European refineries to upgrade and improve their efficiency and reduce European drivers' exposure to volatile and inflated prices.
Edmund (20 May 2013)
---
Get Britain Cycling
30,000 sign e-petition in only two days
There was quite a dramatic shift of gear for me last Wednesday. Having chaired a meeting of the Motorists' Forum at the Department for Transport in the morning, I moved on to Parliament to address the AGM of the Bicycle Association and support the launch of the All Party Parliamentary Cycling Group report 'Get Britain Cycling'.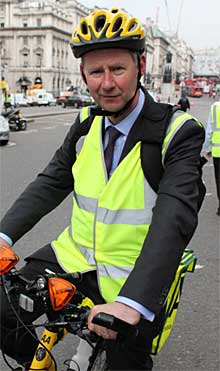 Despite being AA president, cycling still plays a big part in my life and indeed still brings me some of my happiest moments, but in the last few years I have become genuinely concerned about talk of a "war between cyclists and motorists" – I am both cyclist and motorist and I didn't want to be at war with myself – or indeed anyone else.
In 2009 I helped contribute to a film and campaign by Kate Cairns whose sister Eilidh was killed by a tipper truck in Notting Hill. It sickens and saddens me some 4 years later to see that another young lady has recently been killed by a truck in similar circumstances.
This isn't just personal though - the AA has always had an interest in cycling and safety.
The first AA patrols rode cycles from 1905 – some 40 years before patrol vans.
The AA gave evidence to the Alness Committee (1938) looking into cycling.
Many of our staff at the AA, including me, the CEO, finance director, are enthusiastic cyclists and we are keen to promote it.
We have AA patrols on Smith and Wesson mountain bikes at events like Wimbledon and Glastonbury.
We are members of the All Party Parliamentary Cycling Group (APPCG) and I sit on the Department for Transport's Cycle stake-holders' forum.
The AA was one of the first supporters of TheTimes "Cities fit for cycling" campaign.
I gave evidence to the APPCG's enquiry "Get Britain Cycling" and the AA is happy to support the recommendations made in their report which was published on Wednesday.
If the recommendations in 'Get Britain Cycling' are followed through it should be the catalyst for change to put cycling on the front foot in this country.
The clear vision is to change cycling from a 'minority sport' to a mainstream mode of travel. Currently 18% of AA members cycle regularly but if these recommendations become reality we could see these numbers double.
We now need leadership to match this vision. Drivers and cyclists are often the same people and they should all welcome this report.
You can show your support for cycling too by signing the e-petition on the Number 10 website "urging the Prime Minister to pledge that the Government will implement the recommendations in the 'Get Britain Cycling' parliamentary report."
We've already got more than 30,000 signatures, in less than two days. If we get past 100,000 the petition could be debated in the House of Commons.
Edmund (25 April 2013)
---
Potholed
A personal tale of woe
Ok I'm no stranger to the media. Indeed the best man at my wedding said, "If Edmund saw a speed camera flash he would stop to do an interview. He does the same whenever he opens the fridge and the light comes on" Even when I was 8 years old I used to daydream about being interviewed by Jimmy Young on the BBC. Some 30 years later I was.....fairly often.
So I shouldn't really be surprised that a personal incident last week became headline national news.
Pothole campaign
On the 14 March me and my colleagues were involved in more than 80 radio and television interviews promoting our latest pothole campaign. A highlight was that a third of AA members' cars had suffered from pothole damage in the last two years.
Only two days later I was driving my twelve year old, Finbar, to his football match in St Albans. We were early and as I was driving incredibly slowly on a badly potholed road we passed a team mate who indicated that the game was off. As we headed home I stopped to fill up with diesel at the local Morrisons.
Gun shot?
As I was pumping gas I heard a really loud whoosh sound like a gun shot (I used to live in LA) followed by escaping air. It sounded like someone had shot my tyres and I asked Finbar if he knew what it was?
Assuming that it must have been the car wash or air from the tyre inflator I finished my £82 fill-up, but as I walked around the front of the car I was astonished to see that it had collapsed onto the tyres - now I understood why the cashier was staring at my Mercedes E Class Estate!
My first thought was that I wished I had stopped filling up when I heard the 'shot' as the car looked a write-off, but the worst thing was paying for the fuel and having to apologise for blocking the pumps. The cashier was more than understanding though and even brought me out a cup of coffee. Those gestures of goodwill are worth a million when you are down on your luck.
Then of course I called the AA, and no I didn't say "Do you know who I am?" Winston was polite, efficient and friendly, although I did point out that I would need a recovery truck rather than a patrol. I was told the truck would be 40 minutes.
I called my local independent garage, Prestige Mercedes who confirmed that they could take the car but couldn't work on it until Monday. Ironically they are located only about 800 yards from Morrison's but I couldn't just drive there.
Twitter
My wife came to collect Finbar and I sat in the back of my car – still blocking the pumps - and began to tweet.
Some seemed amused at my predicament after I tweeted "Teach me to talk up potholes. My front suspension just collapsed. Need to call the AA. Ho hum."
David Firn replied "Breaking news: @AAPresident's suspension has collapsed. Update on time to arrival of fourth emergency service eagerly anticipated."
I then joined in the banter, apologising for blocking the diesel pump at the forecourt while waiting to be rescued and thanking the cashier for the coffee.
@mike_1727 said "Waves at @AAPresident leaving St Albans Morrisons car park on an AA truck. Bad news fella, that'll cost you."
I was asked on Twitter to consider what sort of affect St Albans' potholes have on cyclists and their bikes. As a keen cyclist I knew the answer only too well - broken springs are better than broken limbs.
After about 30 minutes the AA Recovery patrol turned up and delicately and skillfully manoeuvered my broken car onto the truck to recover it the short distance to the garage. I walked home and took to my bike.
From local to national
A reporter on our local paper, the Herts Advertiser had picked up on the Twitter feed and gave me a call - little did I know that the story would make their front page, including a picture.
Then the story took off nationally with The Times first running a piece on-line:
AA boss wrecks Mercedes on pothole days after national warning
The story then spread via the Press Association to the BBC, ITV, Sun, Guardian, Daily Telegraph, Metro, Mirror, Scotsman and others.
The good news is that the damage was not quite as costly as I had feared - Prestige Mercedes replaced both front springs for £312.
I have since been contacted by hundreds of motorists telling me their own tales of woe, for example:
"The country lanes I go on across the top of the Rollrights to go from Moreton to Banbury every day are a complete nightmare. Because the road is so narrow, even if you can see it, if there is a car coming in the opposite direction, and one behind you - you can't even avoid them!!"
My colleagues, family, friends and Twitter followers, all seem pretty amused by my incident, some even suggesting that I had planned it to get publicity. How could they?
Well I think I have kept my sense of humour about it - but I am looking forward to the time when daffodils overtake potholes this spring.
Edmund (25 March 2013)
---
Cutting your fuel costs
It's not just about eco-driving
We were pleased that the Chancellor has listened to us and decided not to go ahead with the proposed fuel duty hike in September. As I commented at the time: AA members would greet this with 'relief rather than joy' as pump prices remain high.
Our recent AA-Populus study shows that the 'Cost of living' is the greatest concern for AA members and fuel prices make up a substantial proportion of those costs for millions of drivers, particularly those who do high mileage or live in rural areas.
Seeking out the lowest price fuel, using supermarket money-off vouchers and driving in a way that keeps fuel consumption to a minimum are all things that savvy drivers do and it can make a big difference to your annual fuel bill. It's something that I and my AA colleagues frequently comment on and there are driving tips on the AA's website to help you do just that.
Reward credit cards
Sensible driving and taking advantage of money-off offers is a popular theme for money guru Martin Lewis and he spent a lot of time on his new programme 'Martin Lewis Money Show' on Thursday showing just how much you can save. He also pointed to the usefulness of reward credit cards and commented on the AA's Reward Card which earns you points every time you use the card. What's more, unlike other reward cards he mentioned, the AA card doesn't carry a fee and if you are an AA member, it earns double points every time you buy fuel. I have already used some of my points to buy a digital radio, hedge trimmer and indeed got £150 off my AA car insurance.
Driving in a fuel-efficient manner is:
good for your pocket
good for wear and tear on your car
good for road safety, good for the environment, and
helps to keep your stress levels down too.
And there is a lot you can do to keep your fuel spend to a minimum too.
Fuel prices are a major concern to the AA and its members and I don't doubt that I'll be returning to this topic often in this blog.
Edmund (22 March 2013)
---
Huhne/Pryce case
Prison sentence for points sends out strong message
The media attention attracted by the Huhne/Pryce case should mean that many drivers in the future will be deterred from trying to swap penalty points.
Previous AA-Populus research of 16,961 drivers suggests that approximately 300,000 drivers admit to having swapped penalty points and more than 3 million claim that they know someone who has persuaded someone else to take their points.
This case sends a very clear message to anyone who thinks that swapping driving licence penalty points for a speeding offence is little different to dodging a parking ticket.
Similar cases have provoked an equally strong response from other judges.
Many drivers just didn't realise the severity of swapping penalty points but they do now.
As well as the harsh punishment for perverting the course of justice, drivers tempted to take someone else's penalty points should consider the reality that an offender who faces 12 or more points is likely to be caught again. This increases the futility of a 'favour' that could end in jail, lost employment, public humiliation and family break-up.
Edmund (11 March 2013)
---
Drug driving
AA welcomes new offence
The AA has been campaigning for five years to tighten up enforcement of drug driving - back in 2008 we held a round table with the Home Office, police, Department for Transport, and medical and addiction experts on this issue - so we're pleased to see progress at last.
The Government is introducing a new offence of driving or being in charge of a motor vehicle with a specified controlled drug in the body. The new offence is included in the Crime and Courts Bill, currently before Parliament. It will enable more effective law enforcement and help to keep our roads safe.
Official figures suggest there are around 200 drug-related deaths on our roads each year but we believe that the figure is much higher as victims aren't always routinely checked for drugs after crashes.
Ultimately the success of any new offence will be down to police enforcement, education and resources. The new offence would remove the need for police to carry out the somewhat cumbersome Field Impairment Tests (FIT) of standing on one leg etc.
We assume that more drug driving suspects would be screened and given blood tests at police stations and would be charged if over the specified drug levels. We hope that the new offence will deter drug drivers from driving with any level of illicit drugs in their system.
Edmund (7 March 2013)
---
Fate, hope and charity
Driving as a life skill
More than 90 per cent of AA members couldn't imagine life without their car – and almost as many still enjoy driving. It's something we often take for granted without really appreciating its value and importance as a life skill.
Of course, that skill can also be a matter of life or death, and with that in mind we set up the AA Charitable Trust in 2008 to promote greater safety behind the wheel. You might have seen some of the fruits of our work on Channel 5 recently in the second series of Dangerous Drivers' School which showed AA Driving School instructors helping nervous, rusty or dangerous motorists improve their skills with the help of an AA Drive Smart or AA Drive Confident course?
Fate decrees that some people will never learn to drive, or have the chance to do so in the first place, so we have also been helping a small number of young men in the social care system, by funding their driving lessons. Learning to drive is usually done with the support of a family, but that is hardly ever an option for those in residential care and our vision was to provide them with a valuable skill at a time when they were becoming independent, while also helping them to gain confidence and a sense of social inclusion.
Of the four young men who started learning to drive, one has recently passed his theory and practical tests at the first attempt. He is currently training to be a mechanic, so being able to drive himself around is vital to his ambition and employment prospects.
It is a real testament to the hard work of our instructors, the pupils and the support team from Bristol City Council that we have been able successfully to support these young men through their driving lessons and, in some cases, their driving test.
The project has been a real learning curve for all those involved and, once it has drawn to a close, we will be able to assess whether it is the kind of activity we should repeat. The first impressions are very positive, so I hope we can add the scheme to the charity's bank of success.
So far, the main beneficiaries of the AA Charitable Trust have been the thousands of drivers who have taken a free AA Drive Confidentor AA Drive Smart course – not to mention all who share the roads with them! Some 85 per cent of participants said the course made them more confident and 80 per cent that it made them safer behind the wheel.
There's not much in life that really comes for free, especially the chance to keep yourself, your loved ones and others safe, so I hope some of you will enrol in one of these short courses and take advantage of the AA's wealth of experience in driving tuition. It might be many years since we were teenagers, but we can all benefit from a little guidance.
Edmund (1 March 2013)