6 March 2018
Six days of snow and ice has left car insurers staring at a collective bill of £35 million, according to AA estimates, while the AA attended over 108,000 drivers who needed roadside assistance – or digging out of snowdrifts during the big freeze.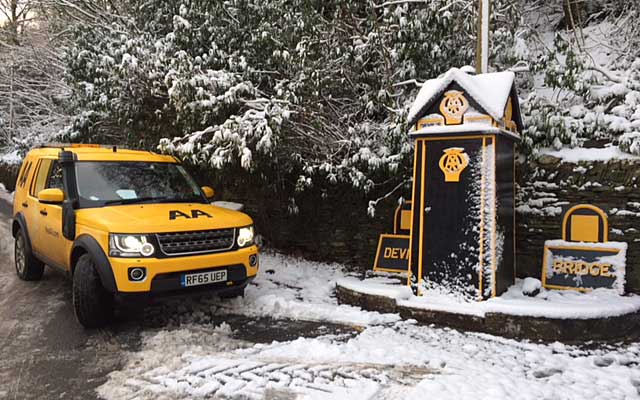 Tales from the roadside
The AA's roadside patrols helped over 92,000 drivers over just six days – a third (33%) more than would be expected on snow-free days.
And on Monday, the seventh day, that figure leapt again, bringing the total to over 108,000 as AA Patrols were flat-out restarting the nation's cars that had sensibly been left on drives and refused to go.
On a couple of days the number of calls for assistance was double the normal expectation.
2,400 of those were drivers whose cars were stuck in snow.
A very difficult week for drivers
David Brambell, director of AA roadside operations commented: "It was a very difficult week for drivers so we have had as many patrols as possible out on the roads helping to keep everyone going, despite the snow.
We have had as many patrols as possible out on the roads helping to keep everyone going, despite the snow
"We're really proud that we have been able to help nurses and midwives get to hospitals and helped people reach a place of safety after abandoning their cars. We even towed an ambulance defeated by a snow-bound road.
Safety first
"This kind of weather really brings home the fact that our Patrols make sure people and their families are safe first, before attending to their car, if they can.
"Because of the conditions and horrendous traffic, some drivers had to wait some time for us to reach them and I'm really grateful for the patience of many of our members who understood that we were coming as fast as we could.
"For many drivers these conditions were absolutely unprecedented. I'm glad that many people decided to stay at home but nevertheless, we recognise that many people simply had no choice but to face these awful conditions and we're glad we were out on the road with them to help make sure they got to where they needed to be."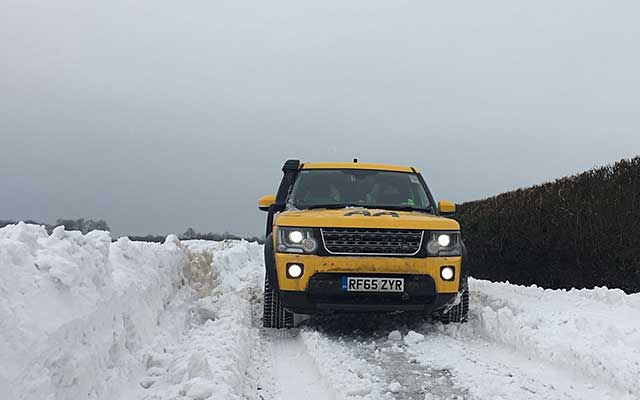 Bad car day?
Throughout the Beast from the East the AA social media team has been trying to keep drivers' spirits up by continuing a campaign to seek out those on Twitter having a bad car day and cheering them up with a Costa gift card. Some of the drivers who received a #AALittleLifts included these unfortunate drivers:
Dug my car out of a snow coffin so now I'm gonna have a nice cup of coffee and pour it on my feet.
So I was just getting all the snow off my car and thought oh it's loose, leaned in to turn on my wipers and BAM. Face full of snow! Seriously Emma?
Why does my car have a winter mode, when it does absolutely nothing? Snow day for me then!
Of course the day my car window won't go up it's SNOWING
Imagine calling people dramatic about the snow then crashing your car because you couldn't stop #goodone #bravo #welldone
That moment when you woke to snow at 6am cleared your car got to the station and your customer cancels the meeting #uksnow
When a car pulls out their road and the snow flies off the top of the car and hits you in the face, you know it's going to be a good day
Finished night shift. Car won't start. Walked home in arctic temperatures. Spilt boiling hot Costa all over over my ice cold hands. Anything else you want to throw at me universe?
Since the #AALittleLifts campaign began on January 2nd, more the 400 twitter users having bad car days have been offered a Costa gift card from the AA.
Road conditions 'like dodgems' bring in the claims
As the Beast from the East joined forces with Storm Emma to inflict sub-zero misery on Britain's drivers, the claims for slips and shunts started piling in to the AA's car insurance claims team in Cardiff.
By the end of Sunday 4 March, there had been an estimated national 28,000 mishaps (based on the AA's market share, scaled up to the total number of private cars on Britain's roads) that were directly attributable to the snow and ice, with a potential cost of over £35 million.
Most claims were snow and ice related
Over the six days of snow, more than half of all claims were snow and ice related.
That average peaked at 78% on Saturday 3rd March although the total number of claims was about average for a snow-free February or March day. The busiest day was Wednesday 28 February – the second day of widespread snow - when the total number of claims was about 50% higher than normal, with two-thirds (66%) of claims blamed on the weather.
And on 'blue Monday' 5th March, several drivers claimed for damage caused to their cars after having to abandon them.
Many drivers stayed off the roads
Michael Lloyd, the AA's insurance director commented: "As the week wore on with more and more snow falling across most parts of the UK, many drivers appeared to be staying off the roads.
"Data from users of the AA's Car Genie connected car device showed that as the weather worsened, particularly in north-east England, central Scotland, Wales and the West Country, around 30% left their cars alone.
For those who did have to drive, it was more like fairground dodgems with the chances of being involved in a collision much greater than on a normal day
"For those who did have to drive, it was more like fairground dodgems with the chances of being involved in a collision much greater than on a normal day."
Bollards, walls and lamp-posts
This recent 'snowmageddon' is a once-in-a-decade event and many people will never have encountered icy road surfaces before. That lack of experience can quickly end in a bump.
Given the slow speed most people were driving, collisions were relatively minor in nature. Although there were some serious accidents, most amounted to dented panels and pride with collisions being enacted, dance-like, in slow motion.
Losing control on bends, gradients and at junctions produced the greatest number of collisions, followed by tail-end collisions and hitting objects such as bollards, walls, lamp-posts and even a bus shelter.
Several drivers also ended up off the road in hedges, ditches or fields – and in one case in the driver's own front door.
Insurance claims
Lloyd has also reassured drivers that their claims should be met. "Rumours that insurers would deny claims from drivers caught in severe Met Office warning zones, was just one journalist's fanciful line that took off on social media – it just isn't true."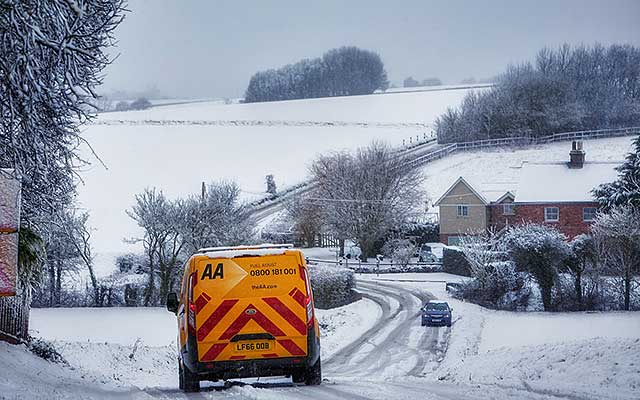 National and regional picture
Regionally, most calls for cars stuck in snow as well as insurance claims came from the South East of England and East Anglia.
For cars stuck in snow the South West followed, then the Midlands and the North East – reflecting the weather patterns. However, after the South East, most collision claims came from the Midlands, then the North East.
Despite very heavy snow across the central belt of Scotland, fewest calls for help and insurance claims came from north of the border – possibly because the region is used to snow and drivers are better able to deal with the conditions.