15 December 2017
The AA has written to Road Safety Minister Jesse Norman MP proposing potentially life-saving changes to the Highway Code in an effort to improve safety on the nation's motorways.
Following two recent deaths and a series of serious incidents*, the motoring organisation says the changes are needed to 'reflect progress in vehicle and road design.'
We wrote to Mr Norman on 1 November 2017, but have yet to receive a reply from his office.
Our letter to the Road Safety Minister (pdf)
Our draft amendments to the Highway Code (pdf)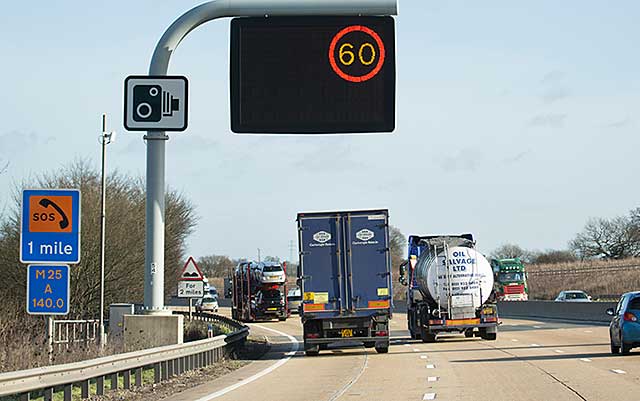 Motorways without a hard shoulder
At present the Highway Code only considers breakdowns on motorways with a continuous hard shoulder, but since 2006 three types of 'smart' motorway have been introduced:
Carriageways where the flow of traffic is managed by variable speed limits and enforced by speed cameras (Controlled Motorways)
A hard should that can be used as a running lane at peak times (Dynamic Hard Shoulder)
No hard shoulder at all but with Emergency Refuge Areas spaced every 2.5 km (All Lane Running)
With more than 500 miles of 'smart' motorway already live, and with more schemes scheduled, the Highway Code clearly needs to advise drivers what to do in the event of a breakdown where stopping on the hard shoulder isn't an option.
New rules for faster response times and to protect roadside workers
As well as updates to Highway Code motorway breakdown advice, the AA has called for:
Emergency corridors
A rule requiring drivers to create an 'Emergency corridor' in stationary traffic to allow emergency services access to incidents on motorways where there is no continuous hard shoulder.
This is already a legal requirement in some other European countries and is an idea supported by more than two thirds (71%) of AA members in a recent AA-Populus poll.
Slow down and move over
A new 'slow down and move over' rule when passing broken down vehicles on motorways.
This would help to protect breakdown, recovery and emergency services operatives working on the hard shoulder. More than two thirds (69%) of drivers support this idea.
Edmund King, AA president says: "Eight out of 10 drivers (79%) say that motorways are more dangerous now compared to four years ago simply because of the removal of the hard shoulder.
Eight out of 10 drivers say that motorways are more dangerous now compared to four years ago simply because of the removal of the hard shoulder
"More than a decade on since the introduction of smart motorways, we see these changes to the Highway Code as a necessary step to try help save lives and improve safety and driver confidence when people use motorways.
"From next year, new drivers will be allowed to take lessons on motorways. We believe these changes would help them understand the different types of motorway they could come across before they even drive on them.
"Safety is of paramount importance on all of our roads, and we look forward to the Minister taking these important points on board to enhance road safety."
---
* News reports of hard shoulder deaths and serious incidents can be found here;
Recovery truck driver killed on M25 near Sevenoaks
Driver dies after three-vehicle crash on M69 in Leicestershire
Angry motorists blast smart motorways following HGV pile-up on M1 in Derbyshire
M3 Camberley crash: 'Not very smart' motorway criticised following horror smash