Car crime's reduced more than five-fold since the early 1990s but it still happens. Theft is now mainly restricted to organised criminal gangs and cars are frequently stolen to order, to fund other criminal activity, and often shipped overseas.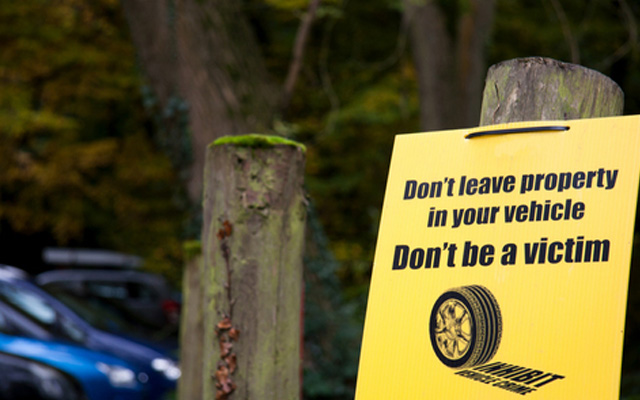 Car thieves go hi-tech
The number of prestige, high-value vehicles getting stolen is going up in regions where criminal gangs are using sophisticated electronic devices to override the car's security via the On Board Diagnostic (OBD) port – a standard socket fitted to all cars for garages to plug in their fault-finding equipment.
If you've got a car with keyless 'entry and go' then it might be particularly at risk from this type of theft, as thieves don't even need a mechanical key to overcome the steering lock.
'Keyless' systems may also be vulnerable to a method of vehicle theft called 'signal relaying'. You could be anywhere but it only takes two thieves and a bit of tech to fool your car into thinking you're still standing next to it with the key in your pocket. One, close to the car, captures the low-power signal from your car and relays it to a device carried by another, close to you. The signal from the key to unlock the car and start the engine is relayed back.
'Jamming' is also a growing problem – thieves target specific vehicles using a transmitter to block the signal from your key when you point it at your car to lock it. You think it's locked but it's not.
What you can do
Always double check your car's actually locked.
Use a locked garage if you've got one and, elsewhere, choose well-lit areas and places covered by CCTV.
Get a Thatcham-approved electronic immobiliser fitted – unlike your car's standard security features, this won't be vulnerable to attack through the OBD socket.
If your car has a 'keyless' system, make sure you keep the keys far enough away from the car when you're at home. If they're within communication range your car will effectively be unlocked and open. Keeping the key in a metal-shielded, RFID blocking pouch will stop this and will also prevent theft by signal relaying when you're away from home.
Consider fitting a tracking system to help with recovery in the event that your car's stolen.
Keep an eye on local news and neighbourhood watch for information about specific vehicle models that might be being targeted by thieves in your area.
Check your car insurance with your provider and ask them for advice – they might ask you to fit additional security measures before giving cover.
Key theft
One of the easiest ways to steal your car is to simply steal your key. It's best to keep your keys secure and out of sight at all times. Keys are often stolen via burglary – they snatch the keys from your house and drive away with your car.
What you can do
Don't leave keys on display in the hall or where they could be easily reached from the front door.
Don't be tempted to take keys upstairs with you. Many thieves won't think twice if you stand between them and the keys to the car they want.
Number plate theft
If your number plates are stolen, call the police straight away. If your plates are used to change the identity of another car you can expect to start receiving penalty charges for things like parking, speeding and congestion charging. You may even be suspected of committing crimes yourself, so let them know.
Catalytic converter theft
Thieves are known to sometimes target catalytic converters – fitted in your car's exhaust to reduce pollution – to recover the precious metals such as platinum, which they contain. It's not a simple or cheap process so this is a crime that goes up when precious metal prices are high.
Taller vehicles (4x4s and vans) are more vulnerable as their catalytic converters are more accessible and, because they tend to have larger engines, they contain more of the precious metals too.
What you can do
There are locks you can buy to protect your catalytic convertor.
Choose a parking place that reduces opportunity (busy/well lit) or reduces access (in a garage or close to a wall/other vehicles).
Theft from within your vehicle
Make sure you follow the tips above by keeping your keys safe and parking wisely. Thieves will steal phones, wallets and even shopping bags from cars if they think it could be worth something.
Don't leave valuables in your car. If you really have to leave something behind, hide it out of sight in the glove box or boot.
Park in well-lit, security-attended car parks where possible.
This is especially true if you are leaving your car out of sight in a large car park for an extended period of time, for example when parking at a music festival.
Choosing extra security
Thatcham Research has been testing the security features of new cars on behalf of the insurance industry since 1992. They also test aftermarket security products and maintain a list of approved products for insurers.
Your insurer might offer a premium discount if you get a Thatcham approved security system fitted.
On high-risk vehicles, fitting 'Thatcham approved' might even be a condition of cover.
Fitting a Thatcham-approved security system doesn't guarantee that your car won't be stolen, but it should considerably reduce the risk. Thatcham Research approves products in a number of categories:
Electronic alarm and immobiliser
Electronic or electromechanical immobiliser
Mechanical immobiliser
Wheel locking devices
Stolen vehicle tracking and recovery.
Stolen vehicle tracking
Stolen vehicle location
updated 4 August 2017