Each year, 135,000 revellers travel to Glastonbury. And every year, around 400 people have car troubles in the festival's car parks.
That's why our yellow vans and lovely mechanics have been a feature of Glastonbury since it began in 1970, as the event's official partners.
Read on for our top tips on driving to Glastonbury, covering everything from how to get there to your festival checklist.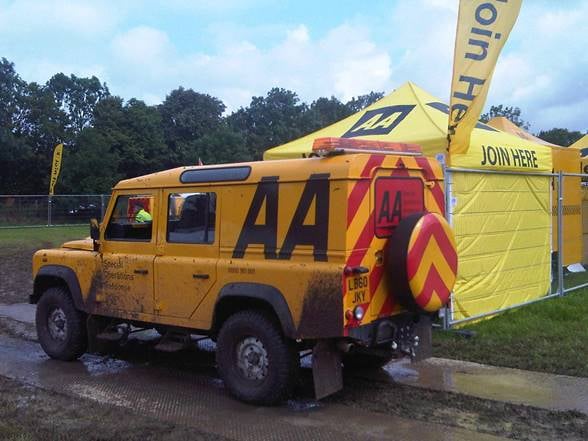 AA stewards at Glastonbury 2019
We'll be on-hand to help out with breakdowns, lost keys and stuck-in-the-mud dramas, making sure that nothing but the weather can rain on your parade.
Our staff will be in East 9, off Purple Route, and at Bronze Gate in West 32 throughout the week. Our dedicated Key Assist vehicles will be on site from Saturday.
For help at Glastonbury, ring our dedicated hotline on
0800 072 3642
How to get there
Where is Glastonbury 2019?
If you're wondering where the Glastonbury festival is held, you're not alone. Despite rumours of the festival site moving a few years ago, Glastonbury this year will be in the same place as always.
The festival is in the village of Pilton, Somerset. It's near to its namesake town of Glastonbury and to the town of Shepton Mallet.
The Glastonbury festival address is:
Worthy Farm, Worthy Lane,
Pilton, Shepton Mallet,
Somerset,
BA4 4BY
Use your sat nav to get close, then follow the official AA signs once you see them
The postal address postcode isn't the best to use if you're driving to Glastonbury. Use the postcodes below to get you close to the site and then follow the festival signs to the right car park.
Glastonbury festival postcodes
Driving from the East (London, the Midlands or the North East)
Use postcode: TA11 7DP
Driving from the West (North West and Wales)
Use postcode: BA6 9XE
Local traffic (including Swindon)
Use postcode: BA4 4LY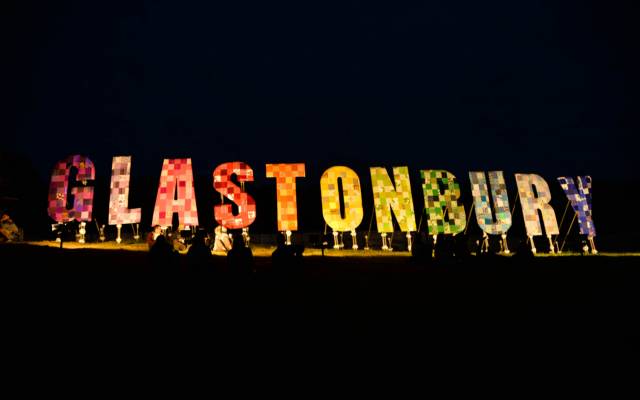 How to get to Glastonbury
Looking for the best way to drive to Glastonbury? Our Route Planner can help you plan the perfect journey, with live traffic updates to keep you informed.
The festival's official suggested routes are:
From the South East: M3 to A303 to A37
From the North East: A1 or M1 then M25 to M3 (Junction 12) to A303 to A37
From the Midlands: M40 or A34 to A303 to A37
From the North West: M6 or M5 to A39 (Junction 23) to A361
From Wales: M4 or M5 to A39 (Junction 23) to A361
For local: A37 North or A361 East
Some of the most popular routes to travel to the festival are:
Bristol to Glastonbury
Bristol is just over 20 miles distance from the Glastonbury festival site. Drivers should follow the A4 to the A37 and the A371.
London to Glastonbury
The distance from London to Glastonbury is around 120 miles (from the centre of London). To get to Glastonbury from London, take the M3 (which can be joined from the M25), then the A303 and the A37.
Swindon to Glastonbury
The distance from Swindon to Glastonbury is around 54 miles. From Swindon to Glastonbury, take the M4 then the A350 onto the A361.
Bath to Glastonbury
Bath is only 20 miles from the Glastonbury festival. From Bath to Glastonbury, follow the A367 to the A37.
Park and ride
Another option for getting to the Glastonbury festival is to park and ride at the private Ashcombe Park facility just off the A361. For this option, use the postcode BA6 8NB in your sat nav.
Campervans
If you're taking a campervan or caravan to Glastonbury, remember that you'll be in a different campsite and so your route may not be the same as if you were driving in a car.
You'll need to have a separate campervan or caravan permit as well as your festival pass. Depending on the size of your vehicle, you'll be in one of the following Glastonbury caravan sites, so make sure you check your ticket:
West Campervans (Orange route): To the west of the site with access off the A361
East Quiet Campervans (Blue route): Situated between Blue route and the Festival site. Turn left for Quiet Camping off Blue route
East General Campervans (Blue route): Situated off Blue route turning right to access the camping fields
Bath & West Campervans Regular Pitch (White route): Bath & West Showground on A371
Bath & West Campervans Large Pitch (White route): Bath & West Showground on A371

Driving to Glastonbury
Why travel by car?
Wondering how to get to Glastonbury? There are plenty of ways to travel, including by coach which will take you door-to-door and is environmentally friendly.
But if you don't live near one of the official coach stops or you need more flexibility, driving is a good option. You can fit more into your car than you could carry on public transport and you can re-enter the car park any time during the festival to pick up supplies (just remember not to leave valuables in your car).
There is plenty of parking at Glastonbury and the site is set up for drivers, so don't let queues put you off. It's very well organised and there are lots of people there to help you – including us.
What's the cheapest way to get to Glastonbury?
The price of a coach ticket varies by route, but the average price is £61 according to the Metro. In some cases, driving could be more cost-effective.
Driving with friends could be one of the cheapest ways to get to Glastonbury.
Split the parking and fuel costs between several friends and you could save compared with the coach. For example:
Glastonbury car park pass = £45
Average 42-litre tank of fuel = £55
Cost split between 4 passengers = £25 each
Often, that's less than the cost of a coach ticket. Of course, it depends how far away you live, what car you drive and how many of you travel together.
Member benefits
If you're an AA Member with breakdown cover, you can get some great discounts with our Member Benefits scheme. You can stop to refuel - and keep your energy levels up during the drive - with 20% off at Moto Services.
How to off-set your carbon footprint
Worried about being environmentally unfriendly by driving to Glastonbury? If you need to take your car rather than public transport, here's how to help the environment and reduce your carbon footprint at the festival:
Find fellow Glasto-goers to car share. GoCarShare helps to connect up travellers who live nearby and are going the same way, as well as making sure that you are paid for your petrol costs.
Reduce your plastic use. Single-use plastic bottles are already banned at the festival, but you can help further with reusable cutlery, avoiding wet wipes in favour of a washcloth and reusing plastic raincoats.
Take your tent with you. Not all of the tents left behind are given to charity. It's better to take a sturdy tent that you can pack up and use again year after year.
Donate to a carbon off-setting charity. Companies like Energy Revolution use calculators to help you work out your carbon emissions and then suggest a donation to off-set those emissions. Your donation is used to fund renewable energy projects.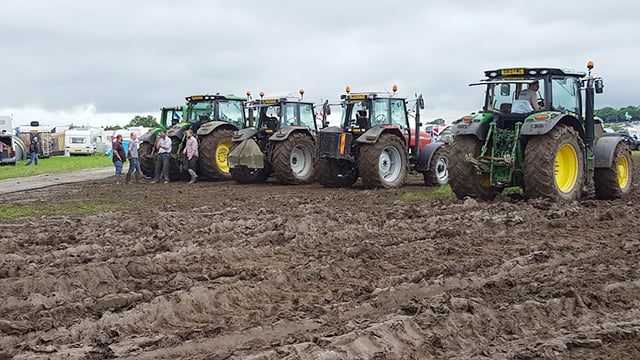 Before you set off
Traffic updates for Glastonbury festival
Make sure you check for updates on the Glastonbury website before you go, as well as the latest traffic news.
Tune in to Worthy FM (87.7FM) for festival traffic news, and follow the Glastonbury Twitter account and Glasto Police account
Are you travelling right now? Check for live Glastonbury festival traffic on our Traffic News tool, including queues and road closures.
How to avoid a breakdown at Glastonbury Festival
Carry out a few simple checks before you leave (see our checklist)
Take some cardboard in case you get stuck in the mud
Go slow and steady on the temporary metal roadways on site to avoid a puncture
When you park, make sure all the windows are shut, plus the glovebox and the boot; switch off all the lights and unplug everything
Keep your car keys safe and secure
Charge your electric car at one of the charging points inside Bronze Gate
Don't get stuck in the mud
Glastonbury's not known for dry weather, and every year countless cars get stuck in the mud. Four AA technicians in mud-busting Land Rovers will be on hand to help if you do find yourself going nowhere fast.
A few tips could prevent you getting stuck: take it easy with the right foot; try pulling away in second gear to reduce wheel spin, and, if you do get stuck, place some cardboard or car mats in front of the driving wheels to help regain traction.
We provide 24/7 roadside assistance.
Glastonbury checklist – get your car ready
Get your car festival-ready with our handy Glastonbury checklist. Make sure your car is in top condition before you set off so that you can avoid a breakdown on the way or at the festival.
Car checklist before you go
Check your car's health before you set off (our car maintenance guide has tips):
Check that no warning lights are showing
Check your oil level and top up if needed
Make sure your screen wash is filled up
Fill up your tank with petrol
Check your tyre pressures and top up if they're low (remember that if you have a car full of festival goers and all their gear - and beer! - the recommended pressure might be higher than normal).
Checklist for In the car
Wondering what to pack for Glastonbury? Don't forget to take these in your car:
Engine oil for topping up
Spare bottle of screenwash
Jump leads in case of a flat battery (although we'll be there to help)
Car jack in case of a flat tyre (we'll be there to help out with flats, too)
In-car phone charger
AA road map if you lose signal for your phone or sat nav
Traction mats are cheap to pick up in case the ground is muddy

Parking
Parking at Glastonbury festival
A Glastonbury car park pass can be purchased for £45 and gives you access to all the parking sites.
Where to park at Glastonbury
Your ticket doesn't designate a car park, so whether you park on the East side or the West side will be influenced by where you want to camp.
Drive to Glastonbury from the side that you want to park, sticking to the main roads.
Don't use small, local roads to get to the opposite side of the festival ground - it causes queues.
Next, follow the festival signs and directions from attendants.
You can't plan to park in a particular field. Staff will guide you and will fill up spaces in the order that eases traffic on the roads.
People who park on the East side of the site usually have the shortest queues at the pedestrian gates and the shortest queues getting out on Monday. At peak times, the A39 queue to get into car parks takes several hours. It typically takes less than an hour for those travelling on the A37.
The worst time to arrive by car is between 7am and 2pm on Wednesday
The best time to arrive by car
Wondering how many people go to Glastonbury? Ticket sales are around 135,000, and thousands of people try to arrive on the opening day of Wednesday.
That means it'll be incredibly busy trying to get into the festival, so pick your arrival time carefully.
Arrive the night before
The Glastonbury car parks open at 9pm on the Tuesday before the festival. This means you can arrive throughout the night, when there's less traffic.
The car parks will have toilets but there will be no other facilities to get you through the night. Bring your own food and drinks until the gates open at 8am on Wednesday.
Arrive on Thursday
Festival organisers are encouraging revellers to arrive on Thursday instead of Wednesday, when the roads and gates will be quieter.
Glastonbury site map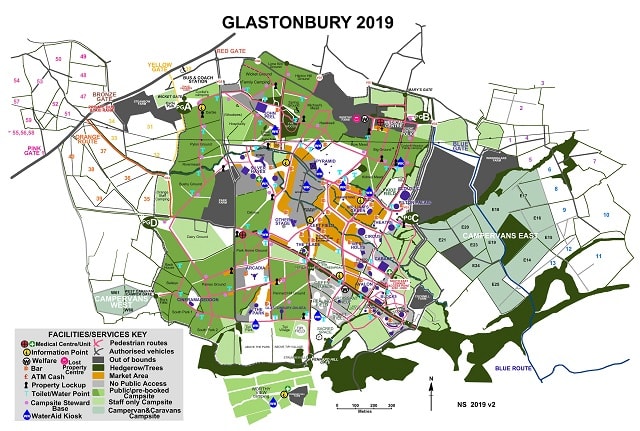 At the Glastonbury festival site, there are 4 main entrances for cars, depending upon where you come in from.
If you're able to, use the Blue Route (from the A303, then the A37), where there's more parking space and shorter queues to get in and out of the site.
Electric car charging
We'll be managing 10 charging points located inside Bronze Gate after the taxi rank on the right hand side. We'll monitor the cars and move them around to free up charging points, and keep your keys safe until you return.
Travelling back
Getting home from Glastonbury
Getting back from the festival can be as tricky as arriving there. However you decide to beat the crowds, the most important thing is that you're safe to drive. Don't take any risks with drink, drugs or tiredness.
When it comes to traffic, the worst time to leave by car is between 8am and 5pm on Monday. It can take up to 9 hours to leave the car park!
You'll have to be in your car and on your way by 5pm as the festival licence ends then, and traders, contractors and security will start to leave.
If you can get up early (and are sober), you can beat the queues by leaving between 1am and 7am on Monday morning.
Make the most of your car
As you have the car with you, why not take the opportunity to spend a bit longer in the town of Glastonbury and extend your time off? It'll give you longer to recover and means you can drive home on a later day, when the roads have quietened down.

Beyond the festival
Other things to do in Glastonbury
Why not beat an early retreat from the festival site on Monday, and then check into a hotel in the town of Glastonbury? Extending your festival holiday for a day (or more) will make the most of having the car with you. You'll be able to relax, shower and get a good night's sleep before driving home when the roads are quieter.
There are plenty of places to see in Glastonbury and the surrounding area. Take your time and you'll be able to fit in some sightseeing on your journey home.
Places to see in Glastonbury
There are plenty of places to explore in the town.
Glastonbury Tor – This hill is steeped in the legend of King Arthur and is topped by a ruined Medieval tower.
Glastonbury Abbey – Striking ruins remain after the imposing abbey was torn down in 1539 by King Henry VIII.
The Chalice Well – This ancient holy well sits on a pretty walking route between the town and the Tor.
Places to visit near Glastonbury
On the Tuesday or Wednesday after Glastonbury, why not visit these nearby attractions on your way home? The roads will be clear and you can take advantage of having the car with you.
Wookey Hole Caves – Explore breath-taking caverns with abseiling and zip wires. 20 minutes' drive from Glastonbury.
Wells Cathedral – Dating back to 1175, this cathedral is set in England's smallest city. 18 minutes' drive from Glastonbury.
Bath Spa – Why not recover from the festival by relaxing in Bath's thermal spas? 1 hour's drive from Glastonbury.
---
Published: 17 May 2019 | Updated: 24 June 2019 | Author: The AA