The head gasket is a key part of your car's engine and helps to keep everything running smoothly.
If your gasket fails or "blows", it can cause problems in your car's ability to run normally, so it's important to know how to check whether your gasket is functional and secure before your car breaks down. For peace of mind, you can always get breakdown cover with us.
If you find your head gasket is damaged, you should talk to an expert to get it repaired as soon as possible and save yourself trouble in the long run.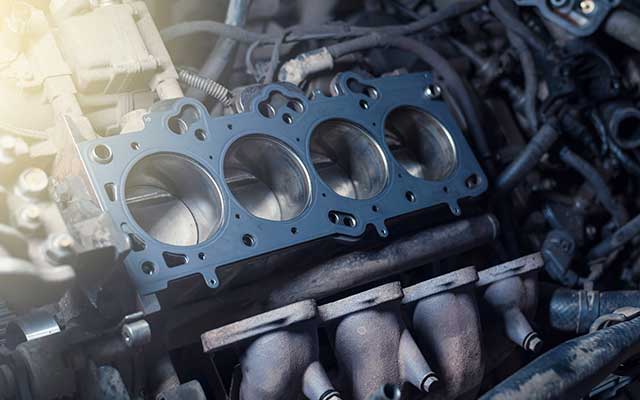 What is a head gasket?
The head gasket is a seal between the engine block and the cylinder heads. It's there to keep the gases within the cylinders and prevent coolant or engine oil from mixing or leaking into the cylinders.
Leakages can cause the engine to run poorly or overheat, potentially creating problems with the car's ability to run and causing damage over the long term.
These leakages tend to occur due to damage to the gasket – usually called a "blown gasket".
What are the signs of a blown head gasket?
There are a few ways to tell if your cylinder head gasket has blown:
Loss of engine power – you might start noticing problems while driving before anything else. Pressure in the combustion chamber will decrease, and so will your engine power.
Overheating engine – your engine may start overheating regularly due to the loss in coolant.
White exhaust smoke – evaporating coolant that's leaked into the combustion chamber may cause visible white exhaust smoke.
Smell from exhaust – a sweet smell from your exhaust, or water dripping out, can be a sign of leaks.
White oil – when checking your engine oil, if you notice a milky or white colour on the dipstick or around the filler cap, that can be a sign of leaking coolant.
Keep an eye out for these blown head gasket symptoms in order to keep your car running safely and securely.
If you break down, we'll get you back on the road
What causes a blown head gasket?
The most common cause of a blown head is overheating which can cause damage, but pre-ignition issues can also lead to leaks if the fuel is combusted at the wrong time.
Head gaskets are more likely to blow if they're poor quality or haven't been installed correctly – a seal shouldn't be too tight or too loose as both can result in problems.
Can you drive with a blown head gasket?
It's not recommended to drive with a blown head gasket as pressure in the combustion chamber reduces and the engine will lose a great deal of power.
There's also a higher chance of overheating, which can cause more damage to your engine. The same applies if your motor oil and coolant leak into one another and stop lubricating properly.
It's possible to drive for short distances, but it should be avoided if at all possible to prevent more severe damage to your car.
Can you fix a blown head gasket without replacing it?
Head gasket sealers may work as a temporary fix on developing issues if the problem is caught early enough. But they shouldn't be relied on as a long-term repair.
Some sealers also leave evidence in the cooling system like metallic flecks, which is a sure sign there has been a head gasket problem. These can be difficult to get rid of, even after a proper repair has been done.
Find out and fix the problem with an expert vehicle check from AA Smart Care.
How head gasket sealer works
If you're using a sealer, you should always check the instructions first as different products can vary.
Generally the following steps are taken when a head gasket sealer is used:
Head gasket sealer is added to the cooling system
The engine is run until it reaches operating temperature.
How much does it cost to replace and repair a head gasket?
Replacing a head gasket can be expensive, more because of the cost of the labour than the cost of the head gasket itself.
The repairs usually cost upwards of £500 and might be a lot more, but if you don't get your head gasket repaired, this may result in additional damage and higher repair costs – or even permanent damage to the engine.
Head gasket sealer can be a lot more affordable – often less than £50 – but it only offers a temporary fix and shouldn't be relied on as a long-term repair.
That's why it's best to speak to an expert if you have any problems with your head gasket.
---
Published: 20 July 2021 | Updated: 20 July 2021 | Author: The AA