14 June 2018
The FIFA World Cup may lead to some changes in journey patterns, according to the AA. There may be busier traffic before and just after matches as football fever hits some of the nation.
For the non-football lovers, the main match times may give them traffic-free roads.
Russia kick off against Saudi Arabia at 4pm on Thursday 14 June and England's first game is against Tunisia on Monday 18 June at 7pm.
With many games being screened at pubs and clubs, those travelling by car are reminded to have a designated driver on the bench.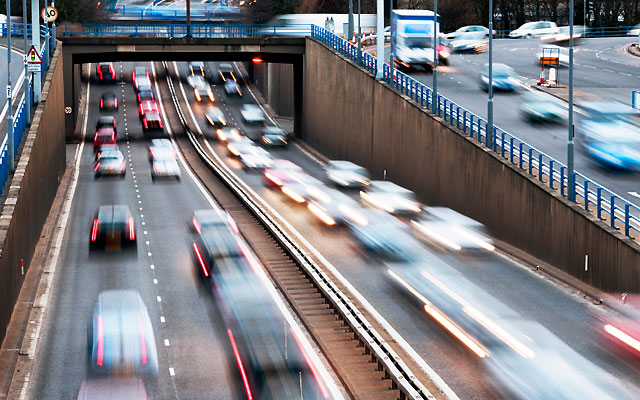 Friends as referee
Our AA-Populus research has shown that friends are not shy of stepping in as referee if the designated driver fails to follow the game plan and downs some alcohol. According to a poll of 29,568* drivers, when faced with a designated driver who had had one too many, most potential passengers (78%) would confiscate their keys and call a cab. This is most likely among those in Northern Ireland (85%).
Women are more likely (83%) than men (65%) to take away the keys if drivers were over the limit. Middle-aged friends (35-54 yrs) (81%) and the youngest (80%) are more likely to take away the keys from their driver than are the oldest (74%).
One in 20 would call the police
A more sobering prospect is the one in 20 AA members (5%)who would turn down the lift, find another way home and report their friend to the police.
Rush hour may start earlier
"England matches in the group stage, with two at 7pm in the week and the middle one at 1pm on a Sunday, take place at times fairly close to what is normal in the UK. The rush hour may start slightly earlier for some on Monday 18 June and Thursday 28 June but hopefully, rush-hour travel will be largely out of the way by kick-off and drivers won't have to run the gauntlet of football fans rushing to get in front of the TV screen," says Edmund King, the AA's president.
"For those looking for congestion-free journeys on the English motorways then 7pm on Monday night may be a good time to kick-off.
Keep your eye on the ball
"Celebrating football fans should keep their eye on the ball when it comes to drinking and driving during the World Cup. It is too easy to get carried away by the excitement of a match and the euphoria of a win. Taking a risk with alcohol while getting behind the wheel, even the morning after, is no game and could produce more than a red card.
The best tactic for watching a World Cup match away from home is: if you are drinking, don't drive; and if you're driving, don't drink
"The best tactic for watching a World Cup match away from home is: if you are drinking, don't drive; and if you're driving, don't drink.
On-street VAR
"This World Cup sees the introduction of VAR (video assistant referee) and drivers rushing home for matches should be aware that on street VAR, in the form of speed cameras, will still be in use.
"Whether drivers like football or not, we may experience some different journey patterns during the world cup. Those of an excitable disposition listening to games on the car radio should perhaps stop the car in a safe place if the game ends with a penalty shoot-out."
---
*AA Populus 29,568 resondents November 2015
The first games are:
Thursday 14 June
Russia vs Saudi Arabia (Group A) (4pm ITV)
Friday 15 June
Egypt vs Uruguay (Group A) - (1pm BBC)
Morocco vs Iran (Group B) - (4pm ITV)
Portugal vs Spain (Group B) - (7pm BBC)
Saturday 16 June
France vs Australia (Group C) - (11am BBC)
Argentina vs Iceland (Group D) - (2pm ITV)
Peru vs Denmark (Group C) - (5pm BBC)
Croatia vs Nigeria (Group D) - (8pm ITV)
Sunday 17 June
Costa Rica vs Serbia (Group E) - (1pm ITV)
Germany vs Mexico (Group F) - (4pm BBC)
Brazil vs Switzerland (Group E) - (7pm ITV)
Monday 18 June
Sweden vs South Korea (Group F) - (1pm ITV)
Belgium vs Panama (Group G) - (4pm BBC)
Tunisia vs England (Group G) - (7pm BBC)