17 September 2020
Premier League star Mo Salah is used to goal assists by teammate Alexander-Arnold but was helped by a different 'AA' last week when his car tyre punctured on the M6.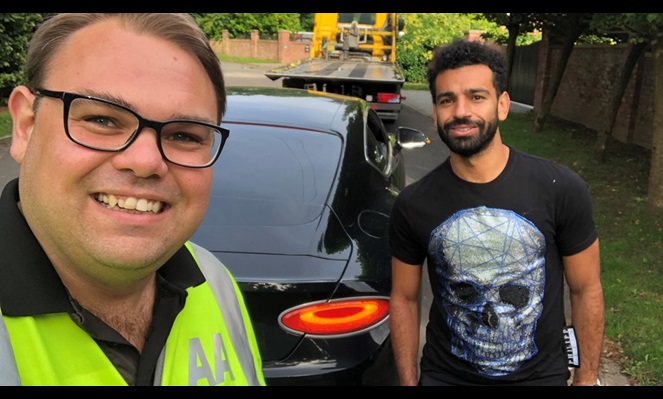 AA patrol Rob Ridgeon made sure that 'polite' Mo didn't have to walk alone as he rescued him from the M6 southbound near Knutsford.
Rob said: "I asked him if he'd ever travelled in a recovery truck before, of course he hadn't but I told him it's just like a Bentley.
Rob confessed he didn't recognise the star, who was driving a Bentley Continental GT, until they chatted in the recovery cab on the way to his house.
He added, "[Mo] was very polite, and I recovered him home. When we got there, he went to get his youngest daughter to show her the car being unloaded.
"I said it was a shame that Liverpool couldn't celebrate with the fans this year, but he assured me they will win again next year."
The AA's president Edmund King tweeted a photo of the star being recovered on 8th September and said: "Mo Salah's breakdown experience obviously didn't affect him on the pitch as he went on to score a hat-trick last weekend. My only regret is that I didn't have him as captain in my La LigAA fantasy football team."
---
https://twitter.com/AAPresident/status/1303434854684667914