12 October 2017
On World Sight Day, the FIA and AA have called for drivers to check their vision as part of the latest instalment of a global road safety campaign.
Across the world, 1.25 million people lose their lives on the road each year meaning 3,500 will be killed every day, 500 being children.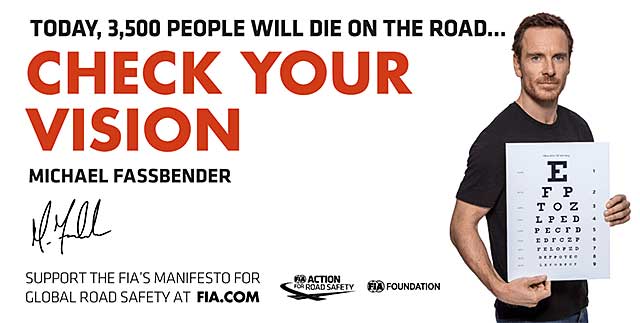 Following the launch of the #3500LIVES global campaign on 10 March 2017, the FIA and AA have now released a new #3500LIVES campaign rule, featuring X-Men actor Michael Fassbender, focusing on the importance of eyesight.
This Golden Rule encourages all road users to check their vision regularly and wear appropriate glasses on the road.
Vision is critical to the decisions drivers make on the road and poor vision can notably increase their reaction time, putting themselves and others at risk.
In the UK, Section 96 of the Road Traffic Act 1988 created the offence of driving with 'uncorrected defective eyesight'. It's also an offence to refuse to submit to an eyesight test when requested to by the police.
Failing to do so means drivers can be fined up to a maximum of £1,000, along with three points on your licence and possible disqualification.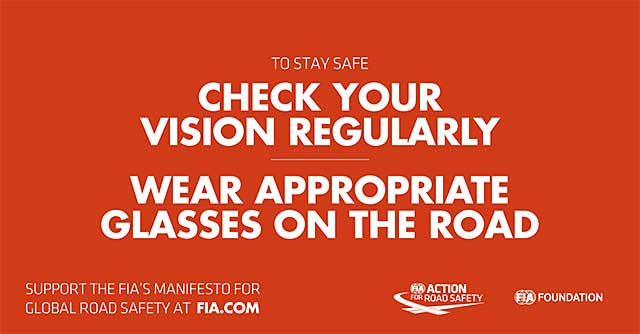 Michael Fassbender, FIA campaign Ambassador says: "Vision is critical to the decisions you make on the road.
"Remember to check your vision regularly and always wear your glasses on the road."
Edmund King, AA president says: "We talk about keeping our eyes on the road when we drive, but that could mean very little if our eyesight is poor.
"Having regular eye tests, or arranging to see an optician if you notice problems with your eyes are simple steps we should all take to make our roads safer and keep us healthy."