8 June 2018
As train travellers struggle with new timetables, AA analysis of latest government journey time statistics, based on modelling theoretical journey times, shows that commuters in cars beat those on public transport into city centres by at least half an hour.
Despite some of the worst road congestion and most extensive train network in the country, car travellers in the South East knock on average 39.79 minutes off a rush-hour trip into a city compared to colleagues on public transport.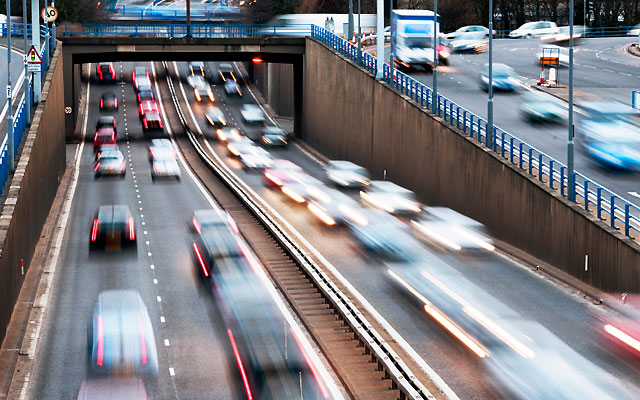 Department for Transport statistics 'Average Travel Time to City Centres, by Local Authority in England' show that a morning peak-time trip from doorstep to city centre destination averages 125.98 minutes by public transport in the South East. Car commuters complete the same trip in 86.19 minutes.
Across the UK, a morning trip into a city centre averages 117.76 minutes by public transport and 82.20 minutes by car – a saving of 35.56 minutes.
These astonishing statistics which suggest that the reliance on cars for commuters heading into cities is largely due to inadequate public transport, were hidden away in 'Journey Time Statistics: 2016 report' *, published a fortnight ago.
Recently, the AA revealed that 20% of car commuters driving 10 miles or more into a city or town centre were doing so for legitimate reasons: 8% because their workplace had been relocated, 6% because of redundancy and another 6% because they could only find affordable housing out of town.
Regional comparisons
Public transport is fastest in the North East, averaging 100.86 minutes. However, car drivers still win hands-down with an average trip of 64.67 minutes, and save 36.18 minutes.
Commuters in the South West are the only ones where morning peak-time travel by car (86.47 minutes) beats public transport (114.74 minutes) by less than half an hour (28.28 minutes).
Local authorities where car commuters heading into a city cut at least 50 minutes off a public transport journey include:
Thanet – 51.94 minutes (public transport 141.67 mins, car 89.73 mins)
Chiltern – 50.77 minutes (public transport 129.05 mins, car 78.28 mins)
Newcastle upon Tyne – 50.53 minutes (public transport 108.46 mins, car 57.93 mins)
Only in Torridge, in Devon, is public transport faster than the car, saving on average 13.78 minutes (public transport 81.74 mins, car 95.51 mins).
Counter-intuitive
"These official statistics may be counter-intuitive but perhaps show why some car commuters heading into city centres are reluctant to swap their vehicles for public transport," says Edmund King, the AA's president.
"For commuters wanting to enjoy more time in the day outside work, or spend longer with the kids and family and be more in control of their travel, the car remains king. The National Travel Survey shows that 62% of trips and 78% of distance travelled in the UK is done by car. As the railways are struggling to implement new time-tables, the roads are also struggling with record numbers of potholes which are causing damage and injuries.
However, journey time is just one factor. The car commuter also has to consider parking and environmental issues or whether their time would be more productive working on a train
"However, journey time is just one factor. The car commuter also has to consider parking and environmental issues or whether their time would be more productive working on a train.
"This half-an-hour saving is not a triumph of the car but a sad reflection of public transport. However, it could be so different - as evidenced by the massive success in moving large numbers of people by public transport to and from the London Olympics in 2012."
---
* Penultimate page, link to Journey Time Statistics, and then link to Journey Times Connectivity.