2 November 2018
New research* published by the AA Charitable Trust to launch a nationwide campaign alerting drivers to the dangers of drowsy driving reveals:
One in eight (13%) UK drivers admit falling asleep at the wheel, and
Nearly two fifths (37%) say they have been so tired they have been scared they would fall asleep when driving
The latest road casualty statistics show drowsy drivers contributed to 53 fatal and 351 serious crashes in 2017 but it is widely accepted the true figure for fatigue related crashes is much higher due to under-reporting. In fact, it is estimated that up to 25% of fatal accidents are caused by drivers who have fallen asleep at the wheel.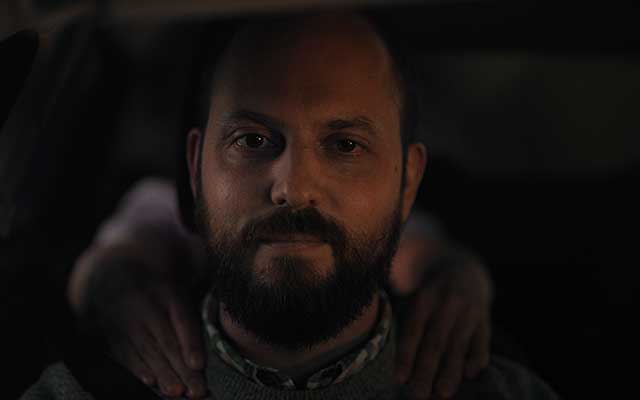 Which drivers are most at risk?
Men (17%) are three times as likely as women (5%) to say they have fallen asleep at the wheel
Young drivers, aged 18-to-24, are the most likely to say being very tired does not affect their driving ability (13% compared to 2% of all drivers)
Young drivers are also the most likely age group to say they normally carry on regardless if they feel tired while driving (18% compared to 3% of all drivers)
What do drivers affected by tiredness say?
Overall half (57%) stopped for a break as soon as they realised they might be too tired to drive (just 34% of 18-24-year olds said this)
A third (36%) said they felt fine when they started their journey and their drowsiness took them by surprise (higher among young drivers at 45% for 18-24-year-olds)
One in ten (11%) knew they were tired when they began their journey (29% of 18-24-year olds; 15% of women and 9% of men)
More than a fifth (23%) said they had been driving for more than two hours without a break when they were affected by tiredness (25% of men and 19% of women)

What reasons do drivers give for driving tired?
The top five reasons for driving tired are**:
A long/hard day at work (39%)
Monotony of the journey (33%)
Late night driving (27%)
Trying to cover too much distance in one day (27%)
Lack of sleep the night before (26%)
Winding down a window won't help
The AA Charitable Trust is calling on drivers to be alert to fatigue, reminding them that if they find themselves winding down the window or turning up the radio that these are a symptom of tiredness – and not an effective remedy.
If you find yourself doing these things you need to take it as a sign that you are too tired and need to stop at the next safe place; have two cups of coffee (or equivalent caffeinated drink) and nap for around 15 minutes.
Research shows 17% of visitors say they felt tired when arriving at a motorway service station, but this fell to 11% on exit.
A thought-provoking advert
The campaign will feature a thought-provoking advert, created by adam&eveDDB, designed to wake drivers up to the dangers of fatigue. The ad shows a driver on a monotonous stretch of road at night. Various relaxation techniques are applied to him by a team of masseurs in a surreal representation of how tiredness can ambush drivers.
The ending snaps back to reality with a wide shot of the car, the driver asleep, no masseurs inside, veering to one side over the crest of a hill with oncoming headlights, and the payoff reads:
Don't let tiredness creep up on you
Stop. Take a break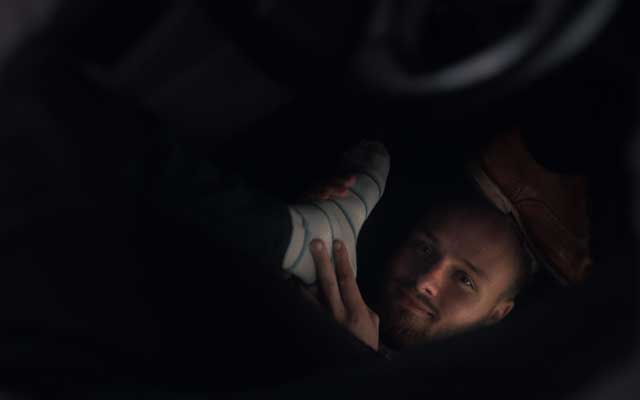 Supported by the FIA Foundation
The FIA foundation part-funded the ad, and with the AA Trust have highlighted the dangers of tired drivers in the global 3500 lives poster campaign which features French football star Antoine Griezmann advising drivers to 'Stop when you're tired'. Globally, tiredness related collisions are three times more likely to be fatal.
Saul Billingsley, Executive Director of the FIA Foundation said: "Every day 3,500 people die on the world's roads, and driver fatigue is a preventable factor in a significant number of crashes. So the FIA Foundation is pleased to support this thought-provoking campaign, using massage to drive home a hard hitting message."
One of the most under-estimated risks on the roads
Edmund King, AA Charitable Trust director, said: "One quarter of fatal crashes are sleep related so drowsiness is one of the most under-estimated risks on the roads. Tiredness is a fact of life at some point for most of us and it is crucial we know how to manage it in relation to driving.
"Crashes involving a drowsy driver tend to be catastrophic. If a driver has fallen asleep at the wheel they do not brake before an impact and make no attempt to steer away from a collision.
If a driver has fallen asleep at the wheel they do not brake before an impact and make no attempt to steer
"A driver who nods off for just three or four seconds on a motorway would have covered the length of a football pitch with closed eyes. A 30 second nap while travelling at 60mph covers half a mile; a terrifying thought.
"Simple measures can help alleviate the risks. Awareness of the problem is the first step, which is why we have launched this campaign and created an advert highlighting the dangers.
"Winding down the window, singing and turning up the radio are not remedies to tiredness – rather a symptom in themselves.
"If you feel tiredness creeping up on you when driving then stop and take a break."

Supported by Highways England
Divisional Director of Safety, Engineering and Standards at Highways England, David Stones said: "Driver fatigue adversely affects concentration levels and leads to accidents which is why we always advise drivers to take regular breaks to help ensure they keep themselves, their vehicles and their passengers safe for the road ahead.

"Our roads connect the country, with around 4 million journeys on them each day and we want everyone to get to their destinations safely and reliably. We welcome the AA drawing attention to this important issue and we fully support their campaign."
The only long-term cure for sleepiness is sleep
Dr Katharina Lederle, sleep expert at Somnia and author of Sleep Sense, said: "The simple truth is the only long-term cure for sleepiness is sleep and drivers are not able to fight it off by opening the window or turning up the radio.
The simple truth is the only long-term cure for sleepiness is sleep and drivers are not able to fight it off by opening the window or turning up the radio
"Drinking caffeine and having a short nap before the caffeine effect kicks in - about 20 minutes - is a short-term solution. It can help drivers increase their alertness sufficiently to carry on driving for another hour or two. But this is no substitute for proper sleep.
"There are certain times of day when the risk of driver fatigue is highest, specifically between 2am and 6am and 2pm and 4pm, when the internal body clock is promoting sleepiness.
"Of course the amount of sleep any individual has had will also affect their susceptibility to fatigue.
Young drivers at more risk
"Young drivers may also be more at risk as their need for sleep can be greater and lifestyle factors, such as excessive screen-time in evenings, irregular sleep patterns and consumption of stimulants can have a negative impact on sleep quality."
More advice about driving and tiredness
Dr Katharina Lederle's top sleep tips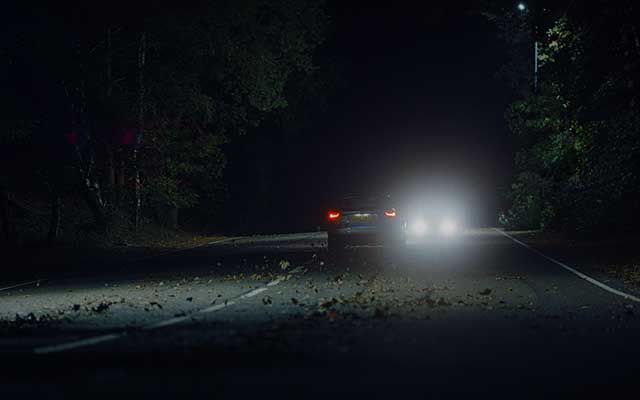 Gaps between service areas on motorways
The AA Trust and AA Routeplanner have also examined the provision of service areas on motorways to highlight the biggest gaps with no place to stop.
The top 10 stretches of motorway that would most benefit from additional services*** are:
M25 Maple Cross

(

Hertfordshire, NW London)
M6 Rugby (Warwickshire)
M1 Leeds (Skelton Lake, Yorkshire)
A1(M) Ripon (North Yorkshire)
M3 Basingstoke (North Hampshire)
M42 Solihull (West Midlands)
M90 Forth Road Bridge

(

East Central Scotland)
M11 Duxford Area

(

Cambridgeshire)
M27 Fareham

(

South East Hampshire)
M20 Wrotham

(

Kent)
The maximum suggested distance between services is 28 miles yet there are still many longer stretches:
A1(M) Wetherby (LS22 5GT) to Scotch Corner (Jct 53) (DL10 6PQ) – 42m
M8/M90 Heart of Scotland (ML7 5TT) to Kinross – 39.5m
M3/M27 Winchester (SO21 1PP) to Cosham (GU51 1AA) – 31m
Northern Ireland M1 Dungannon (BT71 6HJ) to Lisburn (BT27 5SG) - 30 miles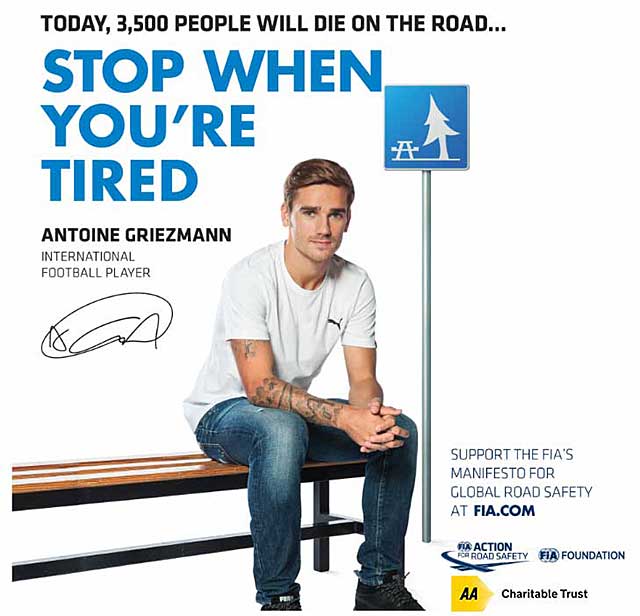 ---
*AA-Populus 11-17 September 2018. Online poll of 20,561 drivers
**AA-Populus 11-24 January 2017. Online poll of 17, 575 drivers
*** Some have already been highlighted by Highways England and additional services are in planning stages, but are not yet close to being approved
Examples of the consequences of falling asleep at the wheel:
Mum in triple death smash could have been asleep
Taxi driver who fell asleep at wheel jailed for killing cyclist