Since the UK left the EU there are new rules for travelling to Europe.
If you're planning a trip or holiday abroad, you can find essential travel advice below or a range of official information here: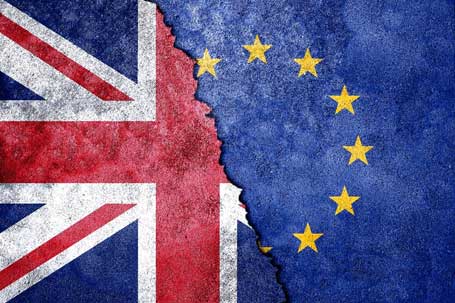 Holidays in the EU
While some rules for travelling to the EU have changed since 1 January 2021, others have not.
In particular, your consumer rights haven't changed. If your travel to Europe is cancelled or delayed, you may be able to get a refund or compensation depending on the terms and conditions you agreed to when booking.
And if you booked a package deal you still have consumer protection under the Package Travel Regulations. So if your package holiday can't be provided, you'd have the right to a full refund.
However, If you're planning to carry food and drink with you, the rules now depend on whether you're entering or leaving the EU.
Meat or dairy products can't be taken into the EU, but a limited quantity of fruit, vegetables, eggs, honey and fish are allowed.
It's a bit simpler when you return to the UK, as you can easily bring back plant and animal products for your own use or consumption.
Will I need a new passport?
The burgundy European Union UK passport can be used in Europe and worldwide until its 10 year expiry date. It may have additional months if the previous passport was renewed early.
To enter an EU country, as well as Iceland, Liechtenstein, Norway, or Switzerland, there must be at least 6 months left on the passport, excluding any months added to the passport's 10 years.
This restriction doesn't apply if you're travelling to the Republic of Ireland.
When you renew your UK passport it will again be valid for 10 years, but any time left on your old passport won't be added to the new one.
What about visas or other documents?
From 1 January 2021 you can visit Europe for short trips without a visa, for up to 90 days in any 180-day period.
What if I'm travelling by car or ferry?
If you're travelling to or between EU countries by ferry, you won't need any additional documents apart from your passport. Ferry travel is covered under international maritime convention, so it's not affected by the UK leaving the EU.
When you're driving your own vehicle in Europe you must carry:
Your certificate of insurance plus a Green Card issued by your insurer
Your driving licence
The vehicle's log book (V5C)
And unless the number plate includes the GB identifier, you'll need a GB sticker on the rear of your vehicle.
You may also need an International Driving Permit (IDP) in some countries if you have a paper driving licence, or a licence issued in Gibraltar, Guernsey, Jersey, or the Isle of Man.
However, you won't need an IDP in the EU, Switzerland, Norway, Iceland or Liechtenstein if you have a UK photocard driving licence.
AA Members should remember that UK breakdown cover isn't valid when you're driving abroad. You'll need to get European Breakdown Cover for driving in Europe.
Will travel insurance be affected?
When you're planning your holiday check what the insurance covers in Europe. The more comprehensive the policy, the more likely you'll be covered for the chance of delays and disruption.
Can I still use my European Health Insurance Card (EHIC)?
If you have a European Health Insurance Card (EHIC), it will remain valid until it expires. Unlike some travel insurance policies, the EHIC scheme covers pre-existing health conditions.
You can no longer apply for a UK-issued EHIC unless you meet certain criteria. Instead you can apply for a UK Global Health Insurance Card (GHIC). We've got more about the EHIC and GHIC here.
How about using my phone abroad?
Before 2021 there was no mobile roaming surcharge for using your phone in the EU – for texts, calls and using the internet.
Your mobile operator must tell you if they intend to reintroduce a roaming surcharge, meanwhile you won't be charged more than £45 a month (excluding VAT) for roaming unless you opt to spend more.
If you need to keep in touch with home, Ofcom has more information about using your mobile abroad.
---
Author: The AA. Published 17 April 2019. Updated 23 June 2021.