You've heard it said that 1 is the loneliest number, but is that ready to change? The number of people travelling alone has tripled since 2011, according to the Association of British Travel Agents (ABTA).
If you're craving some alone time, want to see the world your way or generally just enjoy the freedom of being by yourself, solo travel is for you. Get everything you need together and conquer new horizons armed with our tips for travelling alone.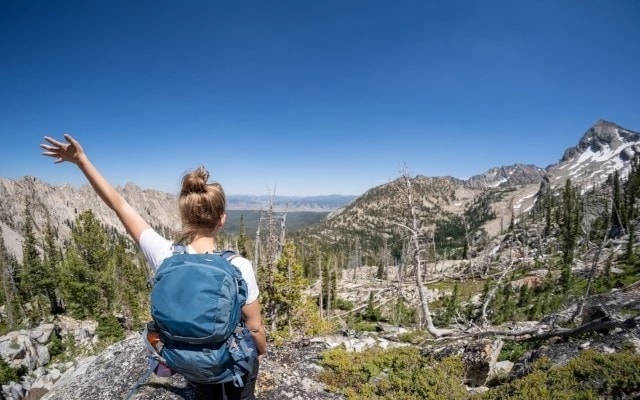 Solo travel tips
Make a plan
Whether you stick to it is up to you. Making new friends and changing plans is part of the joy of solo travel, but having an overall plan with the option to change a few things along the way will keep you organised.
Visiting multiple destinations in 1 trip? It might help to decide before you go the dates when you'll travel to your next stop. That way, you can book your initial accommodation in each new place in advance, and let your friends and family know where you should be at certain points in your trip. Once you arrive at each new destination and get your bearings, you can play it by ear.
Pack light
If you're travelling alone, you don't want to feel weighed down by heavy bags. Try to keep it to a bare minimum, take light clothing if you can trust the weather (and buy a waterproof once you're there if you hit wet weather). If you do have some stuff you can't part with for your travels, make the most out of storage facilities and lock what you don't need on you away for the day.
Keep the important documents handy
Whether it's an itinerary with addresses of your accommodation on, your EHIC or your tickets and passport, keep the essentials somewhere easily accessible and always with you. Don't leave these in your bags at a hotel or hostel.
Put yourself out there
If you're going for true solitude, then you can skip this step. But if you're looking to make a few friends, go on day trips with people and make connections, you're going to have to make the first move most of the time.
Ask your hotel or hostel to recommend events happening which could provide a safe space to meet fellow travellers. Online apps like Meetup can help you find like-minded people in the same area, and free city walking tours are a great way to make friends.
Stay alert
It goes without saying that you should feel free and open to explore the world by yourself, but you need to be a bit more cautious of common travel scams and other potential dangers.
Get familiar with your surroundings, know how to get back to your accommodation, avoid getting too drunk, try to stick with a group (you could join a tour or make friends at your accommodation), and ask locals about any places you'd be best to avoid.
Spread your cash around
Never keep all of your travel money in 1 place. If you can, take a prepaid card or a card that won't charge you to use it abroad. To keep your funds protected if you happen to lose your card, pick 1 that isn't contactless or 1 which comes with an app so you can instantly freeze it.
You might still want to keep some cash handy (as old-fashioned as paper cash might seem now). If you do, separate your wads. Keep some to hand in a wallet or bag, keep some in zippered sandwich bags in secure places (like in your bag or stuffed in between clothes in your case) and if you're staying at a place with a safe, keep some there.
Stay connected
If you're planning on visiting several different places, check with your current phone provider to see if you're covered for data roaming or if they offer cheaper bolt-on packages that'll let you use your phone abroad.
If this isn't possible, you can always buy an unlocked phone so that you can get a SIM card for your phone in each place you visit. Load Skype or Whatsapp onto your phone so that you can chat with friends and family for free when you have internet access.
Buddy up
This might seem counterintuitive for a 'solo' holiday, but our advice for both men and women travelling alone is to join a group or make a friend, even if just for the night or a few days.
You're guaranteed a safer experience if you meet like-minded people at your accommodation. Walking the streets as a pair or group can be safer, and if you visit bars, your new friends can look after youand vice versa.
Dress appropriately for the local culture
Most places are accepting of tourists and you're not expected to change your wardrobe to fit in. However, it's always advisable to research the local customs before you go.
Best places to travel alone
Hopefully our tips have helped you make your mind up about booking that solo holiday. Now, the only question left is 'where should I go?'
HostelWorld lists their best places for solo travellers as:
The USA
Spain
Australia
Italy
Thailand
Germany
France
Japan
The Netherlands
And our final bit of advice – besides having the time of your life – is to make sure whichever corner of the world you discover, you do so with travel insurance. [1]
---
[1] AA Travel Insurance, a brand name of Automobile Association Insurance Services Limited (AAIS), is sold, administered and underwritten by AXA Insurance UK plc.