We may be a nation of dog lovers, but it seems we're still putting man's best friend at risk.
With temperatures easily reaching over 40°C in a parked vehicle, dogs could die within minutes. And yet, according to the Dogs Trust, 2 in 3 of us have seen a dog locked in a car on a sunny day.
Over a third did nothing about it
15% called the police
4% actually broke into the car
If you need to have your dog in the car, here's how to keep dogs safe on car journeys.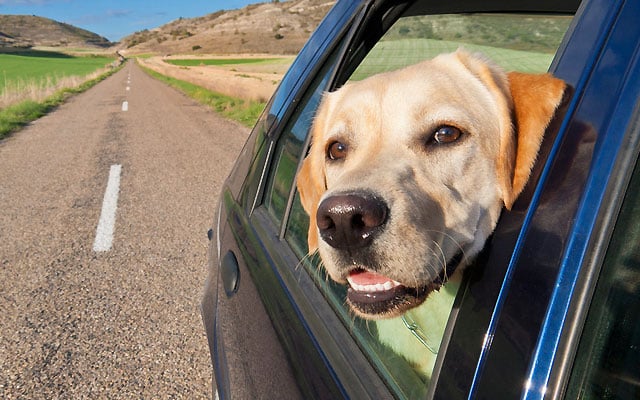 Is it okay to leave a dog in a car?
Dogs Trust, the UK's largest dog welfare charity, found that more than 1 in 4 UK dog owners admitted to leaving their dogs unattended in cars.*
Almost half of us (48%) believe it's okay to leave a dog in a car if we park in the shade or leave a window open. Unfortunately, this is a myth. In reality, opening the window a crack has no noticeable effect on the temperature inside a parked car.
Our breakdown patrols rescue around 1000 pets locked in cars every year
More than 1 in 10 people know of a dog that's come to harm left in a parked car in hot weather.
Brits are far more likely to leave their dog in a car alone for a few minutes (28%) than their phone (10%).
You just have to touch the dashboard or seats to know how hot the inside of your car can get.
But it's not just on warm days when dogs are at risk – vehicles can be death-traps even in cooler temperatures. That means it's never okay to leave a dog alone in a car
Dogs can die quicker than we realise
Paula Boyden, Veterinary Director of Dogs Trust, comments: "We claim to be a nation of dog lovers, but it's shocking how many people are willing to put man's best friend in serious danger.
"The saddest thing is that these dogs are often much loved family pets but the owners simply do not appreciate how quickly a dog can die in a hot car where temperatures can reach the same as an oven.
"As soon as the car doors are shut the countdown begins - which could potentially end in an agonising death for the dog. Our message is simple: don't leave your dog in a parked car."
20 minutes can be fatal
Less than 20 minutes in a hot car can prove fatal to a dog if its body temperature exceeds 41°C.
We tested how long it would take for a 7kg chocolate dog to melt in a car. It was an overcast day in July, but the temperature inside the car reached 42.8°C.
On a sunny 27°C day, the inside temperature of a car could reach an oven-like 60°C.
If you leave your dog in the car, in just a matter of minutes, the temperature inside the car will rise. Dogs will start to suffer, showing signs of excessive panting, whimpering or barking.
If left for longer, a dog will lose muscle control. In the end, kidneys stop working, the brain is damaged and the heart stops. It's a fate none of us would wish on our beloved pets.
Our advice for dogs in cars
Dogs aren't able to cool down as effectively as humans so could suffer from heat stroke and dehydration very quickly.
If you're travelling with a dog in the car, here are some steps you can take to keep your dog safe:
1. Never leave your dog alone in the car
Don't leave dogs in parked cars, even for a few minutes.
Even if it seems cool outside, it can become very hot very quickly in the car.
Parking in the shade and/or keeping the windows down doesn't make it safe.
2. Keep your dog cool while driving
Avoid travelling during the heat of the day.
Use sun blinds on the windows and consider opening a window a little to allow a cooling breeze to circulate in the vehicle.
You can use wet towels to cool down your dog.
3. Carry a supply of water
Make sure you have a supply of water - and plan stop-offs along the way for water breaks.
4. Check traffic reports
Use our Route Planner to check the traffic before you go. You and your pets don't want to be sat in a traffic jam in hot weather.
5. Plan ahead
If you're going to take a long road trip with your dog, try to plan ahead so that you won't have to leave it alone in the car at any point.
How to help an overheated dog
If you see a distressed dog in a vehicle please call 999, or
The RSPCA on 0300 1234 999, or
The Scottish SPCA on 03000 999 999
Download a campaign leaflet (pdf) to share our advice with your friends and family.
If you're there when a dog's rescued from a hot car and it's in distress, seek immediate veterinary advice and follow these steps:
The very first priority is to stop the dog getting any hotter - try to provide shade from the sun and move to a cooler area.
Dampening the dog down with cool (but not freezing) water will start to bring the body temperature down.
Wet towels can be used to cool a dog but these must be regularly changed.
You can try spraying the dog with water and placing them in front of the air conditioning vent to enhance evaporation on the way to the emergency appointment.
Published: 09:00, 2 February 2017 | Updated: 13:48, 6 August 2019
---
*Vision Critical surveyed 2000 adults across the UK in April 2014 on behalf of the Dogs Trust.