26 February 2018
Met office weather warnings of sub-zero temperatures and snow suggest travel will be a misery from Monday morning, especially for eastern and northern counties of the UK. The severe weather is expected to spread to most parts later in the week. Both road and rail are likely to be disrupted, making travel difficult.
The AA is mobilising extra resources for an expected increase in demand from members for help over the coming week. We're also warning drivers to take extra care and to follow the advice of the emergency services, especially if asked not to attempt to drive unless it's really necessary to do so.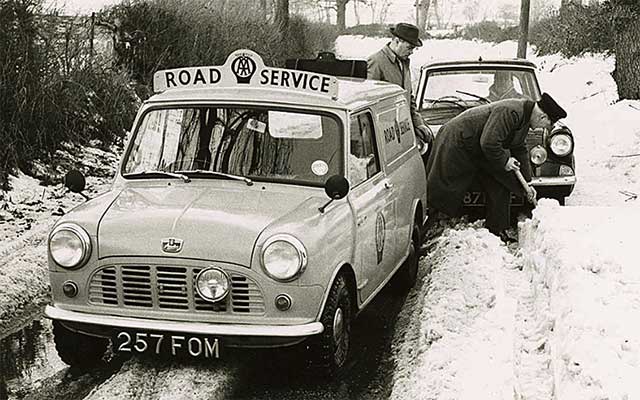 Vince Crane, AA Patrol of the Year, says: "A well maintained car should cope well with the cold but sub-zero temperatures always bring a big increase in the number of cars that won't start, thanks to tired batteries.
"Electrical and tyre problems are the top two reasons for Members to call for help – and harsh winter weather makes such problems even more likely."
Electrical and tyre problems are the top two reasons for Members to call for help – and harsh winter weather makes such problems even more likely
The AA is well used to helping Members caught by severe weather and the forecast snow and sub-zero temperatures are likely to be the most prolonged for some years.
"The biggest problem is often an accident that holds traffic up and, if it's snowing hard that makes dealing with breakdowns difficult – because AA Patrols are likely to be caught in the same hold-ups. I strongly urge drivers to be well prepared in case they are stuck for any length of time," Vince Crane adds.
Coping with the cold
AA Patrol of the Year Vince Crane's top winter driving tips:

Give yourself time: Allow plenty of extra time for your journey, including time to de-ice the car. It may take longer but it also means that you will have full visibility which in bad weather is vital. Don't be tempted to pour hot water over the screen – the sudden change in temperature could lead to a crack. Best way is to use a scraper. And don't leave your car alone with the engine running, that's an invitation to thieves
See and be seen: Make sure the windscreen and windows, as well as headlights and mirrors, are all properly cleared of snow and ice. Push snow from the roof and bonnet too as it will fly off while driving or, if you brake heavily, will slide down your windscreen and block your vision. Make sure your lights are all working and use them in poor daylight visibility.
Stay topped up: Top up the windscreen wash with a good quality additive to reduce the chance of freezing. Keep at least a quarter of a tank of fuel - an accident or closed road ahead can cause long delays.
Take the essentials: Be prepared for your journey to take much longer than usual and pack essentials including warm and waterproof layers and dry, sturdy footwear, high energy refreshments and a flask of hot drink or water, a torch, extra screen wash, any personal medication in case of long delays, a fully-charged mobile (with the AA app pre-loaded) and an atlas or sat-nav in case of diversions.
Choose your route: Check your route for accidents or closures before you leave and, if possible, favour roads which have been gritted.
Drive smoothly: Drive to the conditions and leave plenty of space between you and the car in front as stopping distances will be significantly greater. Drive smoothly, keep your speed down and avoid sharp acceleration, braking or cornering as far as possible. If you're starting on a slippery surface select a higher gear and gently let in the clutch. Automatic cars often allow a higher starting gear to be selected or have a 'winter' mode.
Keep a grip: Make sure your tyres are properly inflated – contrary to popular belief letting some air out of your tyres does not improve their grip on snow and ice – it has the opposite effect. If the tyre tread is below 3mm then get the tyres replaced as soon as possible – worn tyres are lethal on an icy surface.
A fully prepared and tested plan
In severe weather, the AA mobilises additional patrols and call centre staff to assist Members who get caught out in the cold. The fleet includes 4x4 vehicles to help members stuck in snow.
Says Vince: "Our 3,000-strong patrol force is well prepared for severe weather. We have a fully prepared and tested plan with the flexibility to provide help where it is most needed.
"But, at peak times it could take longer than usual us to reach you – if the roads are jammed because of snow and ice, then AA patrols trying to reach you will be stuck too."