23 August 2022
The final major getaway of summer will start from Friday (26 August) as families take advantage of the last chance for a road trip, the AA says.
Sunday and bank holiday Monday afternoons and evenings are expected to be particularly busy as travellers return from vacations and the 'last hurrah' trips of the summer season.
The AA estimates that 45 per cent of drivers will embark on a car journey during the long weekend, either on holiday or days out – which equates to nearly 15 million leisure trips.
The AA Route Planner has issued an Amber Traffic Warning lasting from Friday 26 August until Monday 29 August, as holidaymakers and festivalgoers meet on the roads over the last weekend before all UK schools return.
The AA expects Saturday 27 August traffic to reach its peak between 10am until 4pm, followed by the next busiest travel days of Friday and Monday.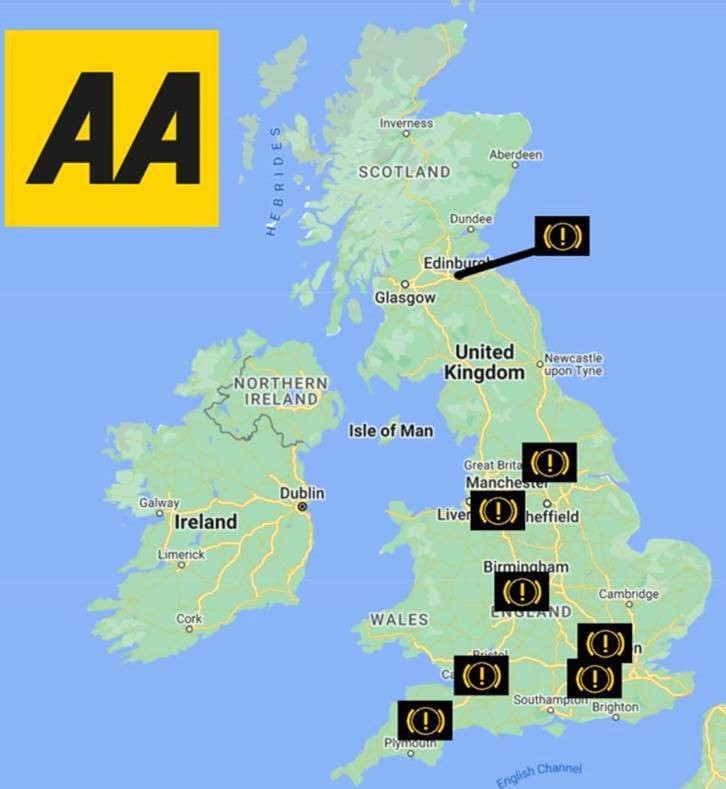 AA Route Planner predicted traffic hotspots for the August bank holiday weekend 2022
Predicted AA Route Planner traffic hotspots:
M4/M5 interchange near Bristol
M25 Western and South Western sections
M5 between Taunton and Exeter
M1 between the M25 and Newport Pagnell
M6/M42 Birmingham
M62 Liverpool to Manchester section and Leeds
M60
M56
Edinburgh area (M8, A90, A720)
Drivers are advised to expect delays on major routes and plan ahead, as crucial car checks could prevent a bank holiday breakdown.
Holiday travellers will be helped by the average price of petrol falling to 171.41p a litre on Sunday. At the beginning of July, it had hit a record of 191.53p a litre. The more than 20p a litre saving cuts £11.06 from the cost of filling the typical car tank. Diesel continues to fall and, at 182.70p a litre on Sunday, now averages 16.37p cheaper than its 199.07p a litre record at the start of July.
Sean Sidley, AA Patrol of the Year, said: "This year we are predicting up to 15 million journeys will be made over the August bank holiday, as families make the most of the warm weather and have a last hurrah before the new school year.
"With events and festivals fully back to normal localised congestion will peak at closing time around major venues, but the rest of the UK could see peak journeys throughout Saturday.
"Traffic is likely to build again from Monday afternoon and into Tuesday, so allow plenty of time if you're travelling then. Routes to and from coastal resorts and beauty spots will be among the busiest, so drivers should plan ahead for the journey and check your car before you go."
Event traffic
A diverse range of events will increase traffic volumes. Highlights include Reading and Leeds Festivals, CarFest South, the Notting Hill Carnival, the final weekend of the Edinburgh Fringe and a full programme of Football League and Premier League fixtures. Festival goers will also combine with families on the road from the final holidays of the season.
Keeping you on the move
Last year, the AA attended nearly 40,000 breakdowns over the August bank holiday weekend.
Battery issues, tyre problems, overheating engines and keys locked in the car are some of the most likely reasons for drivers to call for help, but many breakdowns are avoidable with a few simple car checks.
For those who do break down, the best way to get help is through the free AA app, which can also be used for live traffic updates, exclusive Member discounts and help with warning lights. Breakdowns can also be reported online via theaa.com.