There are four simple steps to making sure your children are safe in the car:
Choose a car seat suitable for your car and the child's age/size.
Fit the seat properly in the car.
Make sure the child is strapped in correctly for every journey.
Keep your children rear-facing for as long as possible – don't rush to move them to a bigger, forward-facing seat.
Make sure you're clued up on the law when it comes to child seats – read our summary before you buy.
Child seats must be approved, which means tested to European standards – either Regulation 44 (R44) or the latest, Regulation 129 (i-Size).
R44 seats are approved in one or more groups based on your child's weight, from group 0 and 0+ for newborn babies, up to group 3 for children weighing 22-36kg.
Check your child's weight before buying any child seat and check it regularly as they grow.
R129 (i-Size) seats are approved up to a maximum child's natural standing height.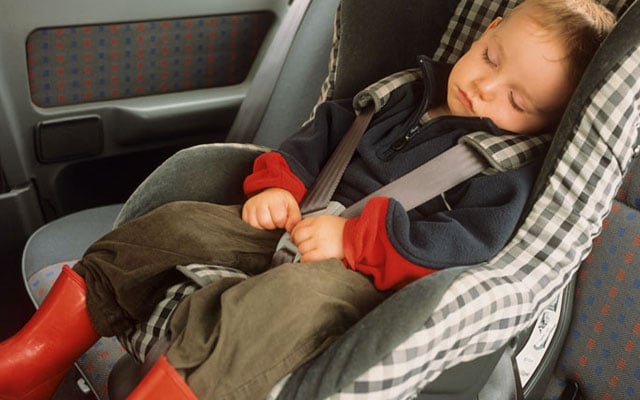 Extreme hazard warning
You mustn't use a rear-facing child seat on a passenger seat where an active passenger airbag is fitted, because the child's head will be too close to the airbag, risking severe injury or death if the bag is triggered.
It's OK to leave the airbag active for forward-facing-seats but you should move the car's seat back on its runners as far as it will go. Do check your car handbook for model specific advice though as airbag size and performance does vary.
ISOFIX
Your car's seat belts were designed for adult passengers so it's no surprise that it's sometimes tough to fit a child seat properly. ISOFIX is a simple idea, introduced in the early 2000s to address this:
Cars are built with two small, cheap and inconspicuous attachment points in standard locations, and
Child seats are designed with latches on the back and are fitted with a simple push and click.
ISOFIX hasn't been as easy to understand and as simple to use as hoped. Cars don't all have the same anchorages and the seats aren't truly universal, so you do still have to check your handbook and choose your seat carefully.
A semi-universal ISOFIX seat can only be used in car models listed on its application list.
A universal ISOFIX seat can be used in any seat provided with three points of attachment – two at the back plus a 'top-tether' strap connecting the top of the restraint to a dedicated fixing point on the parcel shelf, boot floor or seat back.
As well as being either 'universal' or 'semi-universal', ISOFIX seats come in different size classes too.
Some ISOFIX seats have a support leg at the front, rather than a top-tether strap, and these aren't always suitable for cars with under-floor storage. The cover/floor surface may not be strong enough.
Fitting and using child seats
Even 'universal' child seats don't all fit properly in all seats in all cars. Our fitting guide describes the compatibility issues you need to look out for.
You'll also need to decide where in the car to fit the child seat – your children may want to ride in the front but this isn't the safest place for them to travel.
Most children go through a phase of releasing the harness buckle while you're driving but there are some safe ways to discourage them.
Buying second hand
Child seats can be expensive and children may grow out of them quite quickly so buying second-hand can be tempting. If you do, follow these guidelines:
Don't buy anything that you even suspect might have been involved in an accident. It won't give the same protection as a new one.
Check nothing's missing or broken – including the instructions.
Buying from family or friends is a good idea because you'll know the history of the seat.
Car boot sales, free ads and other sources where you don't know the seller can't be recommended.
Child safety dos and don'ts
Do:
Use a restraint suitable for the child's weight/size.
Check that the restraint is compatible with your car. Look for an application list, ask the retailer to demonstrate or install the seat, or ask for advice from the car manufacturer.
Carry children rear-facing for as long as you can rather than rushing to get them into a forward-facing seat.
Consider buying a seat that uses the ISOFIX system if your vehicle has the required anchor points. The handbook will tell you.
Fit the restraint securely in the car. follow the instructions and keep them in the car.
Carry children in the back seat of the car if you can.
Adjust the harness for a tight but comfortable fit before every journey.
Think about side impact protection when buying and using child seats.
Check the restraint regularly to make sure it hasn't worked loose in the car.
Check over the restraint from time-to-time and renew it if you find signs of cracking in the shell or fraying/cuts in webbing.
Make sure that your child understands the importance of being safely strapped in for every journey.
Cover the seat when parked on a hot day to avoid burning your child on hot metal fittings when you get back.
Don't:
Don't carry children unrestrained, even for the shortest journey.
Don't use a rear-facing baby seat in the front seat of a car with an active passenger airbag.
Don't buy a child seat unless you know it will fit properly in your car. 'Universal' restraints don't fit all cars.
Don't buy a second-hand restraint unless you know its history and that it is complete with all its instructions.
Don't buy an ISOFIX seat without checking the vehicle handbook as there are different categories and size classes.
Don't use a restraint that has been involved in a crash.
Don't hold a child in your arms or put the seat belt around both of you.
Don't allow children to release buckles or climb out of belts.
Don't modify child seats or buckles.
Don't use an ordinary cushion instead of a booster cushion as the child could slide under the seat belt in an accident.
Don't leave children unattended in a car.
7 February 2017