It's been illegal to use a handheld mobile phone while driving since December 2003.
Find out what the law says and what the penalties are for using a phone at the wheel.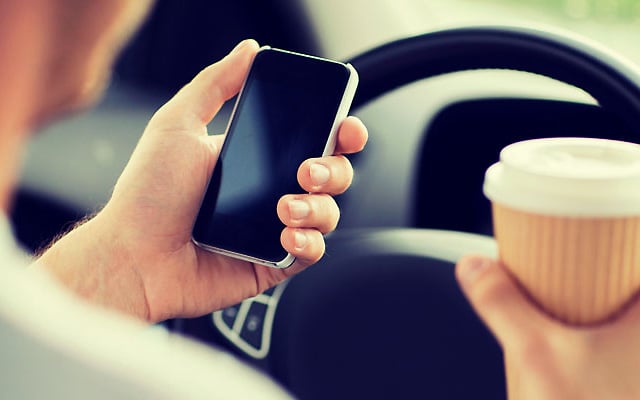 What's the law on using your phone while driving?
The law means there's a ban on using handheld phones or sat navs while driving or riding a motorbike. That also includes similar devices like tablets.
A handheld device is defined as something that "is or must be held at some point during the course of making or receiving a call or performing any other interactive communication function".
What aren't you allowed to do?
The ban on using hand-held devices while driving includes:
Making a phone call that isn't hands-free
Using your device to navigate
The law still applies to you if you're:
Stopped at traffic lights
Queuing in traffic
Supervising a learner driver
It applies even if you have an automatic stop-start and the engine's cut out briefly.
Changes to the law in 2021
From early 2021, it'll become illegal for anyone to pick up and use their mobile phone while driving.
The new legislation will close a loophole which allowed drivers to get away with using their phone to take pictures and videos or play a game.
You'll still be able to make hands-free calls or use your mobile to make a payment at a drive-through.
You can find out more about the law on the gov.uk website.
Why is it illegal to use your phone while driving?
There's worldwide evidence that using any sort of phone considerably increases accident risk.
Using a phone behind the wheel is classed by the DfT as a driver distraction or impairment.
In 2019, using a mobile phone was a contributory factor in 103 serious accidents and 17 fatal ones in the UK.*
How to use your phone safely on the road
If you need to use a handheld phone
First you must stop driving.
Park up safely and legally with the handbrake on.
Switch off your engine.
The Highway Code (239) says that you must switch off your engine if you stop on the roadside. Turning the engine off will avoid any doubt that you're still driving and it's better for the environment too.
If you need to make or take a hands-free call
It's better to stop to answer or leave it to go to voicemail.
If you must talk on hands-free, keep conversations short or say that you'll find a safe, legal place to stop and phone back.
If you use your phone for work, employers should have specific company advice on mobile phone use.
Calling someone else who's driving
If you call someone and think that they might be driving, ask:
Are you driving?
Is it safe to talk?
Do you want to call me when it's safe to stop?
You can help to keep road users safe by not distracting people when they're driving.
What are the penalties for using a mobile while driving?
Even if you're otherwise driving safely, you can get a penalty for using a handheld phone while driving.
That's not the case for using hands-free phones. You'll only get a penalty if it's decided you weren't in control of the vehicle.
Instead of a Fixed Penalty Notice, you could be taken to court if:
You refuse to accept the fixed penalty.
The police think the offence is so bad that a fixed penalty isn't enough.
Outcome
Max. fine
Max. penalty points
Fixed penalty for 'not in proper control' while using a hands-free device
Court case for 'not in proper control' while using a hands-free device

£1,000, or
£2,500 (for a bus or goods vehicle)

3, or
Discretionary disqualification

Fixed penalty for using a hand-held device
Court case for using a hand-held device

£1,000, or
£2,500 (for a bus or goods vehicle)

6, or
Discretionary disqualification
Penalties for causing an accident while using a phone
If your driving's bad, or if there's a crash while you're using the phone, you could be prosecuted for:
If a death's caused, fines can be much greater and prison's almost certain.
Penalties for employers
Your employer may be open to prosecution if:
They cause or permit you to drive while using a phone or to not have proper control of the vehicle.
They require you to make or receive calls while driving.
You drive dangerously because you're using a phone installed by your employer.
Penalties for cyclists
It's not a specific offence to cycle and use a handheld mobile phone. But you could be prosecuted for careless or dangerous cycling if it distracts you.
Are there any exemptions?
You're allowed to use a handheld device under exceptional circumstances:
You can make an emergency call to 999 or 112 only if it's unsafe or impractical to stop first.
You can use a two-way radio but not any other device that sends or receives data.
Our campaigns for safer driving
The AA Charitable Trust has long campaigned to change attitudes towards driver distraction.
Cadence
A young film-maker became so uncomfortable by her peers using mobiles at the wheel that she produced a film. Called 'Cadence', the film has a safety twist and was possible thanks to funding from the AA Charitable Trust.
Designated Driver
The AA Charitable Trust and Think! created an ad raising awareness of the dangers of distracted driving.
The ad highlights the danger of texting while driving. It explains that you're twice as likely to crash text driving as you are drink driving.
---
*According to the
2019 DfT report on Contributory Factors for Reported Road Accidents
Published: 14 March 2017 | Updated: 18 November 2020 | Author: The AA