Car manufacturers usually recommend booking a service every 12,000 miles or every year, whichever comes first. If you're a high-mileage driver clocking up more than 2,000 miles per month, it's worth considering an additional interim service every 6 months to check for wear and tear.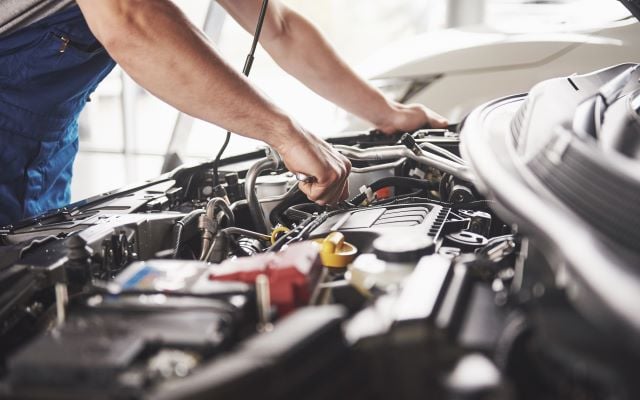 Benefits of servicing your car
Safety – a well-maintained vehicle is safer to drive.
Vehicle lifespan – regular servicing can extend the life of your vehicle.
Repair costs – when flagged earlier, issues can cost less to repair.
Fuel efficiency – a well-maintained car is more efficient and therefore cheaper to run.
Breakdown – regular servicing can mean potential problems are spotted early on, which might reduce the likelihood of your car breaking down.
Resale potential – having a full service history is handy if you ever want to sell your car later down the line.
What does a car service include?
Interim service- every 6 months (if you drive more than 2,000 miles per month)
Our interim service covers 35 elements according to the manufacturer schedule, including:
Engine oil.
Oil filter.
Wheel nut torque.
Tyre pressure.
Clutch fluid.
Power steering reservoir.
Brake fluid.
Windscreen washer.
Full service - every 12,000 miles or annually
Our full vehicle service covers 61 checks, including everything in the interim service plus additional checks, top-ups and changes. All elements are checked according to the manufacturer schedule:
Coolant or antifreeze strength.
Gearbox fluid.
Clutch fluid.
Axle and/or transaxle oil.
Non-sealed battery units.
Air filter.
Spark plugs.
Find out more in the AA's complete guide to car servicing.
Car checks to do between services
Regular maintenance checks to carry out at home
To keep your car in good working order between services, it helps to keep on top of 6 key areas:
Fuel
Lights
Oil
Water
Electrics
Rubber
Check tyres – including the spare – every 2 weeks. Keep an eye out for cuts, uneven wear and make sure your tread is within legal limits. It's also important to check the tyre pressure too. The correct pressure should be in your vehicle handbook or printed on a label either inside one of the door shuts or on the inside of the fuel flap.
Learn more about the legal requirements for car maintenance.
Why use AA Smart Care for servicing?
Free vehicle collection and return.
Quick and easy online booking and payment.
12-month guarantee on all parts and labour.
Manufacturer-specified servicing.
Fair, transparent pricing.